Tag: polygon tent used as sport event hall
1. Specification of polygon tent series:
The polygon roof tent for sale can be widely used as the sport tent, exhibition tent, trade show tent, trade fair tent, conference tent, festivals celebration tent, restaurants tent, concert tent, corporate events tent, or other events, etc.


2. Sizes available of polygon tent :
The clear-span width can range from 10m to 60m, the length of the tent can be increased or decreased by 5m. It could be 10m, 15m, 20m, 25m, 30m and +5m more

3. Material:
3.1 Aluminum Frame: 100% hard pressed extruded aluminium 6061 /T6 which can last 15 to 25 years.
3.2 PVC Fabric cover: High quality double PVC-coated polyester textile, 100% waterproof,
Flame retardant to DIN4102 B1, M2, CFM, UV resistant, tear resistant, self-cleaning ability, etc.
3.3 Steel Connecter: Strong hot-DIP galvanized steel, galvanized layer over 60um, providing better anti-rust ability

4. Optional Fixing methods:
4.1 Ground anchor(steel peg): For soft ground surface like, earth, sand, lawn, etc.
4.2 Inflatable screw: For hard surface like, cement, stone, asphalt, or prefab concrete cubic, etc.
4.3 Weight plate: For protective ground surface like marble, ceramic & tiles, asphalt, brick, etc.



5. Optional accessories for PVC hall tent:
5.1 PVC covers: Opaque cover, translucent cover, colourful cover, transparent cover, inflatable roof cover
5.2 sidewalls: Soft PVC wall, glass wall, PVC hard wall, sandwich wall, fiber glass wall, steel sheet wall
5.3 windows: Dome or square clear PVC windows, mesh window, glass window
5.4 doors: Double-swings glass door, single-swing glass door, glass fire door, hard PVC door, rolling door
5.5 wooden flooring system
5.6 rain gutters (inner roof beam rain gutter or rain gutter between two tents)
5.7 roof lining, sidewall curtain, lighting, AC, carpet, etc.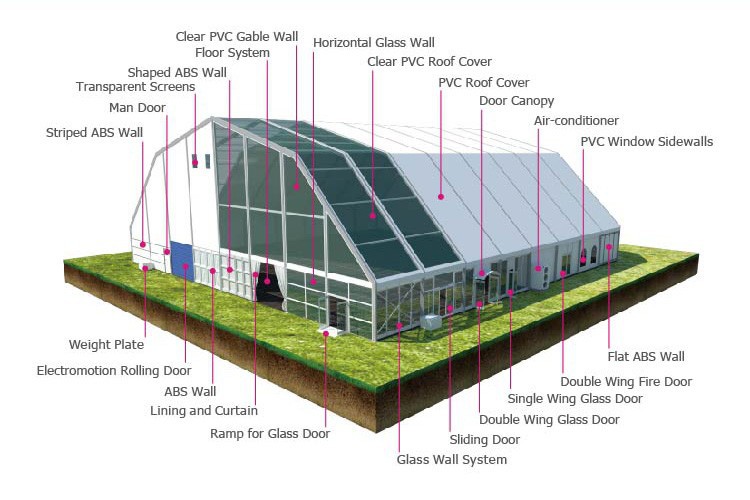 6. How to visit Liri Tent (Only take 2 hours or less):
Usually you will flight to Guangzhou city, then:
6.1 You can take a taxi from the airport directly come to Liri Tent
6.2 You can take a coach bus at airport to Gongbei station, then take a bus or taxi to Liri Tent
6.3 You can go the Guangzhou travel bus station and take a coach bus directly come to Liri Tent
6.4 You can take a train from Guangzhou to Zhuhai, then take a bus or taxi to Liri Tent
6.5 If you flight to Hong Kong or Maco, you can take a ferry to come to Zhuhai, then take a bus or taxi to Liri Tent

To know more details about the specification, pls check the below chart:
Huge Hall Tent Series
Model No.
Width (m)
Length(m)
Eave height (m)
Ridge height (m)
Bay distance (m)
Roof pitch
Longest component (m)

Wind load
Aluminum main profile
HH 40m/400
40
40m +5m more
4
11.5
5
18°
10.75




120km/h
0.7kn/sqm

400x120x6mm
HH 50m/400
50
50m +5m more
4
13
5
18°
10.75
HH55m/400
55
55m +5m more
4
13.8
5
18°
10.75
HH 60m/400
60
60m +5m more
4
14.6
5
18°
10.75
General Package: 1. Aluminum Frame--membrane film 2.Hardware--solid carton box 3. Tent cover--PVC carry bag.
Note: The longest parts determine the kinds of containers you use to transport the cargo.
20 feet container: Inner size: 5.69x2.13x2.18m; Usable Volume: 24-26CBM; Allowed Weight: 17.5 ton
40 feet container: Inner size: 11.8x2.13x2.18m; Usable Volume: 54CBM; Allowed Weight: 22 ton
40 feet high cube container: Inner size: 11.8x2.13x2.72m; Usable Volume: 68CBM; Allowed Weight: 22 ton
Professional Packing for Tents Transportation
1. Aluminum frame packed in membrane film
2. Hardware packed in solid carton box
3. PVC covers are packed in professional PVC carry bag
4. Customized package (will be extra charged)

Experienced Shipping Service for Exporting
1. We can check the shipping price for you, and recommend shipping agents to you.
2. You could always arrange the shipping by your own agents.
3. We usually use Zhuhai port as our export port, but if you want to use other sea ports, we can also arrange it for you (Guangzhou, Shenzhen, etc. we can negotiate on the details of cost and operation)

Patent No,: ZL201521107672.9

Liri Tent series
| | | | |
| --- | --- | --- | --- |
| Tent Roof Type | Span Width | Bay Distance | Eave Height |
| "A" Shape | 3m~60m | 3m/5m | 2.6m/3m/3.3m/3.88m/4.2m/5m/5.2m |
| Domelike | 3m~40m | 3m/5m | 2.6m/3m/3.23m/3.88m/3.92m |
| High Peak | 3m~10m | 3m/4m/5m/6m/8m/10m | 2.5m/2.6m |
| Curve Shape | 15m~40m | 5m | 3.87m/3.89m |
| Polygon | 10m~60m | 5m | 4m |
| Cube Structure | 10m~30m | 5m | 5m |
Your convenience is our main conern

1. We can help you to book hotel and tickets to make your visiting to us more convenient.

2. Car service, if you want to visit us and are near Zhuhai city, we can send a car to pick you up so you can come to visit Liri Tent easily.

3. After sale service is always available, we maintain very good reputation all over the world, and we offer after sale service to our clients, like installation instructions, replacement of flaw parts, upgrade of tents, renew tent parts, tent warehousing guidance, etc .

4. We can also provide furniture, lighting and specialized AC system to you.