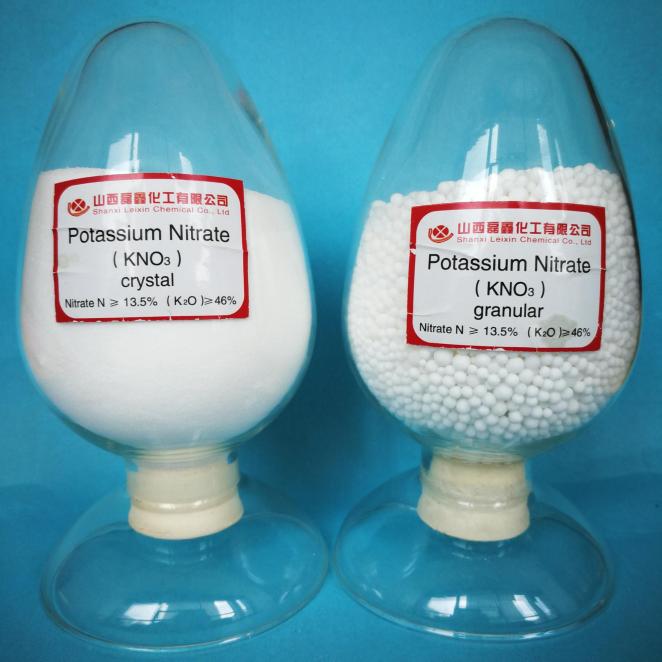 Potassium nitrate is colorless crystal or white powder. it is easily soluble in the water, and the liquid ammonia but insoluble in anhydrous alcohol. It can not deliquesce in the air. As strong oxidizer, it will burn and explode when mixing with organics. It is mainly applied in TV glass, glass refining agent and motor light glass; compound fertilizer and foliar spray fertilizer; fireworks and black pounder ; drugs and catalyzer; ceramic and enamel;salt both of heat treatment, cigarette paper; concentrating agent; etc.
Our company's agricultural potassium nitrate contains nitrate nitrogen and instant potassium, which is in line with the ratio of crops to absorb nitrogen and potassium, balanced nutrition, and improve fertilizer absorption rate
This product contains 13.5% nitrate nitrogen, does not contain chlorine, is fully soluble in water, and is widely used in tobacco, tomato, grape, potato and other potassium-avoiding chlorine crops.
This product belongs to the integration of water and fertilizer, it is friendly to soil, not acidified and not compacted. It can be used when the crop is in fruiting period or lacks potassium, which can promote fruit growth, swell beautiful fruit, increase sweetness, improve taste and improve quality.
About us :
Shanxi Leixin Chemcial Co., Ltd is a manufacturer specialized in producing carbonate, nitrate, calcium salts and ammonium salts since 1999. Now it occupies 80,000 m², has lots of production lines and equipments as follows:

1. 2 production lines of nitric acid with annual yield 130,000mtons
2. 4 production lines of calcium ammonium nitrate.
3. 1 production lines of potassium nitrate
4. 2 production lines of nitrate fertilizer
5. 1 production lines of potassium carbonate

The annual output of nitric acid is 130,000mtons, fertilizer products 150,000mton, chemical products 30,000mtons, liquid fertilizer products 20,000mton.
Our Service
1. Reply your inquiry Within 24 working hours.
2. Experienced staffs answer all your questions in fluent English.
3. Customized design is available.
4. Special discount and protection of sales are provided to our distributor.
FAQ
Q1.Are you a factory or trading company?
A: We have our own factory and established in 1999. It is one of the largest manufacturers of secondary element soluble fertilizer in the world.Our products have the lowest price and the highest quality.

Q2.How can I get some samples?
A: We can supply the free sample and the buyer just need to pay for the cost of shipping.

Q3.How can I get the price of products?
A: Please give the name of products with its purity, exactly quantity and destination port to us. We will give the most reasonable price according to your requirement.

Q4.How can you ensure the quality of products to me?
A: First of all, the possibility of our products' quality problems are close to zero. Before we send to customers, all the products are inspected by professional personnel. We will be responsible for any quality problems of the products.

Q5.What are the payment terms?
A: Alibaba Trade Assurance, T/T, L/C, D/A, D/P, Western Union and MoneyGram.
COA of Potassium Nitrate
MF:KNO3
Appearance: White Crystal Powder

Inspecton Item

Unit

Fine.G.

Lnd.G.

Agri.G.

Ceranic.G.

Assay

≥%

99.8

99.6

99

96

Moisture

≤%

0.10

0.10

0.10

0.10

Chloredes

≤%

0.02

0.03

0.03

0.08

Water-insolubles

≤%

0.01

0.01

0.02

0.15

Sulphates

≤%

0.015

0.02

–

–

Iron

≤%

0.003

0.01

–

0.003

Potassium Oxide

≥%

–

–

46.0

44

Nitrogen

≥%

–

–

13.5

13.5

Sodium

≤%

–

–

–

0.007

Sodium Oxide

≤%

–

–

–

0.01