808nm Diode Laser Hair Removal Treatment Principle
The 808nm diode laser system uses the optimal hair removal wavelength of 808nm diode for deep penetration into the dermis where the hair follicle is located. In treatment procedure, a series of low fluence, high repetition pulses increases the temperature of both the hair follicle and the surrounding, nourishing tissue to 45 degree Celsius. This more gradual heat delivery uses the chromophores into the surround tissue as reservoirs to effectively heat up the hair follicle. This, along with the heat energy absorbed directly by the hair follicle, damages the follicle and prevents re-growth. 808nm diode laser machine is particularly effective to hair follicle melanocytes without injury surrounding tissue. The laser light can be absorbed by hair shaft and hair follicles in the melanin, and converted into heat, thus increasing the hair follicle temperature. When the temperature raises high enough to irreversibly damage the hair follicle structure, which disappear after a period of natural physiological processes of hair follicles and thus achieve the purpose of permanent hair removal.
Advantages:
German Dilas laser emitter
Higher stability diode laser system, longer lifespan, stable performance; Sapphire crystal, contact cooling, really achieved painless.
Super strong TEC cooling system and radiator system and Sapphire contact cooling system
Make the treatment effective, painless, safe and comfortable; what's more, the continuous working time can be up to 12 hours. Also, continuous contact cooling of the epidermis for maximal patient safety and comfort… -5 ~ -1°
Technical Parameters
| | |
| --- | --- |
| Fuse | Max10A |
| Frequency | 1~10Hz |
| Spot Size | 10 * 12mm² |
| Gross Weight | 60KG |
| Input Power | 2000W |
| Temperature | 0~40℃ |
| Pulse Width | 10~200ms |
| Handle with 6 bars | 600W |
| Energy Density | 0~150J/c㎡ |
| Package Size | 115*56*53 cm |
| Mode | Single Pulse and continuos pulse |
| Cooling System | water cooling +wind cooling+ Semiconductor |
| Laser Type | High Quality 808nm Semiconductor Laser Beam Source |
| Electrical Requirement | AC 220V 10% 50Hz; AC 110V 10% 60Hz |
| Output | 808nm Treatment of handle out direct output mode(han gun type) |
808nm diode laser Hair removal Machine Details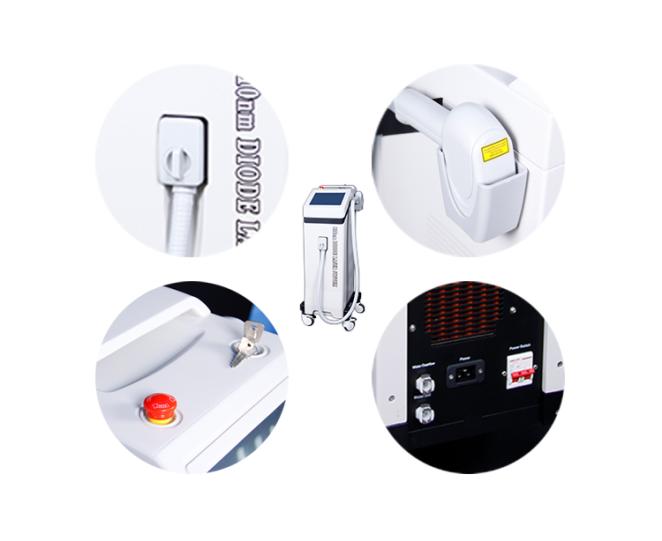 II.Application of diode medical laser for hair remvoal:
For fast, safe, painless and permanenthair removal on all 6 skin types, including dark skin. Suitable for any unwanted hairs on areas like face, arms, armpits, chest, back, bikini, legs..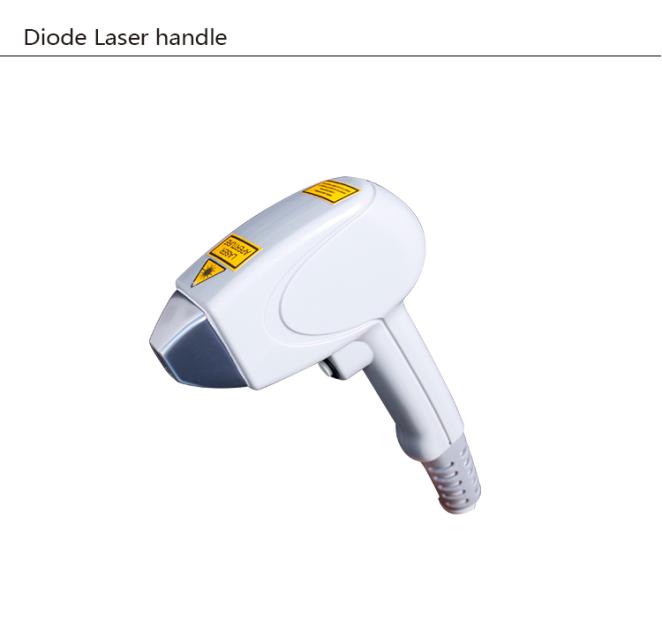 Advantages of diode medical laser for hair remvoal:
808nm diode laser enables the light to penetrate deeper into skin and is safer than other lasers because it can avoid the melanin pigment in the skin's epidermis.

We can use it for permanent hair reduction of all color hairs on all 6 skin types, including tanned skin. 808nm diode laser allows fast repetition rates up to 10Hz(10 pulses-per-second), with in-motion treatment,fast hair removal for big area treatment.

Probe built in with excellent contact cooling technology,PAIN-FREE hair removal.