Our cryolipolysis machine has been certified by Medical CE and ISO13485. Its four handles can work at the same time, and one treatment can achieve a significant effect of 26%. The smallest handle is dedicated to do double chin removal. Moreover, the client can enjoy a comfortable massage in the treatment, because our frozen cups use soft silicone material, and it is conducive to maintaining a constant temperature.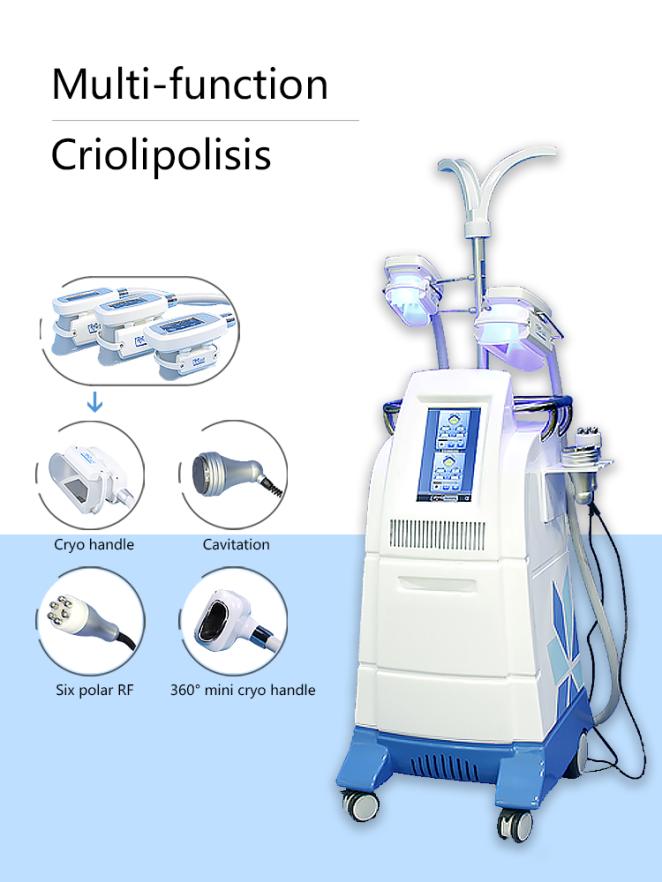 Advantages:
1. One set portable cryolipolysi device is equal to two sets old technology cryolipo machine. The coolsculpting machine can help you reduce cost. It can be treated for 1~4 fat persons.
2. Many parts of body can be treated by coolscupting machine.
3. We have obtained patent technology and if you want be a distributor, your benefits will be protected.
Technology for Cryolipolysis:

PrettyLasers's cryolipolysi portable cryolipolysi device offers the most advanced body slimming solution by the integrated technology. The system delivers cryo-energy during the treatment with vacuum and Infrared light technologies which is enhancing the treatment effects. PrettyLasers criolipolisis offers non-invasive criolipolisis cooling to reduce fat cells and breaking down the fat.

Delivers optimized cool-energy for local reduction of fat cells to reshape body contours. The exposure to cooling is set so that it causes cell depth of subcutaneous fat tissue without damage to other tissues and protect the skin surface. Maintain the stable target temperature during treatment. Additionally Vacuum and Infrared light effectively enhance the treatment result. The fatty cells in the treated area are eliminated through the body's natural metabolism process.(Reduce fat cells and an effective method of Cellulite relief) Fatty layer reduction show persistent results at least 8months after the treatment.(It is depends on treatment condition and patient's condition.)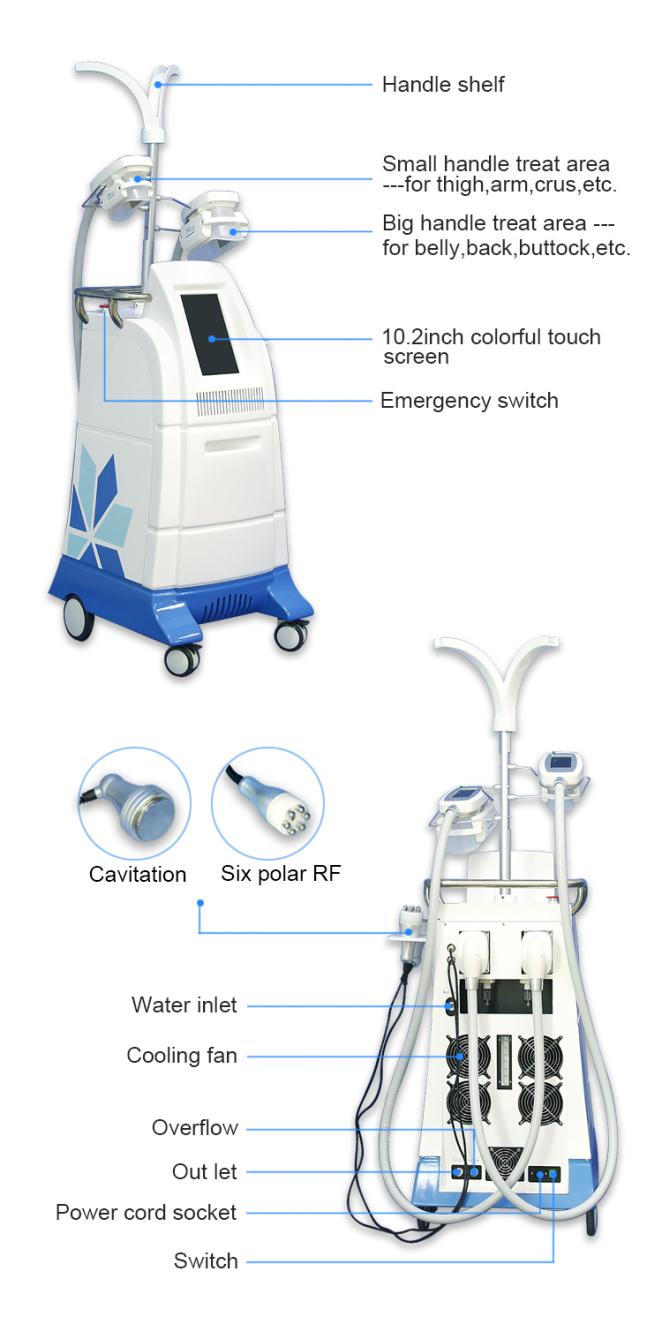 Technical Parameters
Cryolipolysis Slimming Machine
Voltage
220V/50Hz or 110V/50Hz or 110V/60Hz
Cryo output temperature
5 degree~ -16℃ degree
Vacuum output pressure
0-100Kpa
Cooling liquid
Pure water, with two 9L
Default working time
0-60 minutes
Power consumption
≤400W
Weight
45KGS( NW) / 65KGS ( GW)
Machine Measure
105cm*470*550mm
Outside Package
59*57*131mm
Q. What is the kryolipolyse treatment?
A. PrettyLasers criolipolisis machine technology safely delivers cooling to target the fat cells in the skin. The treated fat cells are frozen, then die. Over time, your body naturally processes the fat and eliminates these dead cells
Q. Who are good candidates for the treatment?
A. Good candidates have noticeable bulges in certain areas they'd like to get rid of and have unwanted fat that resists diet and exercise.
Q. How many treatments are needed get some noticeable effects?
A. You may see effects after only one session but we recommend you undergo 3 sessions with a interval of 4 weeks. You can decide the number of sessions after you consult with a specialist.

Q. Which area of the body can be treated?
A. The abdomen, the calf, the thigh and the ass can be treated.

Q. What kind of symptoms may I experience after treatments?
A. Some patients experience redness, minor bruising, tingling, numbness or discomfort in the treated area, but this is temporary and will resolve completely. But we recommend you avoid physically demanding activities like swimming, hiking, and sauna 3~5 days after treatments.
Find The best Coolsculpting Machine for sale In China