Production Description
The full name of EMS is Electronic Muscle Stimulation. The scientific community and professional sports community havesuccessfully used this method for decades. It is currently a very successful fitness method used in all fields.
EMS passive movement, through simulating the human brain signal to stimulate the muscles of the whole body, to achieve the purposeof training. Through 20 minutes of EMS exercise, 120 minutes of traditional training effect is achieved.
1. Number of electrodes: a total of 20 electrodes for suits, 10 outputs, and 2 electrodes each symmetrically constituting a loop.
2. Function site: 1 abdomen 2 chest 3 front arm 4 rear arm 5 shoulder 6 back 7 waist 8 hip 9 rear thigh 10 front thigh
3. About the Suit:
High-elastic material for you to do many sports.
Silicone silver fiber fabric electrodes
 Totally wireless
4. Suit sizes:
Men: S, M, L , XL, XXL
Women: XS, S, M, L , XL
or we can customize the suit for you based on your real body situation.
5. Bluetooth connection. Can use on both tablet or smart phone.
YDSTRONG wireless EMS training system include:
EMS training suit x 1, device x 1, Micro USD charging line x 1, App x 1
Specification
Company Profile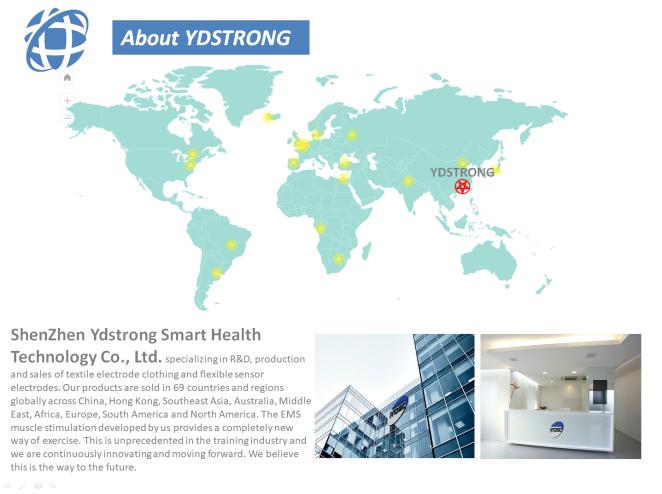 FAQ
1,Q:How to order?
A: Step one: Please tell us your demand with quantity.
Step two: Then we will make a P/I to confirm this order details with you.
Step Three: When we confirmed everything, You can arrange the payment.
Step Four: Finally we deliver the goods within the stipulated time.

2, Q: When will make delivery?
A: Delivery time
Sample order: 3-6days after receipt of your samples cost and shipping freight.
Stock order: 3-5days after receipt of your full payment.

3, After-sales service
For EMS suit:
It is a consumable, so we will not give any warranty after you wear the EMS suit.we could change it with new suit before you wear.
For Smart box(Impulse generator):
1 year warranty, and we will provide charged maintainess after one year.
If you find any defective accessories first time, we will give you the new parts for free to replace in the next order, as an
experienced manufacturer, you can rest assured of the quality and after-sales service.

4, Payment method
T/T, WU, Paypal.

5, Do you support drop shipping?
Yes, We do.