Professional produce three rounds of electric tricycle
Summarize
♦ Electric tricycle (Electrically operated tricycle) is used to battery power, motor driver pull goods
or people with three-wheeled transport.
♦ Electric tricycle is for battery powered motor to drive the pull goods or people use three-wheeled
transport.The electric tricycle can be divided into household type according to the use,
freight, plant a variety of models.
♦ Tricycle by using tube around the large capacity, line, deep discharge, traction battery, can adapt
to the requirement of working long hours continuous discharge, battery used normally for
two years, the capacity. Electric tricycle motor adopts dc series towed a brush or brushless
motor, motor with internal control power device, the normal use is not easy to damage,
to ensure the output power is strong.
Application
Power as a kind of environmental protection, clean, high conversion rate of important energy,
is widely used in production and life, the power was applied to drive the vehicle to upgrade,
promote low carbon development of transportation industry, reduce transportation cost,
save energy and protect the environment, is one of the important problems in the study
all over the world, after decades of development, has been applied in electric city bus,
industrial electric transportation vehicles, electric city sanitation clean vehicles, engineering,
tunnel,subway construction special vehicles, and many other fields. Electric tricycle with its
strong applicability,mobile recorded live, simple maintenance, easy maintenance, price is
low wait for an advantage, can be flexibly through the narrow street. Electric tricycle with
reversing switch, easy to realize reversing driving function,which the narrow hutongs,
lanes of the road is very practical, Whether parking is very convenient. Widely used in
household, urban and rural areas, individual rental, factory,mine, short-distance transport
sectors such as sanitation, community cleaning
Classify
Electric tricycle is divided into household type according to the use, cargo type, plant type a variety
of models.Because of the different purposes of, the use of technical standards is not the
same. The household electric tricycle, most of them adopt is the lateral wheel motor,
the outer frame (frame) outside the wheel, the structure of the car is not big shaft, light
deadweight, general 200 kg, motor usually is 350-500 w, the battery for 12 v20ah battery,
age and suitable for home. Also has a place in a shaft of motor, (big shaft is also called the
rear axle,back rest, is a connection between two rounds after tricycle axle, an important part
of a tricycle) this kind of car has good stability, motor drive at the same time of after two
rounds, stable starting, but the tricycle tend to be expensive.
Maintenance
♦ Before riding fastens its should check whether the battery box, display panel lights display is normal.
♦ Rainy day in the water surface, the water depth is less than the electric wheel center under normal
driving,such as road water depth more than electric wheel center, will probably make electric
wheel water seepage and cause failure.
♦ The vehicle should be avoided in high air humidity, temperature and corrosive gas, lest make
plating paint surface chemical corrosion of metal parts.
♦ Should be avoided to the vehicle for a long time strong sunlight and rain, lest make the inside of
the controller components, caused by operating failure, there was an accident.
♦ Electric control part of the structure is complex, the user should not tear open outfit, repair without
authorization. Such as local charging voltage is not stable, easy to make the charger blown fuse, it is
recommended to use ac voltage stabilizer.
♦ Electric bicycle in backward feel heavier, and push forward wheel inside there will be a slight friction
sound is normal phenomenon.
♦ Electric bicycle in backward feel heavier, and push forward wheel inside there will be a slight friction
sound is normal phenomenon.
♦ Lubrication of bicycle is an important part of the maintenance of the bicycle, according to the using
situation, deal with the front axle and rear axle, axis, flywheel, front fork, shock the rotation pivot parts
such as once every six months to a year to scrub and lubrication (recommended the use of molybdenum
disulfide grease). In electric wheel hub driving part is coated with special lubricant, the user does not
have to scrub lubrication on its own. Found to have abnormal situation, can to our company special
maintenance station for maintenance
♦ Avoid by all means losing electricity storage, loss of electricity state refers to the battery charging
in time after the use, cause lack of charging, the battery capacity decline. Kui power status, the longer
the idle time, the more serious the damage of the battery. Battery sit idle, charge once a month,
and it can prolong the service life of the battery.
♦ Regularly inspection in use process, if the line continuation of electric bicycle mileage in a short
period of time suddenly fell more than a dozen kilometers, is a good chance that the battery set broken
case, at least a battery in soften plate, plate fall off active substances such as short circuit phenomenon.
At this point, should be timely to the professional battery repair organization for inspection and repair.
♦ You are the large current discharge electric bicycle in start, manned, uphill, had better use pedal
power, try to avoid instantaneous large current discharge. Large current discharge can easily lead
to lead sulfate crystallization, which damage the physical properties of the battery plate.
♦ Master the charging time usually batteries are recharged during the night, the average charge
time at about 8 hours. If it's shallow discharge (short range) after charging, the battery will soon be
full of, continue to charge will appear as the overcharge phenomenon, cause the battery heat,
reduce the battery life. So the battery to discharge depth is 60% - 70%, down two electric charge,
best can convert their mileage when actual use, necessary charge according to actual condition,
to avoid damaging charging. Deep discharge once a month (to the under-voltage on electricity)
♦ Prevent high temperature exposure. High temperature environment can make the battery internal
pressure increase and make the battery pressure limiting valve is forced to automatically open,
direct consequence is to increase the water loss of battery, the battery, excessive water loss will
inevitably cause the battery activity decline accelerated plate softening, charging fever, the drum shell,
shell deformation such as fatal injury.
♦ Winter blunt electricity to indoors, battery to warm for two hours, recharging.
Info
| | |
| --- | --- |
| Product Name: | HP-ET01 |
| Motor Power: | 500W brushless motor |
| Battery: | 48V 20AH lead acid |
| Speed: | 0-25Km/h |
| Rang per charging | approx 50KM |
| Charging time: | 4-6 hours |
| Max loading: | 450KGS |
| Tire size: | 18'X2.5 |
| Brake type: | Hand brake and foot brake |
| Climbing ability: | approx 10 degree |
| Packing material: | Steel frame and cartons |
| Container loads: | 20PCS/40'GP |
| Other accessories: | Lights,basket,etc |
Product picture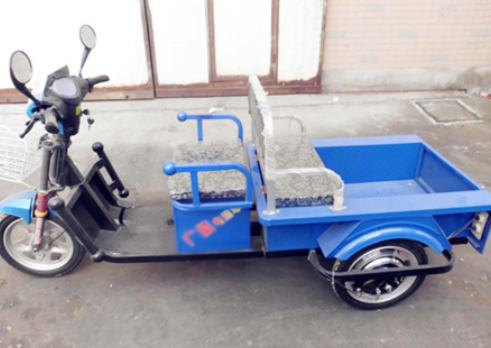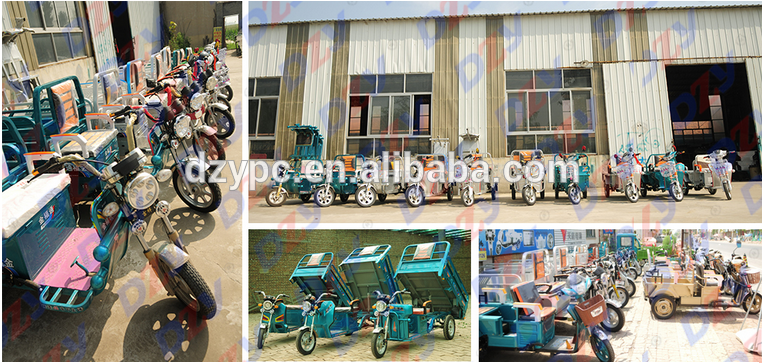 Factory show
Workshop show
Certificate show

FAQ
Q1. Company or factory?
A: We are original factory located in JInan Shandong China and has been in this business
since 2004. U're warmly welcome to visit our factory!
Q2. What is your product range?
A: We specilized in Three&Five wheels tricycle for cargo transportation and passengers.
Also tricycle parts.
Q3. When can I get the reply/quotation?
A: We usually quote within 24 hours after we get your inquiry. If you are very urgent to get the
price, pls us at +8615064003895 directly.
Q4. Can I get the sample to check your quality, and how?
A: Sure. The model, configuration and price of sample depend on our stock. Pls contact for
more info. The sample will be sent to your warehouse in China.
Q5. Can you do the design for me?
A: Sure. OEM service available. Just tell us your ideas and we will help to make out the good
design on tricycle and send you finished files for confirmation according to your
demand and our experience.
Q6. What's the price for you?
A: Different model, performance for selection. Pls inform us your requirment then we can
recommend the best one for you to meet your demand and save cost. Then a
specific quotation will be worked out.
Q7. Where is your sales market?
A: Mainly Africa and Middle East. We have exported to Uzbekistan, Sudan, Malawi, Somali,
Congo, etc.
Q8. When can you delivery?
A: Generally speaking, 20-25 days after we got your 30% deposit. We suggest that you start
inquiry two months before the date you would like to get your products at your
country.
Q9.What if I don't know how to install/assemble the tricycle?
A: First, assembly Instructions will be offered for each tricycle. Second, e-assembly drawing
available.Third, pls contact Rainbow Colin at +8615064003895 for more info.
Related knowledge
Battery Care
Electric tricycle from battery power, so crucial to the maintenance of the battery, the battery
generally are used in lead-acid batteries.
Battery maintenance from the following six areas
1. correctly grasp the charging time: the battery depth of discharge to 60% -70% for the best
one charg;
2. Avoid power loss: electric cars idle for a long time, it should be the best month on one charge
3.Avoid large current discharge: electric car start, cargo, when climbing, use pedal power,
avoid momentary high flow battery discharge
4.To prevent exposure: Battery temperature will occur from the dark, deformation
5.Avoid overheating during charging plug: plug due to loosening, oxidation and other reasons can
cause overheating short circuit, causing fatal damage to the battery
6.periodic inspection: electric cars in use, if short Mileage significantly reduced, probably because
one or a few cells appear lifting off grid, plate softening, plate active material shedding,
this time, Inspection agencies shall promptly repair the battery, so you can limit the
maximum increase battery life. Reduce unnecessary expenses.
Tricycle maintenance
1. should check the battery compartment is securely locked before riding, the display
panel for each light display is normal.
2.When driving in rain water surface, under water no deeper than normal with electric
wheel hub, such as with surface water deeper than electric wheel hub, will likely
make electric cars seepage caused by malfunction.
3. vehicle should be avoided on the air is humid, the temperature is too high and there
are places corrosive gases, so as not to paint the surface of metal parts plating chemical
corrosion.
4.Avoid prolonged exposure to the vehicle and rain, so as not to damage components
within the controller, causing operation failure, accidents.
5. electrical control structure is complex, the user should not disassemble, repair. Such as
local charging voltage instability, Easy to make the charger fuse is blown, we recommend
the use of exchange regulator
6. electric tricycle feel heavier when backwards and forwards will be implemented within
the wheel frightened slight friction sound are normal phenomenon Riding should not
overload, should not be placed too heavy items and bring people to avoid damage to
the battery and motor.
7.tricycle lubrication is an important part of maintenance tricycle, according to usage,
to deal with the front axle, rear axle, flywheel, fork, shock absorbers and other
components of the pivot point once every six months to a year to scrub and
lubrication. Electric wheel drive components within the already frightened painted
a special lubricant, users do not like their own scrub lubrication.
Payment terms
How to contact me?
Contact details
Cell
8615064003895
E- mail
sale02&dzyhs.com &=@
Wechat
ybqswyzzdn
SKYPE
wyfx5h&outlook.com &=@
Whatsapp
+8615064003895
Facebook
www.facebook.com/rainbow9204
Linkedin
cn.linkedin.com/in/rainbowcolin
Google+
rainbow92045&gmail.com &=@
Tumblr
rainbowcolin
QQ

920459593
We would have pursued for customers satisfactions!
Hope your visit and inquiry!
Thanks for your reading.
Other kinds of electric vehicle