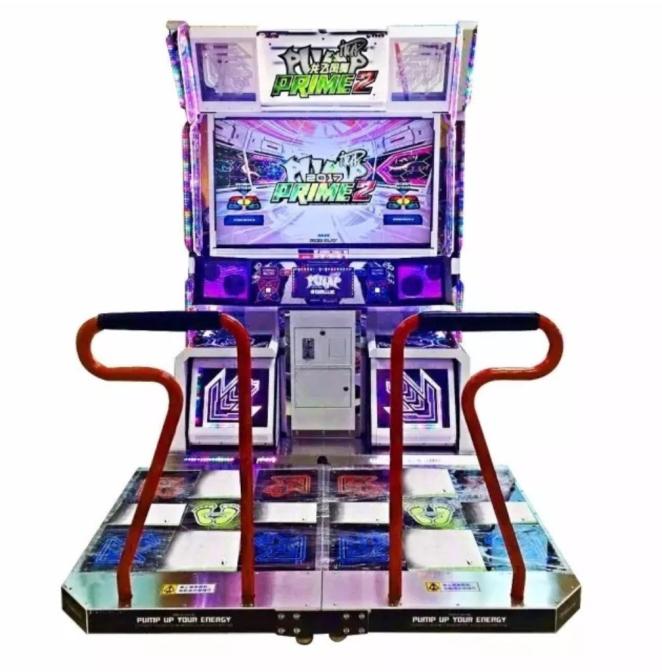 Pump It Up PIU - LX Pump It Up XX 20th Anniversary Edition Dancing Music game machine Card recording


System Program upgrade is only $1,800




Machine gameplay:



1. Invest in tokens.

2. (Swipe the card or insert the USB flash drive) Press the middle yellow button or step on the middle yellow pedal.

3. Control left, right, right, and rear to select a song, press the middle yellow button or step on the middle yellow pedal to confirm the song.

4. The game begins. Machine features:

1. The new stylish frame adds a cool lighting design to make people shine.

2. New songs are included.

3. Added camera, players can take the dance and share it on the official website forum after recording.

4. Added PIU official personal information The card is more convenient to carry.

5. Higher-level upgrade game mode, the machine automatically upgrades the program function when the machine is connected to the network, and the song is automatically updated.



PUMP IT UP'S NEW 20th ANNIVERSARY LX CABINET

New brilliant light show upgrades any location!
Unleash the Wall of Sound with 4 speakers and 2 subwoofers

HD Graphics Pop on a Giant 55" Screen
Build Revenue & Player Loyalty with A.M. PASS card(PIU login)

World's No.1 Dance Simulation Game!
Over 100 New Songs and Total 500 Songs, the Largest Volume of PIU Series Ever
Online Matching System
All High-Definition Quality Graphics

Upgrade Reason 1
Extensive Music Library
FREE Updates Every 2 Months!
Updates Include 100+ Songs
K-POP, J Music, World Music, PIU Original Music,
and Collaboration with Other Music Games

K-POP, J Music, World Music, PIU Original Music,
and Collaboration with Other Music Games

Upgrade Reason 2
World's NO.1 Dance Simulation Game for 20 years
Linked with PIU M & PIU H5

Upgrade Reason 3
Online Matching System
Match up Game Play with Players Worldwide

Upgrade Reason 4
Enhanced User Interface and Convenience
Renewal for the Level of Song Difficulty
More than 100 Reward Titles




Company Information

"Zhanhui Animation Science&Technology Co., Ltd", which its predecessor is"BaoHuiElectronicScience&Technology Co., Ltd", has been established since 1992. With ten years of sustained and stable development, now the corporation includes "Zhanhui Animation Science&Technology Co., Ltd", "Baohui Electronic Science&Technology Co., Ltd", and "Baohui Electronic Science&Technology Subsidiary-Operating Department".
Upholding the business tenet of "Quality First, Supreme Credibility, Warm Service, Efficient Speed", Zhanhui has grown up to a group corporation from an individual enterprise, which has its manufacture equipment, independent R&D group, production, and assembly lines, sales teams, besides we still OEM,ODM and operate our own arcade amusement centers. We set"Global games,self-R&D, Created in China" as our goal, and uphold the concept of"Modern life drives from technology" to develop new games, always Customer first, Quality First, and Service first.
Guangzhou "Zhanhui Animation Science&Technology Co., Ltd wholly owns large amusement machine development and manufacture in one. It has become the leading supplier of amusement game machines in domestic. Now the plant takes up 22,000 square meters, and the existing staff is over 250 people. There are core R&D department, production department, and QC department. At the same time, we have adopted advanced data controlling CNC equipment, laser cutting machine, and through introducing ERP system, we'd established ISO9001 quality system.
Guangzhou Baohui Electronic Science&Technology Subsidiary-Operating Department combines the four platforms of distribution, sales, service, and information mainly sells and provides the machine parts to different manufacturers by importing high-tech parts from Taiwan and Japan.
Zhanhui company have won the approval of the game industry by various excellent products and perfect business concept, also with our honesty and huge market resource,we got support and trust from partners worldwide, like Taiwan IGS and FEILOLI, Korea ANDAMIRO and KOMUSE, America ICE, and so on, those world-famous game brand have become our main strategic partners.
With a happy mood and the philosophy of enjoying life, we will work with unremitting effort to develop more popular games and provide customers with high-quality products and best services. We hope China amusement market and industry will grow stronger and bringing the fun to the whole world. Hereby, Zhanhui animation thanks for your great support and assistance in the past, and welcome your faithful advice in the future.






FAQ

1. Voltage is different in our country. What do we do?

No worry. We can make it 110V,220V to meet different countries' standards.



2. How long will your products last?

All machines are built with brand new high-quality components. So the machines are all in long life-span over years and less fault problem. Customers can get payback soon and make profits for many years.



3. Do you offer an English manual? Can you help with installation?

Yes, an English manual for you. And our technicians will guide you online patiently. It's not difficult. Please do not worry.



4. Do you offer after service, even in our country?

Yes, this is important support. We guarantee a 1year warranty + lifetime technical support. Our technicians can also come to you in person if you need technical help, as long as their expenses are covered.



5. We want different games. Can you do that for me?

We have 27 years experience in the game industry. We are very glad to help our buyers to buy whatever machines they like. It is very easy for us. The service is for free.



6. Do you offer site design services?

Yes, dear, we have a very professional design team. Our designers can make the layout and 3D plan according to your idea and our professional advice. No extra charge. Tell us your plan and site details, the CAD drawing is better. The different site has different size, normally one design in 1-7days.



7. Do your company have the certifications that are required for use in our country?

Our Company is CE certified and SGS audited. If you require any additional qualifications, do tell our sales team, and we will help to get them.




CONTACT US

Mr. Colson Chan
Overseas Dept.

Mobile: +86-18022314563
Website: www.baohuigame.net

BAOHUI Electronic Science&Technology Co., Ltd.
Add.: No. C1-C6, Star toon City, No. 143 Yingxin Road, Donghuan Town, Panyu District, Guangzhou, China.