Pump Parts
Description
Usage :
Used in Nuclear Power Plants and Thermal Power Plants for Cooling with Sea-water, and Sea-water Desalination Plant.
Feature :
Almost of the Pump Parts are made of Stainless Steel for the prevention of rust. But fabrication and welding are so difficult.
Strength :
With the experience of over 20 years in Nuclear Power field, which requires high technological skill and know-how, especially in stainless steel treatment, we have the technical competitiveness.
Pump Parts (Assembly)

No.

Name

No.

Name

1

Motor Cover

7

Suction Bell

2

Pipe Column - Upper

8

Shaft Tube

3

Pipe Column - INTMD

9

Pipe Column - Inner

4

Discharge Elbow

10

Shaft

5

Pipe Column - Lower

11

Impeller

6

Elbow Bane

12

Diffuser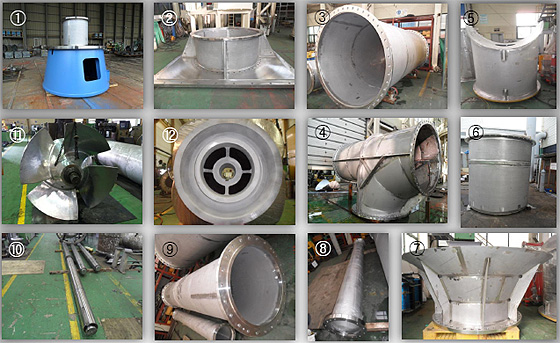 Send an Inquiry to this supplier
Similar products in other categories :
You may also be interested in :