The watermelon/pumpkin seed cleaning sizing shelling and separating equipment is one of Qiaopai Group's patent products.
It consists of two units: cleaning and sizing unit, shelling and separating unit.
Cleaning and sizing unit can clean various impurities in watermelon seeds and pumpkin seeds, and then sizes the seeds into 7 grades.
Shelling and separating unit can dehull each grade of watermelon seeds or pumpkin seeds individually, then remove shells from kernels, separate and re-separate un-hulled seeds from kernels. Un-hulled seeds will be returned back to dehuller for re-hulling again automatically.
[ Technical Parameter]
1、Cleaning & Sizing Unit:
Power: 5.71 kW
Input Capacity: 600-800kg/hour
Occupied Area: 14.7m x 2.8m x 2.8m(L*W*H)
2、Dehulling & Separating Unit:
Power: 8.19 kW
Input Capacity: 250-300 kg/hour
% of whole kernels: 95% min. (broken kernel is less than 1/2 of whole kernel)
% of seed in the kernels: 2% max.
% of kernels in the shells: 0.3% max.
Occupied Area: 5.7m×2.8m×3.9m
(Total Weight: 7.5 ton, Operators: 2-3 workers)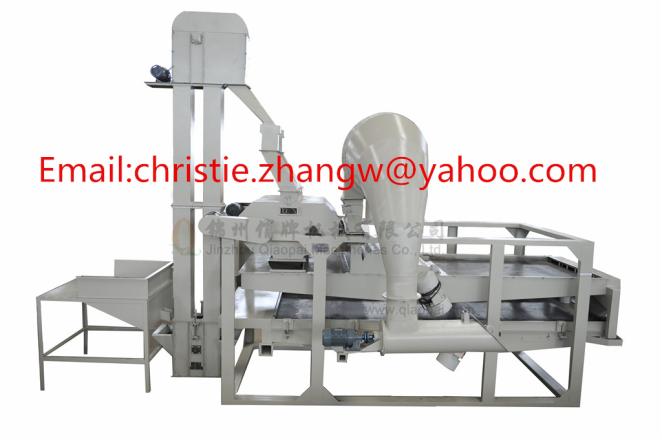 Meantime, our company is a professional manufacturer of complete processing line on cereals and oil seeds' pre-cleaning, dehulling and separating, integrating scientific research with manufacturing, integrating sales and service. The products of Qiaopai company mainly consists of following complete processing lines, including pre-cleaning, sizing, elevating, dehulling, separating for sunflower seeds, pumpkin seeds and watermelon seeds, buckwheats, oats, beans, hazelnuts, almond, flex seeds and sesame seeds etc.
For more information, pls contact with Ms,Christine.
Sales Manager: Christine.Zhang
Cell Phone: +86 13941650130
Skype: zhangwei_zw
Website: www.qiaopai.com