ROHS 6Axis Motion Controller M600-100
P/N: M600-100
CPU: Intel X7-E3950 2.0G
4G LPDDR4, 64G eMMC
6*AIXS,1*Encoder,2*LAN,3*USB,2*COM,16*DIO,256*Expand I/O
Introduction
M600 series integrated industrial type of computer and motion controller based on X86 architecture containing high-performance DSP and FPGA type motion controller. It includes normal computer's and motion controller's interfaces to achieve high-performance and high-precision multi-axis motion control, in the meantime, can be regarded as a normal PC.
M600 series integrated motion controller performs motion planning through DSP and FPGA and can output pulse or analog command. It supports point and continuous trajectory, multi-axis synchronization, straight line, arc, spiral, spatial linear interpolation and other motion modes. The motion controller can freely set parameters such as acceleration and deceleration, S-curve smoothing etc. to help users design most suitable motion planning for mechanical structure. By providing VC, VB, C# and other development environment, the user can easily implement the library file, design the controller and build an automatic control system.
M600 series can be used for robots, CNC machine tools, 3C equipment, solid crystal machines, wire bonding machines, laser cutting, laser welding, packaging machinery, woodworking machinery, sheet metal equipment, plasma/flame cutting which require high precision motion control equipment.
Features
High-performance embedded processor for different application scenarios
DSP high-speed motion planning
FPGA accurate pulse counting
Multi-axis synchronous control
Support electronic cam (Follow)/position time (PT)
Two interpolation coordinate systems can be established at the same time.
With forward-looking processing algorithm, backlash compensation, pitch error compensation.
Specification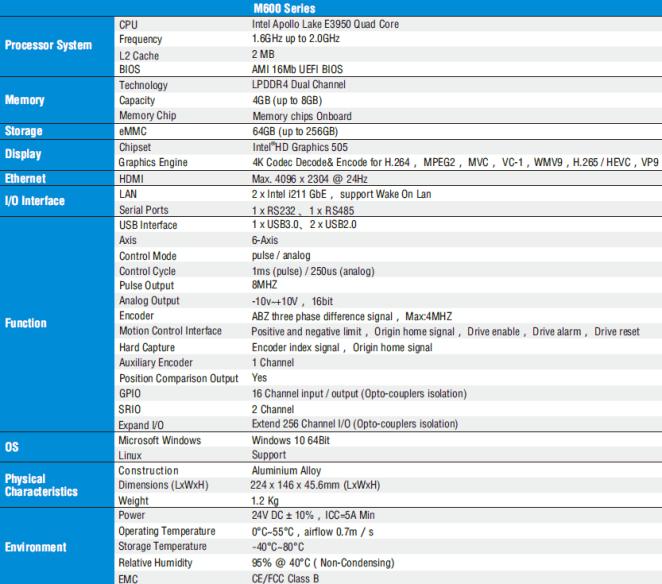 Architecture