Reed Diffuser with Preserved Flower
01. What is Preserved Flower
Preserved flowers and foliage are natural flowers and greens that have been processed with a revolutionary technology to maintain their fresh appearance for several months or even years. Their beauty and soft delicate appearance makes it difficult to differentiate between cut flowers and the fresh look of our products.
The substances used in the preservation process are non-toxic, non-corrosive, non-carcinogenic, non-explosive and non-chemical reactive. The solutions and colorants are the same as those used in food, medical and textile manufacturing; there for, they do not represent any health or environmental risk.
02. Diffuser solution
Diffuser solution is made with mixture and repening for Spice and Diffuser base.
We use certified spice from IFRA (International Fragrance Association) and it is "phthalate-free". We obtained Test report for our all spices.
03. Country of Origin for Preserved Flower
We use Preserved Flower are imported from Japan and South America.
04. Use
1) One of Interior Piece
2) Deodorizing Effects
3) Recreativeness
4) Good for Gift at special days
05. Characteristics
1) Certified diffuser liquid by KTR (Korea Testing & research Institute)
2) Every preserved flower stick was made by hand
3) Make your place not only the fragrant but also beautiful space.
4) For car diffuser, we provide the gel pad. You can put them on the dash board of your car.
5) With gift warp-up, it is good for gift for your friends.
How to make Platre's Diffuser
01. Make a preserved flower diffuser stick
We always use the imported preserved flower from Japan or South America.
Florist trims the preserved flower to make a preserved flower diffuser stick.

02. Check the balance with vase
To decorate the vase if it is needed, And check the balance with vase, preserved flower diffuser stick and diffuser reed stick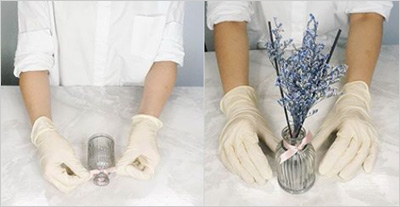 03. Diffuser liquid
Mix the fragrance oil which was certified by IFRA with diffuser base.
And let them few days to be blended
Finally, to subdivide into bottle.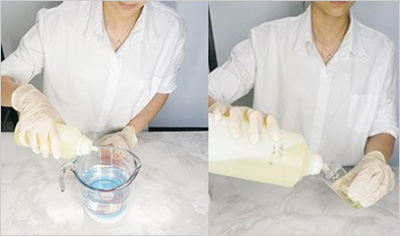 04. Gift wrapping
Carefully wrap it up with PLATRE's gift box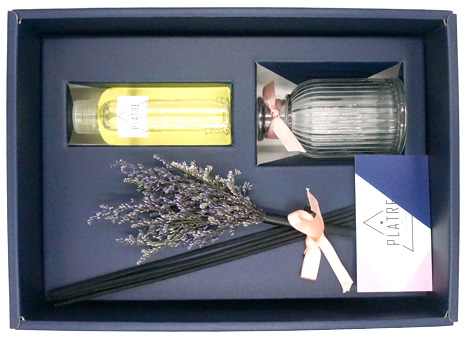 REED DIFFUSER WITH PRESERVED FLOWER
Picture
Name
Type
Description
Component
Selectable Fragrance
Maybe Violet
Indoor
Violet flower and vase of blue are harmonized well with a ribbon
ㆍPreserved Flower Stick
ㆍVase (200ml)
ㆍDiffuser Solution (100ml)
ㆍ4 Diffuser Reed Sticks
1) Black Berry & Bay
2) English Pear & Freesia
3) Garden Sweet Pea
4) Wood Sage & Sea Salt
5) Lime Basil & Mandarin
6) Doson
Joy Grace
Indoor
On the basis of Ivory color and pink rise flower are harmonized well with a ribbon.
Diffuser Stick and ribbon of Pink Color adds to its ladyishness.
ㆍPreserved Flower Stick
ㆍVase (150ml)
ㆍDiffuser Solution (100ml)
ㆍ4 Diffuser Reed Sticks
1) Black Berry & Bay
2) English Pear & Freesia
3) Garden Sweet Pea
4) Wood Sage & Sea Salt
5) Lime Basil & Mandarin
6) Doson
Pink Portion
Blue Portion
Car
Blue Portion with Grey
-Good for man
Pink Portion with Pink
-Good for women
ㆍPreserved Flower Stick
ㆍVase (50ml)
ㆍDiffuser Solution (50ml)
ㆍ4 Diffuser Reed Sticks
ㆍGel Pad for Car
1) Black Berry & Bay
2) English Pear & Freesia
3) Garden Sweet Pea
4) Wood Sage & Sea Salt
5) Lime Basil & Mandarin
6) Doson
Lemon Pop
Car
With lemon and violet color gypsophila, this preserved flower car diffuser looks like spring.
ㆍPreserved Flower Stick
ㆍVase (50ml)
ㆍDiffuser Solution (50ml)
ㆍ4 Diffuser Reed Sticks
ㆍGel Pad for Car
1) Black Berry & Bay
2) English Pear & Freesia
3) Garden Sweet Pea
4) Wood Sage & Sea Salt
5) Lime Basil & Mandarin
6) Doson
Sparkling Rose
Car
This car diffuser is made with sparkling black gypsophila and red String gear.
With the black vase, it is chic and elegance
ㆍPreserved Flower Stick
ㆍVase (50ml)
ㆍDiffuser Solution (50ml)
ㆍ4 Diffuser Reed Sticks
ㆍGel Pad for Car
1) Black Berry & Bay
2) English Pear & Freesia
3) Garden Sweet Pea
4) Wood Sage & Sea Salt
5) Lime Basil & Mandarin
6) Doson
Honey Due
Car
Like Boutonier, its design is simple and gentle.
This car preserved flower diffuser also goes well with man.
ㆍPreserved Flower Stick
ㆍVase (50ml)
ㆍDiffuser Solution (50ml)
ㆍ4 Diffuser Reed Sticks
ㆍGel Pad for Car
1) Black Berry & Bay
2) English Pear & Freesia
3) Garden Sweet Pea
4) Wood Sage & Sea Salt
5) Lime Basil & Mandarin
6) Doson
Fragrance Description
Picture
Fragrance Option
Description
Intensity & Tenacity
Blackberry & Baies
Jo Malone Type
Blend With Deep tart, blackberry juice
Fresh bay, White cedar, brambly woods, soft must
English Pear & Freesia
Jo Malone Type
Blend With Sweet pears, white freesias, wild roses amber, patchouli, soft woods, musk
Garden Sweet Pea
Yankee Candle Type
Blend With Ripe pear, peach, raspberries sweet pea blossom, lily, green leaves, freesia,rosewood
Wood Sage & Sea Salt
Jo Malone Type
Blend With Baltic Sea Salt, Sicilian Lemon Zest, Neroli, Hedione, Wild Sage, Caspian Sea, Driftwood, Rattan Musk, White Cedarwood
Lime Basil & Mandarin
Jo Malone Type
Blend With Fresh limes, zesty mandarin, lemon peppery basil, white thyme, jasmine
Amber, Caramel, Vanilla, Sandalwood, Praline
Doson
Diptique Type
Blend With Bergamot, tuberose petals, tuberose blossom, green leaves, fresh air