Product specification :
- Composition : (+/-) 50% Cotton/50% Polyester
- Yarn Count : Ne 3s up to Ne 20s
- Ply : 1 ply or 2 ply (Double)
- Color : Raw (Natural) White
- Remarks : No Dyeing process, suitable for Knitting & Weaving process
Our yarns product are suitable for many application such as :
- Yarn Ne 5s up to 12s for Knitted Glove, Weaving Blanket, Canvas fabric, Upholstery fabric
- Yarn Ne 6s up to 20s for Knitted Socks
- Yarn Ne 7s up to 20s for Denim Fabric
- Yarn Ne 10s up to 16s for Towel
- Yarn Ne 12s up to 20s for Curtain/Furnishing fabric
Term and condition as follow :
1. Packing in Conical or Cylindrical Cone
2. Pack in PP Bags, 1 PP Bags = (+/-) 30 kgs
3. Quantity Load : (+/-) 8,700 kgs in 1x20'FCL
(+/-) 20,000 kgs in 1x40'HC
(+/=) 5,000 kgs in LCL
4. Lead time shipment (+/-) 15 days from T/T or L/C Date
5. Payment Terms : 100% L/C at Sight T/T 30% Advance ; 70% within 10 days before container arrived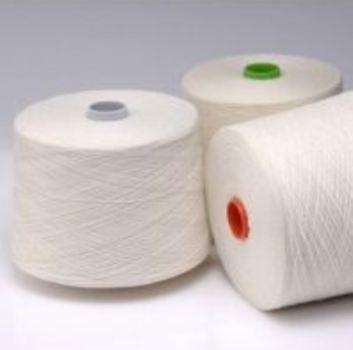 In honor, we would like to introduce our company PT. MITRA SARUTA INDONESIA as a leading Open End Yarn Manufacturer in Indonesia.
We produce Open End Poly/Cotton Blended Yarn from count 3s up to 20s in Raw White, Bleach White and 30 various colors.
Our valuable customers already spread in more than 40 countries all around the world.
We are specialized in producing Recycled Open End Yarn. The yarns are produced from selected Raw Materials, which are procured locally and imported. We only use good quality raw materials blend with our experience and knowledge to produce Good Quality yarns.
Our yarns ranges are from Ne 3 to Ne 20 (= Nm 5.07 to 33.86 = 196.8 Tex to 29.5 Tex). We also provide Doubling and Twisting feature according to our customers demand. Our yarns are suitable for Weaving as well as Knitting products, such as Socks, Towel, Blanket, Gloves, Carpets, Upholstery, Grey Fabric, Denim Fabric, Sweaters, etc.
And for your information, our production capacity for Yarn is reaching 2,722 MT/month.
It is our pleasure to receive your further information regarding our offering of REGENERATED OPEN END YARN.
For any help and support will be be appreciated by us.
If you have any questions, please fell free and do not hesitate to contact us shortly.
Best regards,
Singgih Eko Subroto (Mr.)
PT. Mitra Saruta Indonesia
Dsn. Larangan (Krikilan Km. 28) Krikilan, Driyorejo, Gresik 61177, Jawa Timur, Indonesia
Tel : +62 31 8977777
Fax : +62 31 8977842
Web : http://mitra-saruta.co.id
Email : singgih(at)mitra-saruta.co.id