Ride-on Vibration Rollers
KV25CS/DS KV40CS/DS KV40CSi/DSi
Ride-on vibration rollers are ideal for footpaths and repair work as well as finishing work in road construction and also applicable for landscaping. Kanto Tekko has 6 different type of rollers suitable for small to medium-sized construction sites.
Ride-on Vibration Rollers KV25CS/KV25DS
• Effective in urban area
• Certified for European Visibility Safety Standard 1 x 1
• Tier 3 emission regulation compliant and super low-nose construction equipment
Ride-on Vibration Rollers KV40CS/KV40DS, KV40CSi/KV40DSi
• Applicable for the various job sites
• Enabling efficient work with high safety and operability features
• Realized easier maintainability thanks to durable impeller-type sprinkler pump
• KV40CSi and KV40DSi are with Tier 4 Certified engine which generates the highest 25kW output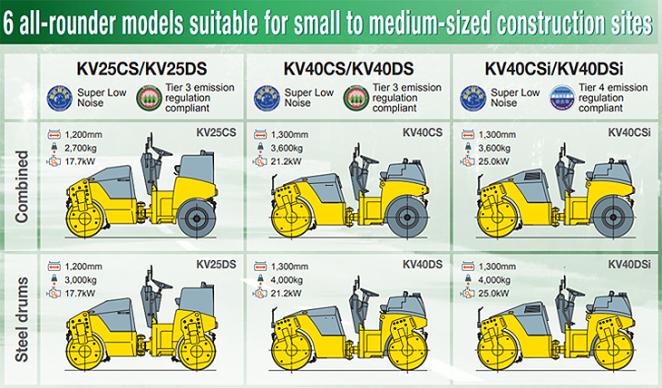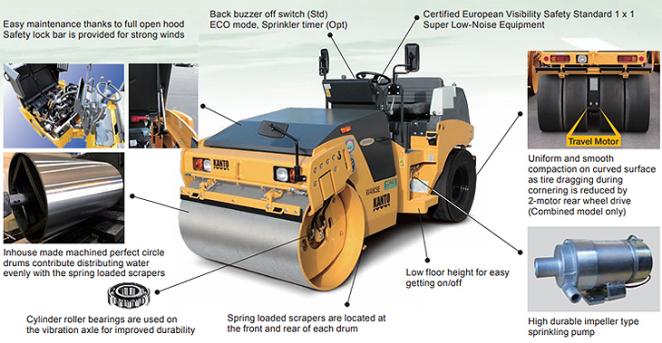 KV40CSi/DSi

Common Rail Engine with full
electronic controlled DPF which
reduces PM (Particulate Matter)
and NOx (Nitrogen Oxide).
Generating high 25kW output.
Functions of control panel and variety of options Functions of control panel and variety of options (Opt)
• Vibration switch
• Vibration lamp
• Sprinkler Switch
• Liquid sprinkle switch(for Combined spec)
• Speed mode switch (KV40 series only
• Parking brake switch
• Light switch
• Back-up beeper switch
• Sprinkler timer (Opt) • ECO mode switch (KV40CSi/DSi)
• Hazard switch (Opt)
• 12V power socket (Opt)
• LED light (Opt)
• Back-up sensor (Opt)
• Mesh seat cover (Opt)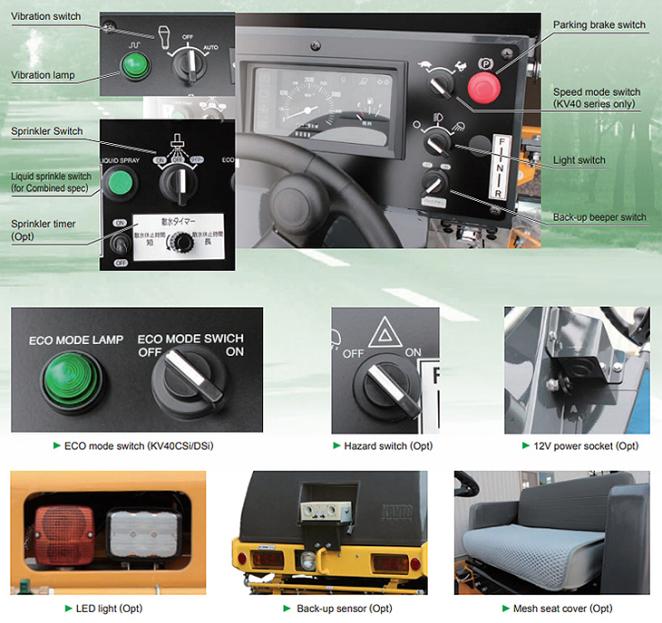 | | | | |
| --- | --- | --- | --- |
| | KV25CS/DS | KV40CS/DS | KV40CSi/DSi |
| Hazard switch | v | v | Std |
| Sprinkler timer | v | v | v |
| Cold climates preparation | v (Ass'y) | v (Piping) | v (Piping) |
| Back-up sensor | v | v | v |
| LED front & rear light | v | v | v |
| 12V power socket | v | v | v |
| Mesh seat cover | v | v | v |