Ring die pellet machine is produced by Henan Fote Heavy Machinery Co., Ltd., absorbing the essence of the foreign granulator, the heart part is the double layer mould with the unique assembly structure, and the clamping roller is made of wear resistant material of high alloy, having the features of unique design, reasonable structure, high efficiency and energy reduction and long service life. It is carefully developed by Fote Machinery and initial in China as well as finalized patented product, filling the blank of the circular mould granulating vertical feeding and achieving the international advanced level.
Ring Die Biofuel Pellet Machine/Ring Die Wood Pellet Making Machine is proper to press the material of adhesion difficulty and forming difficulty, such as the various melon hull and fruit hull such as rice hull, sunflower seed hull, peanut hull; wood leftovers like branch, trunk and bark; various crop straws; chemical materials like rubber, cement and ash. It is applied to the feed plant, wood processing plant and chemical plant. It is the most reasonable pressing, compressing and forming equipment with small investment, rapid effectiveness and without risk.
The working surface of the ring die of Ring Die Biofuel Pellet Machine/Ring Die Wood Pellet Making Machine will become uneven and the material guide angle of the die hole will become flat because of abrasion after being used for some times. When this happens, the bumps on the working surface must be abraded smooth and the material guide angle must be re-chamfered. Necessary restoration is important for prolonging the working life of a ring die.
What is more, the gap between the roller and ring die determines the output and quality directly. It is requisite to adjust the gap between the die and roller to an appropriate range, which is essential to the final pellet products. In general, you had better choose the gap from 0.1mm to 0.3mm and the gap for new die and new rollers should be larger than the old one. During practices, persistent experience for gap adjusting is favorable for the professional growth of a pellet mill operator.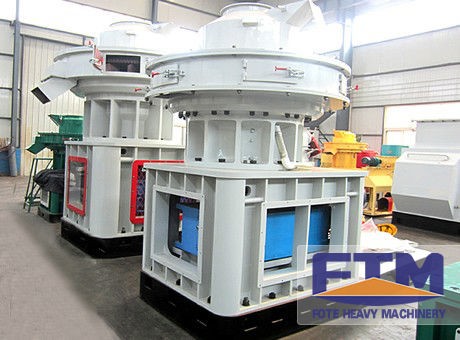 When the metal or foreign hard materials enter between the roller and die, the roller and die will be easy to be worn. Therefore, it is required to clear away the foreign materials before pelleting. If not, the foreign hard materials will accelerate ring die wear, which lead to the fatigue of the ring die. The ring die will experience breaking when the force exceeds its limit strength.
Henan fote Heavy Machinery Co., Ltd. adhere to the 'technology leader, to quality of survival, service and development ' purposes, in development with a sincere attitude, good reputation, excellent quality and perfect service based on the field of food machinery, products by customer trust and praise by users enjoy high social reputation.We warmly welcome new and old customers hand in hand, with brilliance, to create a great cause!
Website: http://www.woodpelletmillchina.com/pro/ring_die_pellet_mill.html
Address: High and New Industrial Zone, Kexue Revenue, High and New Technology Industrial Development Zone, Zhengzhou, China