Rogers RT/Duroid 6006 High Frequency PCB
Hi Guys,
Today we're going to talk about Rogers 6006 PCB.
Rogers RT/duroid 6006 microwave laminates are ceramic-PTFE composites which are designed for electronic and microwave circuit applications requiring a high dielectric constant. RT/duroid 6006 laminate is available with a dielectric constant value of 6.15.
PCB Capability

PCB Material:

Ceramic-PTFE composite

Designator:

RT/duroid 6006

Dielectric constant:

6.15 ±0.15 (process)

6.45 (design)

Layer count:

1 Layer, 2 Layer

Copper weight:

0.5oz (17 µm), 1oz (35µm), 2oz (70µm)

PCB thickness:

10mil (0.254mm), 25mil (0.635mm)

50mil (1.27mm), 75mil (1.90mm)

PCB size:

≤400mm X 500mm

Solder mask:

Green, Black, Blue, Yellow, Red etc.

Surface finish:

Bare copper, HASL, ENIG, Immersion tin, OSP.






RT/duroid 6006 microwave laminates feature ease of fabrication and stability in use. This property results in the possibility of mass production and reducing the cost of goods. It has tight dielectric constant and thickness control, low moisture absorption, and good thermal mechanical stability.
Features and Benefits
1. High dielectric constant for circuit size reduction
2. Low loss. Ideal for operating at X-bank or below
3. Tight DK and thickness control for repeatable circuit performance
The typical applications are aircraft collision avoidance systems, ground radar warning systems, patch antennas, satellite communications systems etc.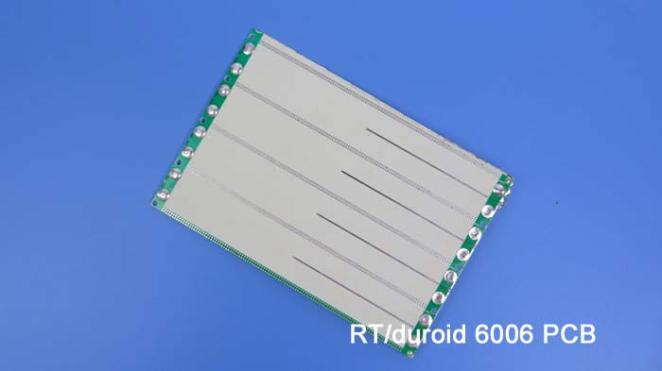 Thank you for your reading.
Appendix: Properties of RT/duroid 6006 laminates.
RT/duroid 6006 Typical Value
Property
RT/duroid 6006
Direction
Units
Condition
Test Method
Dielectric Constant,εProcess
6.15±0.15
Z
 
10 GHz/23 ℃
IPC-TM-650 2.5.5.5 Clamped stripline
Dielectric Constant,εDesign
6.45
Z
 
8GHz to 40 GHz
Differential Phase Length Method
Dissipation Factor,tanδ
0.0027
Z
 
10 GHz/A
IPC-TM-650 2.5.5.5
Thermal Coefficient of ε
-410
Z
ppm/ ℃
-50 ℃ -170 ℃
IPC-TM-650 2.5.5.5
Volume Resistivity
7 x 10 7
 
Mohm.cm
A
IPC 2.5.17.1
Surface Resistivity
2 x 10 7
 
Mohm
A
IPC 2.5.17.1
Tensile Properties
ASTM D638 (0.1/min. strain rate)
Young's Modulus
627(91)

517(75)
X

Y
MPa(kpsi)
A
Ultimate Stress
20(2.8)

17(2.5)
X

Y
MPa(kpsi)
A
Ultimate Strain
12 to 13

4 to 6
X

Y
%
A
Compressive Properties
 
ASTM D695 (0.05/min. strain rate)
Young's Modulus
1069 (115)
Z
MPa(kpsi)
A
Ultimate Stress
54(7.9)
Z
MPa(kpsi)
A
Ultimate Strain
33
Z
%
 
Flexural Modulus
2634 (382)

1951 (283)
X
MPa(kpsi)
A
ASTM D790
Ultimate Stress
38 (5.5)

X

Y

MPa(kpsi)
A
Deformation under load
0.33

2.1
Z

Z
%
24hr/50 ℃ /7MPa

24hr/150 ℃ /7MPa
ASTM D261
Moisture Absorption
0.05
 
%
D48/50 ℃ 0.050"(1.27mm) thick
IPC-TM-650 2.6.2.1
Thermal Conductivity
0.49
 
W/m/k
80 ℃
ASTM C518
Coefficient of Thermal Expansion

47
34
117
X
Y
Z
ppm/ ℃
23 ℃ /50% RH
IPC-TM-650 2.4.41
Td
500
 
℃ TGA
 
ASTM D3850
Density
2.7
 
g/cm 3
 
ASTM D792
Specific Heat
0.97(0.231)
 
j/g/k
(BTU/ib/ O F)
 
Calculated
Copper Peel
14.3 (2.5)
 
pli (N/mm)
after solder float
IPC-TM-650 2.4.8
Flammability
V-0
 
 
 
UL 94
Lead-free Process Compatible
Yes