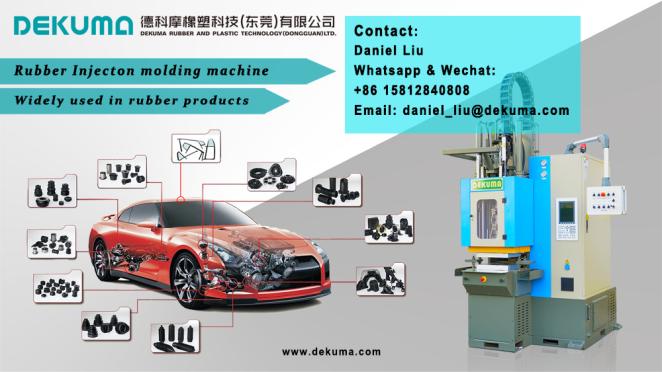 DEKUMA RUBBER AND PLASTIC TECHNOLOGY (DONGGUAN) LTD.
Contact: Daniel Liu ( overseas sales )
Wechat/whatsapp: +86 15812840808
Product characteristics:
Energy saving, Low operating cost
The output of servo system is completely based on the required pressure and flow of machine, eliminating the reactive energy consumption, only 50% electricity consumption as comparing with equal proportional pressure and proportional flow control method.

- High repeatability
Adopting high precision pressure sensor, servo motor, high precision encoder, during operation, the pressure and flow are real time comparison, control error is controlled by specific PID controller.

- Swift dynamic response
High performance pump and synchro servo motor, fast response, short deceleration distance, high speed and stability.

- Instant power consumption management system
Equipped with electronic wattmeter, instant power consumption data will be processed by B&R S98 controller for machine performance and production analysis.

- Low noise
Creating a quiet environment for you even in the condition of high pressure clamping and injection.

- less cooling water
Unnecessary to connect cooling water for oil tank due to the less heating from hydraulic system, that is benefited from the elimination of the reactive energy consumption, the temperature of oil tank is lower than 55℃ under the condition of continuous running.

- safety & reliability
CE certificate upon all range of DKM-R series rubber injection machine
Application:
Natural rubber (NR), Nitrile rubber (NBR), Ethylene Propylene Diene Monomer (EPDM), Isobutylene Isoprene rubber moulded products, DKM-Rvse series is applicable in automobile, electric power and civil industries, such as cylinder cushions, sealing parts, cable connectors and pipe connectors, etc.