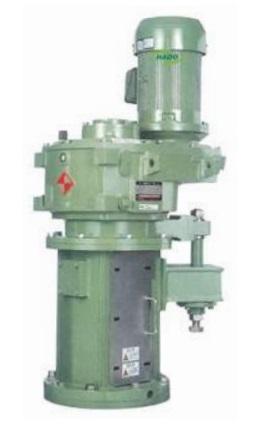 Features
▪ Medium to Large sized Mixers with a wide range of variations.(from 0.75 to 90Kw)
▪ Easily replace mechanical seals without removing the reduction parts even when they are installed under the low ceiling.
▪ Mixers are made more compact through the rearrangement of gear arrays.
▪ Substantial cost reduction is made possible through the increased use of common parts.
▪ The combination of rotation speed and motor output can be set in 17 different steps, a range far greater than that preceding models.
▪ The newly developed 3-bladed axial flow, 1-stage impeller achieves high discharge coefficient and low drag coefficient.
This simplified impeller provides even higher performance than 4-bladed pitched paddle, 2-stage impellers.
▪ These mixers can be used with any type of motor sold on the market.
▪ With some of these new mixers, mechanical seals can be easily attached or detached without removing the mixers from their place of installation.