Introduction
English name: Bilberry extract
Latin Name: Vaccinium vitis-idaea Linn.
CAS No.: 84082-34-8
Molecular forula: C27H31O16
Molecular Weight: 611.53
Active ingredients: Anthocyanidin
Specification: 10%, 15%, 20%, 25%
Use Part : Fruit
Appearance: Dark purple fine powder
Mesh size: 80 Mesh
Test Method: UV
Bilberry (Vaccinium myrtillus) is the dry extract of the European Blueberry known to support eye health, eliminate circulation problems and decrease inflammation. These super antioxidants contain compounds called Anthocyanins, which gives the Bilberry it's deep purple color and is essential for the numerous health benefits it offers.

Bilberry is most famous for its ability to improve vision as we age. The powerful Anthocyanins help protect and regenerate your eye's rhodopsin. Rhodopsin is the primary agents in the eyes that help improve night vision and adjust to darkness.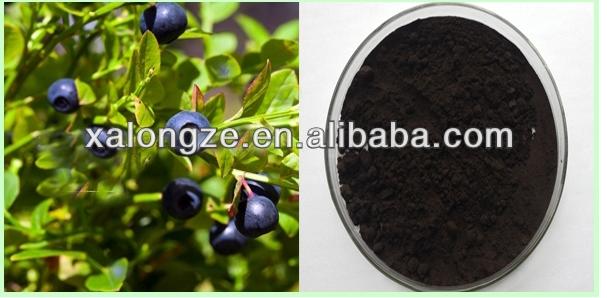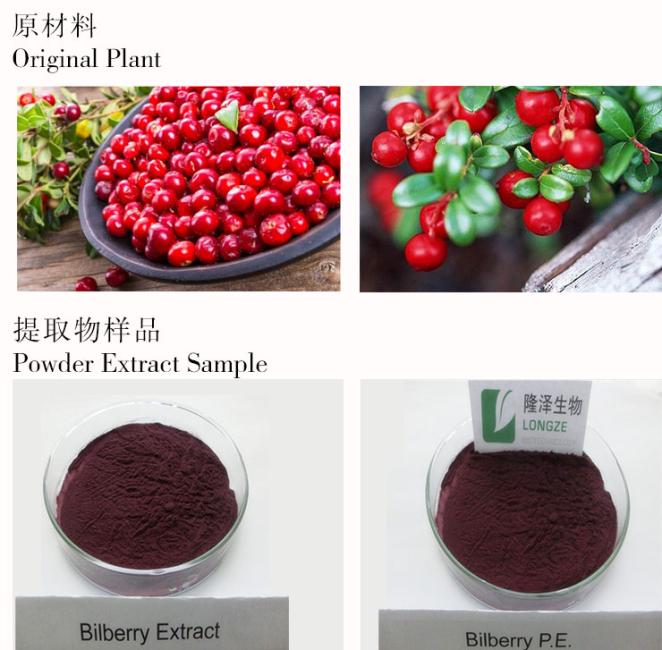 Production description
NALYSIS

SPECIFICATION

RESULTS

METHOD&REFERENCE

Sieve Analysis

100% pass 80 mesh

Complies

USP<786>

Bulk density

40-65g/100ml

42g/100ml

USP<616>

Loss on Drying

5% Max

3.67%

USP<731>

Sulphated Ash

5% Max

3.13%

USP<731>

Extract Solvent

Water

Complies

Heavy Metal

20ppm Max

Complies

AAS

Pb

2ppm Max

Complies

AAS

As

2ppm Max

Complies

AAS

Cd

1ppm Max

Complies

AAS

Hg

1ppm Max

Complies

AAS

Microbiology

Total Plate Count

10000/g Max

Complies

USP30<61>

Yeast & Mold

1000/g Max

Complies

USP30<61>

E.Coli

Negative

Complies

USP30<61>

Salmonella

Negative

Complies

USP30<61>

PAH:

Conform with European standard

Conclusion:

Conform with specification

Storage:

In cool & dry place. Keep away from strong light and heat.

Shelf life:

2 years when properly stored.
Function
1. Anti-oxident
2. Enhance the immune system ability.
3. Reduce heart disease and stroke occurred
4. Help to prevent various free radicals related diseases
5. Reduce the number of cold and shorten the duration
6. Enhance flexibility of arteries and veins and blood capillary
7. Relaxation vascular so as to promote the blood flow and the high blood pressure
8. Resistance to the effect of radiation
9. Promote the retinal cells regeneration, depending on the purple quality, improve eyesight to prevent myopia.
Application
1.Applied in food field, it is mainly used as food additives, it also can be added into many kinds of product;
2.Applied in health product field, it has good effect for cardiovascular diseases and cancer;
3.Applied in pharmaceutical field, it can be used to prevent variety of cardiovascular disease