SECRET MOIST OIL DROP CREAM [SC150226-1]
Volume : 200ml, 50ml, 15ml
FEATURES
Charge Overnight Moisture for 100 hours.
Oildrop night cream with moisturizing ability from 10 kinds of plant extracts and 6 kinds of fermentation extracts smoothly permeates into the skin.
Advanced concept which finds luminosity and avoids oilness by filling oil in cream
OIL DROP TECHNOLOGY APPLIED
Form moisture film/Prevent moisture loss
Skin secret of spotlight made of 6 kinds of fermentation extracts
Dual effect essence with strength of fast and light absorbing ability of oil and rich nutrition of essence drawing moisture and filling nutrition with fermentation extracts.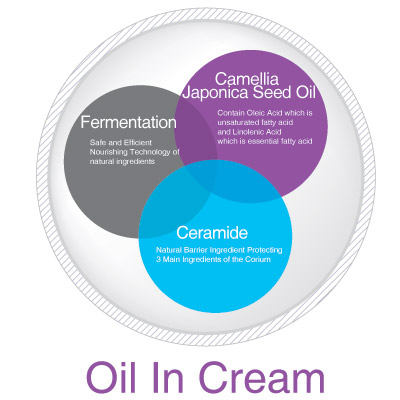 How to Use
Apply proper amount on the face after arrange skin texture after wash in the evening. Pat lightly and let oil ingredients be fully absorbed.
1. Arrange dead skin cells - Apply partially on the sensitive skin when you arrange dead skin cells
2. Use as a booster - Help moisturizing and absorption of makeup and sparkle before makeup
3. Sparkle Makeup - Mix with BB cream or makeup base to make natural skin tone and sparkle
Main Ingredients
Camellia Japonica Seed Oil
Helianthus Annuus (Sunflower) Seed Oil
Simmondsia Chinensis (Jojoba) Seed Oil
Bacillus/Soybean Ferment Extract
Saccharomyces/Viscum Album (Mistletoe) Ferment Extract
Phellinus Baumii Mycelium/Panax
Ginseng Root Ferment Extract Filrate