Wood pellet as a kind of new green energy has been widely applied in Europe, South American and other countries around the world. As people become more and more concerned about the carbon emission and air pollution, wood pellet are popular for room heating and for commercial use in power station. If you have a pellet stove or pellet fireplace in your family, then pellet fuel is an easy and clean fuel for family use. Of course, you can buy the pellets from the wholesale market or from the truck transmit system. But, if you have live a place which have plenty of raw material for pellet mill, like sawdust, agriculture waster or other waste thing like fruit shell, grass, garbage etc. Then why not try to make pellet from those waster things before? It is cost saving and easy for use. If you can make those waste things into precious energy, then you saved a lot of money. Now, do you have decided to make wood pellet pellets by yourself?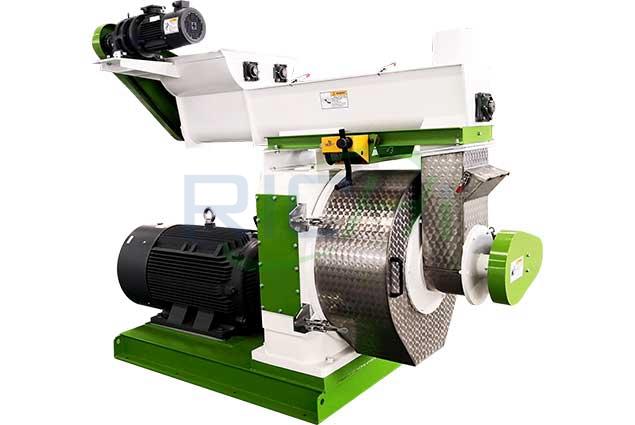 Sawdust Pellet Mill Features
1. Feeder: feeding raw material into the pellet making chamber.the feeder is made of stainless steel.
2. Forced feeding unit: since the raw material is fluffy, and the bulking value is higher, we equip the force feeding device.
3. Pellet making unit: ring die and press roller inside work together to make the biomass wood raw material into wood pellet.
4. Main motor: driving the pellet making system.
5. We adopt the super quality Siemens brand motor in our machine.
Sawdust Pellet Mill Parameters
| | | | | | | |
| --- | --- | --- | --- | --- | --- | --- |
| Model | MZLH320 | MZLH350 | MZLH420 | MZLH520 | MZLH768 | MZLH858 |
| Anti-caking Feeder Power | 1.5KW | 1.5KW | 1.5KW | 2.2KW | 3KW | 3KW |
| Forced Feeder Power | 0.55KW | 0.55KW | 0.55KW | 0.75KW | 1KW | 1KW |
| Capacity | 300-400kg/h | 500-700kg/h | 1.0-1.2 t/h | 2.0-2.5 t/h | 2.5-4 t/h | 3-4.5 t/h |
| Pellet Machine Power | 37kw | 55kw | 90kw | 110/132kw | 250/280kw | 280kw |
| Final Pellet | 6-12mm | 6-12mm | 6-12mm | 6-12mm | 6-12mm | 6-12mm |
How Do You Make Sawdust Into Pellets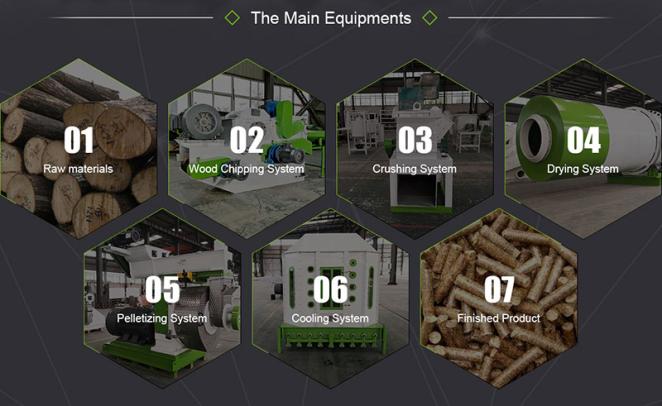 Sawdust Collection
Transport sawdust or other kinds of biomass materials to your factory. Locate the plant near the source of raw materials, so that to minimize the transportation cost.
Crushing (skip this procedure if your materials is sawdust)
If your raw materials are in big size such as wood chips, crushing machine or hammer mill is required to crush them into small pieces (less than 6mm).
Drying
Moisture content should be controlled between 10% and 15%, the situation for making best wood pellets. It is necessary to test the moisture content first before feeding the saw dust into pellet mill. Too dry, the pressed pellets will be loose and easy to break. Too wet, will increase the difficulty of pelletizing. Dry the sawdust in sun or buy a dryer machine to reduced water content. Spay a litter water to increase water content.
Screening and de-ironing
​It is a key process for making wood pellets. It is set to remove stones, metals, and other hard impurities mixed in sawdust materials, or it may cause serious wearing of the pellet mill. Screening machine and magnetic separation machine is generally adopted.
Mixing (optional)
When processing some kind of biomass materials with low lignin content, binders are needed to make better pellets.
Pelleting
Process well prepared sawdust in pellet mill to make wood pellets. The pellets should be hard and shiny. If too soft, the problem might be sawdust too wet. If crumbly, the problem might be sawdust too dry. You need to try 1~2 times to master the optimal moisture content. You maybe also interested in sawdust briquette machine for making sawdust briquettes.
Cooling and Packaging / Bagging
Cool the produced wood pellets to room temperature and pack them in bags for sale.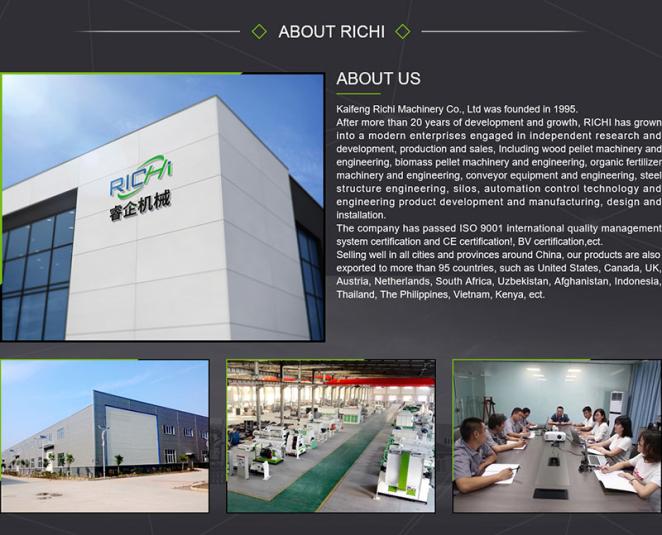 Henan Richi Machinery Co., Ltd Contact
phone/whatsapp:+86 15003890639
Wood/Feed Pellet Mill: https://www.pellet-richi.com
Feed Pellet Mill: https://www.feed-pellet-plant.com
Wood Pellet Mill: https://www.wood-pellet-plant.com
https://www.cn-pelletmachine.com