Manual Gate / Glass Wall For handicapped persons/luggage
Description
It is a gate for passengers with luggage or handicapped persons who use wheelchairs.
Performs smooth operation by using silicon wheels in lower parts.
Swing Open: 180 degrees.
Glass wall: Block the surrounding space after installing the gate.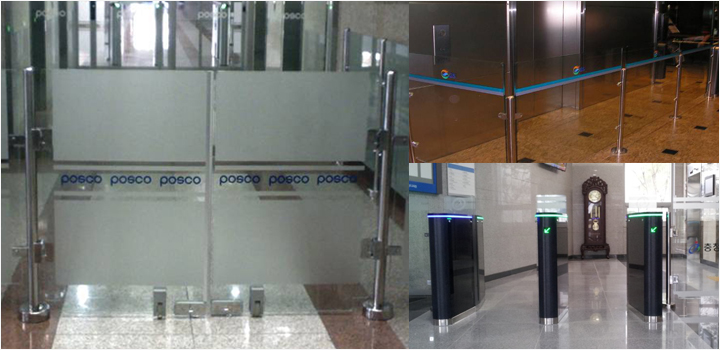 Remote control and Management
Description
It is used under the approval of the guide desk for one pass of visitors and persons who do not have access card.
In case of fire or emergency, all lanes are opened at once for quick evacuation.
Forced Opening or Full opening of the gate of each lane.

Security Gate system is..
It is an access control system that efficiently controls all visitors entering and exiting the building. It provides a complete one-person control function that distinguishes internal and external personnel, as well as to prevent leakage of information, minimization of security personnel, and creation of pleasant working environment.

Although RF card system is mainly adopted as means to distinguish between authorized and unauthorized persons, it can be linked with various biometric (fingerprint, face, iris, etc.) systems in a situation where a higher security level is required.