Turnstile Gate (GD-900ST)
Description
Size: 900(L) x 970(H) x 280(W)
Material: Painted Steel
Input power: AC 110~240V, 24W, 50/60Hz
Processing speed: 45 ~ 50 persons / Hand Operated


Noise prevention device during rotation
Lock function to prevent simultaneous traffic of two people
Hydraulic brake system to ensure smooth operation
Anti-backup device to prevent reverse operation
Operating Modes: Convertible in Standard Modes
During power failure and power cut: Fail Safe and Fail Lock of Arm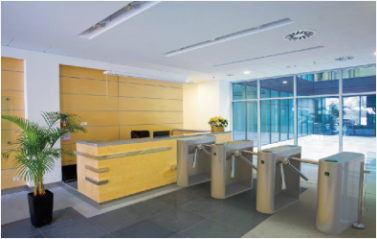 Security Gate system is..
It is an access control system that efficiently controls all visitors entering and exiting the building. It provides a complete one-person control function that distinguishes internal and external personnel, as well as to prevent leakage of information, minimization of security personnel, and creation of pleasant working environment.

Although RF card system is mainly adopted as means to distinguish between authorized and unauthorized persons, it can be linked with various biometric (fingerprint, face, iris, etc.) systems in a situation where a higher security level is required.