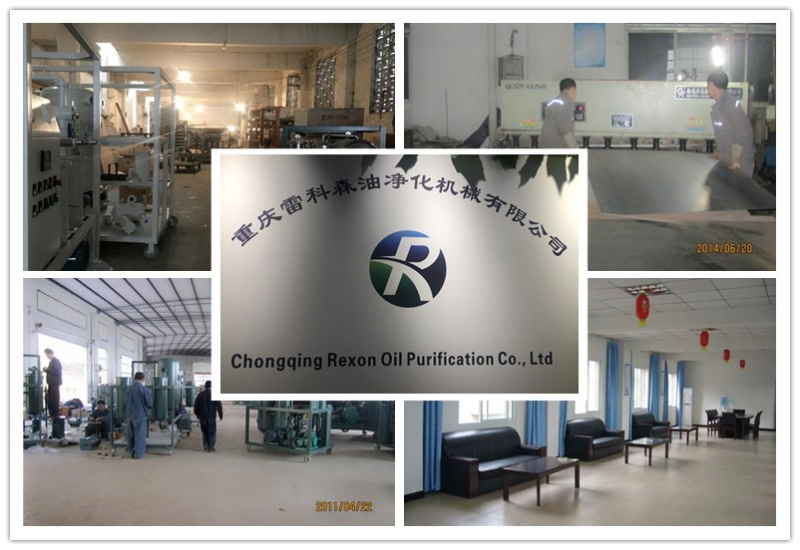 Chongqing Rexon Oil Purification Co., Ltd was built in year of 2000 and located in Chongqing city, China, which is a famous industrial machinery city. As a leading oil purifier manufacturer and oil purification technology development company, we specialized in designing, producing, developing and selling various types of oil purification equipment such as transformer oil purifier, turbine oil purifier, lube oil purifier, hydraulic oil purifier, engine oil purifier, ship oil filtration plant, used cooking oil purifier, centrifuge oil separation purifier and all other industrial oil purification machines.

We offered professional oil solutions service and oil purifier machines for world-wide customers near 20 years. Our equipment can be applied to many industrial fields, such as the electric power, petroleum chemical, metallurgical industry, mine, aviation, shipping and railway, factories, and so on. We have sold products to Africa, North America, South America, Asian countries, worldwide places. And we have been to customers' on-site places to offer training and commissioning services for customers as required like Africa countries, Asian countries etc. From these years work for oil filtration and on-site oil processing, we gain rich experiences and researching in better machines and keep us developing all the time. We are aiming to save oil energy sources and save new oil cost for our customers, through purifying their old oil, and maintaining their oil cleanliness to keep their oil always in good condition as new to use into their machinery, equipment and system. And under this situation, these machinery and equipment can be always maintained well too, so their lifetime can be also prolonged largely.

Our Oil Purifier, Oil Filtration System and Products Range:
Vacuum Transformer Oil Purifier | Dielectric Oil Filtration System | Insulating Oil Purification Machine | High Voltage Oil Filtration Plant
Lubricating Oil Purifier | Turbine Oil Purifier, etc.