Do you want a plastic extrusion machine whose production speed is 2-3 times than your other competitors? Let's see our Single Wall Corrugated Pipe Production Line below:(more details please kindly contact us on online or by email)
Do you know how much only the electricity bill of one pipe extrusion line is in one year?
The real value of high-speed production line does not only means high output (which is easy to see, as it is obvious), what's more important, it can help you lower your production cost so as to enable your products more competitive in the market competition.
High speed dual wall corrugated pipe machinery made by Zhongyun Science and Research Co. Ltd. can achieve outstanding performance through adopting numerous innovative technology:

Double Wall Corrugated Pipe is mainly used for underground water sewerage, large-scale water supply, drainage, sewerage, exhaust, subway ventilation, mine ventilation, irrigation and so on.


THE EXTRUDER
Efficient shield-style screw with a special blending-melt section greatly improves the plasticizing quality and output. and has a wide adaptability of raw material, especially suitable for the efficient extruding of PE/PP/PET/ABS.

The advanced unsymmetrical notched design; an automatic water cooling system for temperature control is equipped on the feeding section, which duplicates the conveying efficiency.

The extruder is equipped with sliding guide and a device for adjusting the central height.

The vertical structure attached with a forced cycling oil cooling system cooled by cycling water. High torque and speed, and low noise; gear with rigid teeth by grinding treatment; heavy duty thrust bearing.

Driving and temperature control is achieved by PCC control system imported from B&R in Austria, which has been recognized and adopted by many international first-class extruding equipment manufacturers; and a 15″colour touch screen is equipped for easy operation and explicit display.
Optional innovative MULTIEXTM multi-extruding and feeding system, by means of flexible combination of the extruding system, furtherly optimize the production solution for customized user, so as to realize a perfect matching between pipe sizes and extruder-combination. This solution brings a more flexible production style for you!
THE CORRUGATOR
3. Model ZC-1000H high-speed water cooling corrugator
Innovative mould blocks cooling solution of Model 1000H corrugator from ZhongyunTech brings a fast and high efficient cooling of mould blocks, substantially increasing the production efficiency of PE double wall corrugated pipes.

Innovative design of both the corrugator frame and mould blocks moving structure. When changing the size of mould blocks, you do not need to make any adjustment to the platform or frame of the corrugator any more, so that the work of changing pipe sizes become easier and faster!

The all-new design of corrugator structure makes the left frame and the right frame which the mould blocks are mounted on be able to open and close freely.
The mould blocks on different models of extrusion lines can be interchanged completely through adopting a highly standardized system solution!

Innovative clasp style rapid assembly technology of mould blocks can realize easy and fast assembly of mould blocks on their bearer plates. This can greatly decrease the workload of changing mould block sizes and substantially increase the work efficiency!

Based on the further optimized design for the structure and running mechanism of mould blocks, it makes the mould blocks running forward and backward bidirectionally on the corrugator! It effectively overcome the structural defects that ordinary corrugator only allow the mould blocks run in one direction.
THE COOLING TANK
The spray cooling flume side-opened on both sides makes the operation and maintenance easier.

Stainless steel tank.

An automatic control for water temperature and its level.

The guiding rollers are equipped in the flume, reducing the moving resistance of the pipe.

A powerful blowing dryer is equipped to get rid of the cooling water on the surface of pipes completely.

Equipped with a synchronously automatic pipe pulling device.
THE CUTTING MACHINE
Planetary cutting style and hydraulic feed device with high precision can ensure flat and smooth cross-section of the pipes.

The moving structure of cutter holder adopts a big gear transmission for high precision and long lifespan with easy and reliable operation. The vibration caused by the chain transmission can be effectively resolved.

Equipped with an auxiliary inspection mechanism ensures the cutter accurately placing at the cut position.

Well-equipped with protection device ensures a safe operation.

It is controled by PLC control system with normal communication interface for the convenience of connecting with compatible equipment.
THE UNLOADING DEVICE
Cut pipes can be smoothly conveyed to the stacking place by the initiative conveying device. The unloading device is well-equipped with perfect protection device to ensure a safe production.
The central height of the unloading device can be easily and quickly adjusted by the electrical adjusting device when it needs to be adjusted because of changing pipe sizes.
2.Product advantage:
Do you really know corrugated pipe production equipment?
Do you know there is difference in water cooling system for corrugators, Ordinary water cooling system and high-speed water cooling system individually?
In the field of PE/PP double wall corrugated pipe machinery,Zhongyun Group is the only enterprise in China that has manufactured all thethree kinds of corrugators; As the leading manufacturer of plastic pipemachinery, Zhongyun Group has been guiding the direction of development forPE/PP double wall corrugated pipe machinery, represents the highest level of technology.
1 Comparison of cooling methods
Output is the most crucial point to reflect the value of corrugator machines.The output of corrugated pipe machines is decided by the cooling efficiency of mould blocks.
2 Comparison of output

3 Comparison of reliability
4 Comparison of production flexibility
3.Company Certifications:
Up to now, Zhongyun Group has continued development for over thirty years in the field of plastics machinery. 30 years' rich and valuable experience in operation management is especially important for a company whose main business is large-scale electromechanical equipment. In order to make our valuable operating experience be better used, we have established a sound operating management system, and have been certified for quality system of ISO9001 and CE. We can offer a complete service on product R&D, manufacture and after-sales. Zhongyun Group has received many awards in recognition of its advanced technology and well management.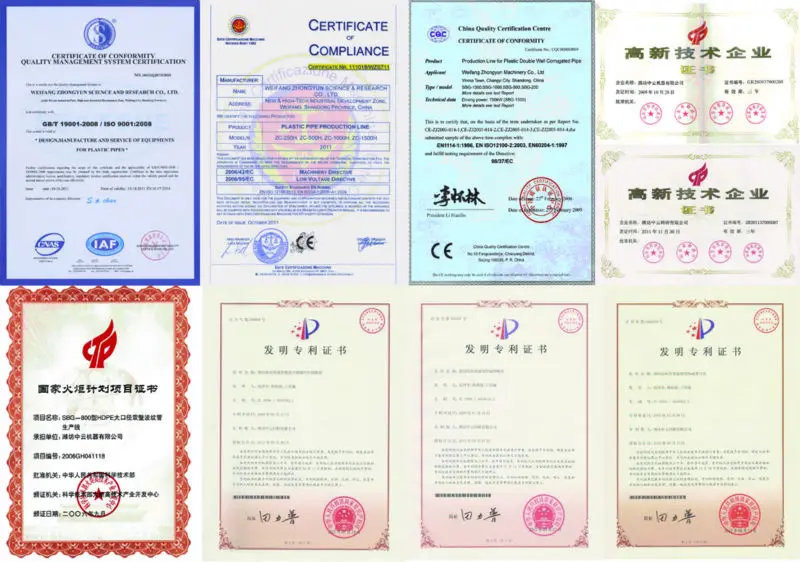 4. After-sales Service:
After-sales Service Provided: Engineers available to service machinery overseas;
Product warranty: ONE Year
We believe that highly professional staff should be led by professional and experienced experts in all business fields; high-quality products must come from highly qualified staff and be produced by standardized and orderly team work in clear division of labor. Therefore, we have been treating staff selection, training and education as the cornerstone of our business for sustainable development, and been focusing on team spirit requirement and training of all staff.
Our Services
MORE THAN 20 PROFESSIONAL AFTER-SALES SERVICE EXPERTS ARE WAITING FOR SERVING FOR YOU!!!
NO MATTER YOU ARE IN WHICH CITY ALL OVER THE WORLD, WE CAN REACH THERE AND SOLVE YOU RPROBLEM!!!
WE CAN SUPPLU YOU ANY BROKEN PART FOR FREE WITHIN WARRENTY TIME!!!
Company Information
100% FACTORY FOR YOUR WITNESS. FOUR PRODUCTION WORKSHOPS ARE WAITING FOR YOUR CHECK.
MORE THAN 20 NATIONAL TALENTS AND GLOBAL CE CERTIFICATION SHOW OUR STRENGHT.
WITNESS IS THE BEST WAY FOR YOUR PURCHASING MACHINERIES.
MORE THAN 2000 WORKERS ARE WAITING FOR YOUR VISITING, MANAGER!!!
IF YOU ARE INTERESTED IN OUR PRODUCTION LINE, PLEASE DON'T HESITATE TO CONTACT US.