Silver Ion Generator - Magic Ion Kathano
It's our patented equipment producing colloidal silver (water contains silver ions) continuously using normal tap water. Based on the quantity of ion producing modules inside, 4 models (an Economic, a Medium, a Premium and a Medical model) are available.

Colloidal silver has special capability of cleaning, sterilization & antibacterial. By installing this at your bathroom, your skin will be healthier & beautiful. By using this at your kitchen, your family will be much healthier & free from any food poisoning.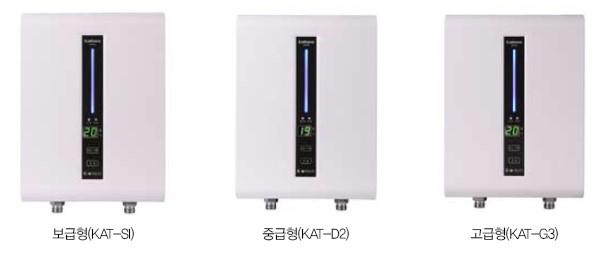 * Specification
Entry Model

(KAT-SI)

Intermediate

(KAT-D2)

Premier Model

(KAT-G3)

Size

W260 x H370 x D80

Ion Generation

Module Quantity

6pcs

9pcs

(150% more effective than entry model)

12pcs

(200% more effective than entry model)
Where

Recommended Model

Home

Bathroom

KAT-SI, KAT-D2, KAT-G3

Kitchen

KAT-SI, KAT-D2, KAT-G3

Laundry

KAT-SI, KAT-D2

Business

Hotel

KAT-D2, KAT-G3

Hair Salon

KAT-SI, KAT-D2

Massage Shop

KAT-G3

Fitness & Sauna

KAT-SI, KAT-D2, KAT-G3