detector switch
high-quality stainless steel casting
use to detect the skid of conveyor belt
explosion-proofing
ISO9001


Product Details:
| | |
| --- | --- |
| Place of Origin | Tangshan,hebeiprovince, China (Mainland) |
| Brand Name | Belt conveyer— Skid detector |
| Environment temperature | -40°C—+ 50°C |
| Relative humidity | 0~95% |
| Atmospheric pressure | 80~110KPa |
| Contact way and quantity | 1XSPDT(single-pole double-throw) |
| Load current | AC380V 5A , DC24V 5A |
| Power consumption | 3W |
| Detection range | 0.1~9.9m/s |
| Working voltage | AC220V 50/60Hz |
| Warning point | 30%Sliding rate |
| Start-up delays | 10s |
| Output way | 1 group switch |
| Reset way | automatic |
| Protection grade | IP65 |
Fig.1 configuration
l Principle
The slip detector have a close contact with belt through the touch wheel which can turn along with the running of the belt so as to make the sensor inside output impulse signal to the counter unit of the SCM which can calculate and judge to conduct the online inspection for the belt speed. When the speed lows 25%-30% than the normal, it will give out a switch-off signal, and the user can shut down the machine through his own control net to prevent the production fault cause of belt slip. the belt speed and slip limitation can be initialized through 8421 switch code.
The whole device can be installed at any position of the belt, the touch wheel has no wear with the belt, and the other features such as high reaction speed, high precision, small error, convenient installation etc.
l Installation
1. the detector should be installed on the stable running and small sinkage part of the belt to make sure the wheel has a close contact with it.(fig.5)
2. ensure the axial direction parallel with the belt, and the turning direction consist with the running of the belt.
3. user can make the bracket according to the height of the belt, ensure the contact between the wheel and belt within the elastic scope.
l Connection
the cable outlet of the device including 5 core with different color(red, yellow, black, blue, brown), among them, the blue and brown is the connecting points of AC220V.
4. if the output signal used as alarm, the connection way is as follows.(fig.2)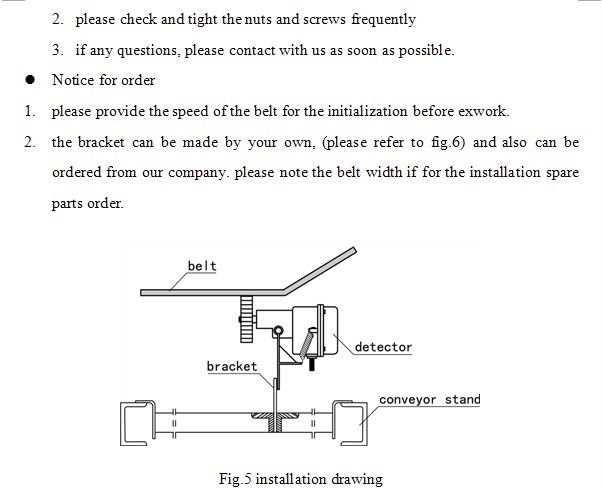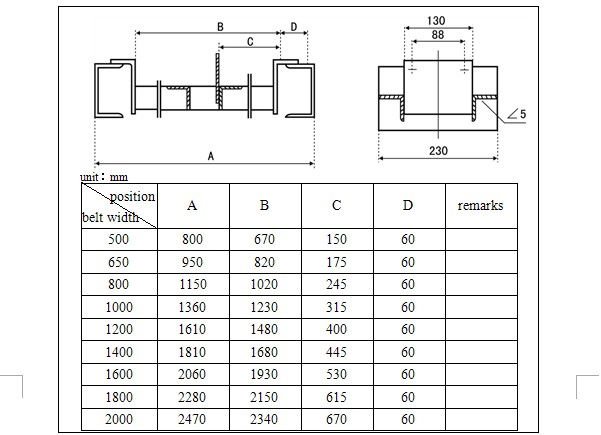 Fig .6 bracket drawing and data
We are specilized in this product for several years , superd quality with much lower price must
match your demand .If you are interested in our products, Pls drop me aline .
Welcome you inquiry to us