Protect Crop Human Health
Smart Trap Coverage
Outdoor : 2ea /ha, Orchard & External : 2~4ea /ha
The place of installation and use
Agricultural sector : Rice, Orchard, Barn, Greenhouse, Farmhouse
- Pheromone lures, equipped with strobe lights
Park & Amusement park : Amusement parks, Golf courses and resting place parks, Golf courses and resting place
- Multifunctional trap (Landscape light, Security camera, Security light remote controller, Outlet)
Public institutions : The RDA research institute, Agricultural technology center, Pest surveillance, Playground, Welfare center, School
- Multifunctional trap (Landscape light, Security camera, Security light remote controller, Outlet)
Academics : Research institutes, Agricultural technology center, Pest surveillance, Agriculture and life science colleges
- Pheromone lures, Attractant, Repellents, Mating disrupter etc.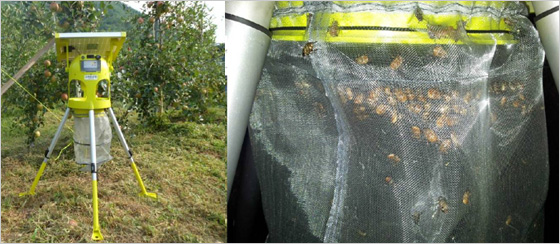 Features
Light Attraction - Phototaxis pest and hygiene pest trapping
- TiO2 lamp : Insects attracting
- Lower fan : Insects trapping and prevent
Chemical Attraction - Chemical attracted pest trapping (Pheromones, lures)
- Pheromone lure case : Attractants case
Repellent Effect - Strobe and flash light repel wild animals
- Strobe light : Light combating

Smart Easy use
Specific environment, Automatic control functions
- Outside air temperature below 10°C operating automatic control (Upper fan, Lower fan)
Multifunction, Multipurpose smart trap
- (Itself), Solar power generation black box and CCTV switching function, multi-function smart-trap.
Consilience by crystallization of the state-of-the-art-convergence technology
- An ideal crystals AT,BT,NT,MT combines the scientific principles and field data.
| | |
| --- | --- |
| | |
| Wireless transceiver camera | Remote control |
| | |
| Multi-Controller | Volter system |
| | |
| Bridge height adjustment at the touch of a button | |
Use Method
Assembly of the product
1) Attach/fix the four legs and the net onto the main body
2) Position it facing south to allow most favorable exposure to sunlight
3) Fix solar panel in moderate angle
Test of Product
1) Load 1 and Load 2 is displayed to the controller after/for 5 seconds, press the 'SET' Button
2)Number blinks, Push the switch set to 5. (ON/OFF function, check one time by pressing ON, and again pressing OFF)
3) Test again after 5 seconds, then switch to the controller, number blinks, Press the switch for Load 1 in 7 Load 2 is set at 7
4)Controller Setting

- Winter : Fan off
- Battery replacement : After opening the battery compartment (+), (-)terminal of battery replacement after separation.
- Battery installation and replacement
1)DC 12V 15Ah battery case attached to the
2)Battery red (+) to red(+) terminal plugs
3) Battery black (-), to black (-) terminal plugs

- Smart trap operation
1)On the front panel switch ON
2) Switch On the fan (located in the middle portion of the lamp)
3) In front of the controller set 7 and 7 (7 hours after sunset light, the lower the fan running 24 hours)
Battery Charging
Solar Charging
SMPS Charging (Option)
Car adapter (Option)
Cautions
It may not work in shady place, inside building, green house because lack of charge.
When you need to install in contours, be careful to adjust the height of legs or it may fall down.
Move product to a safe place or fasten to a support in adverse weather conditions such as during hurricane.
It may not work in the raining or overcasting weather for a long time because of lack of charge. In these cases switch off the system. Then recharge on sunny days for more than 24 hours or external power source (SMPS).
If you see any problem and disorder of the product, please ask expert or staff help.
Life span of lamp is six months, use lamp that match the product.
You can use the product right away after receiving, it is fully charged.
The major part the name and description
Mono crystalline solar panels
- Maximum power : 22.5W
- Voltage : 18V
- Size : 460 x 430 x 30mm
- Weight : 2.5kg
2.4GHz Wireless transceiver camera (Option)
- Wireless camera
. Imaging sensor type : CMOS
. Picture pixels : 628 x 582 PAL, 510 x 492 NTSC
- Wireless receiver
. Antenna : 50ohm SMA
. Receiving sensitivity : 85dBm
. Intermediate frequency : 480MHz
Body
Controller
- DC 12V 10W
- External control function
- Fan and lamp operation time control
Voltmeter
- DC 12V
- Digital battery charging and discharge check
Marine waterproof switch
Outlet (Option)
- DC 12V
- Charge phones, Cameras
- External power supply
Capture relevant portions
Upper fan : Air-Drop fan
- DC 12V 1.1W
- Forced Air~Cooled lamp
- 400~600rpm
Strobe light
- Spot 11 time, Blink 20 time
- Lure case and lamp protection
Pheromone lures case
- Size : 5cm x 2.5cm
- Waterproof lid
Lower fan : Prevent pest escape and a suction fan
- DC 12V 1.2W
- Prevent pest escape (24-hour operation)
- Waterproof switch
- 650~800rpm
TiO2 lamps : Pest lure lamp
- DC 12V 3W
- Lamp the radius : 100m~150m
- Wavelength : 360nm~425nm (UV Blue lamp)
- TiO2 (CO 2 export the as a mosquito attract)
Lamp protection case
- Size : 6mm
- Pheromone lures, Repellents
Legs
Legs height adjustment at the touch of a button
- Size : Maximum-77cm / Minimum 47cm
- Weight : 210g /pc
- Aluminum & Plastic
Non-Skid pad fixed leg (4 pieces)
- Size : Maximum - 34cm / Minimum - 33.3cm
- Weight : 170g/pc
- Fixed pad : 14cm x 7cm x 4cm
- Fixing holes : 2cm
Assembly Sequence
One touch leg assembly
1) Prepare four upper legs (Aluminum)
2) Prepare four lower legs (Plastic)
3) Attach the lower leg to the upper leg straight down while turning it clockwise


Lower fan/ Legs combined
1) Prepare lower fan and the assembled four legs
2) Combine the four holes in the legs at the bottom of the lower fan.


Main body combined
1) Main body is ready.


Body + Lower fan case assembly
1) Insert main body cable into the 11mm hole of lower fan.
2) The main body of the cable and the lower fan cable is connected.
3) Tighten the screws into the side hole.


Solar panels + Head assembly
1) Prepare solar panels.
2) Watch hole on the lateral side of head and mold of solar panel.
- Tip : Install solar panel by connecting solar panel and power supply case back to back.
3) Use butterfly bolts to tighten on both sides.
- Tip : Tighten the other side the same way.
4) Connect the jack from solar panel to the hole..
5) Attach insect pests collection net onto the lower fan case.5.
6) Fasten the laces of collection net tightly to prevent pest escape.


Smart solar trap is ready
- Turn On the main switch and fan switch. Lamp works for 7 hours after sunset, lower fan works for 24 hours.
How to replace of smart solar trap battery
Using + driver or a power drill to separate the battery case.
Battery case open.
Remove the tape from the battery cable.
Detach (+) (-) terminal on the (+) and (-).
Pull out the battery case.
Take a new battery and connect (+) terminal and the negative (-) terminal to the (+) and (-) cables.
Battery (+) terminal and the (-) terminal coupled, cover it using a tape.
Close battery case and tighten by using screws.