Solar Cable 1x4mm2 PV Cable 12AWG for
MC4 Solar Connector, XLPE Solar Wire
Techincal Data
Cross

Section

(mm²)

Conductor

Construction

(n/mm)

Conductor

Stranded

OD.(mm)

Insulation

Min.Wall

Thickness(mm)

Sheath

Min.Wall

Thickness(mm)

Cable

OD.(mm)

Conductor

Max.Resistance

AT20°C

(Ω/km)

Current

Araaing

Capacity AT

60°C(A)

1.5mm²

TXR30/0.25

1.58

0.67

0.73

4.90

13.3

30

2.5mm²

TXR50/0.25

2.02

0.67

0.73

5.45

7.98

41

4mm²

TXR56/0.30

2.60

0.67

0.73

6.10

4.95

55

6mm²

TXR84/0.30

3.42

0.8

0.80

7.20

3.30

70

10mm²

TXR142/0.30

4.56

0.9

0.90

9.00

1.91

98

16mm²

TXR228/0.30

5.60

1.00

0.90

10.20

1.21

132

25mm²

TXR361/0.30

6.95

1.19

0.92

12.00

0.780

176

35mm²

TXR276/0.40

8.74

1.20

1.00

13.80

0.554

218

Drawing
Product Description
1.Rating:Voltage: 600/1000V Temperature:-40°C-- 90°C
2. Description:
(1)Conductor: Tinned annealed copper
(2)Insulation:120°C XLPE , black
(3)Jacket:120°C XLPE , black or red
3.Marking:TÜV 2 PfG 1169 PV1-F 1×**mm2
4.Application: Specifically designed for connecting photovoltaic system components inside and
outside of building and equipment with high mechanical requirements and extreme weather
conditions .For permanent installations.
5.General characteristics: Cable made of electron-beam cross-linked insulation and coating; high resistance against heat , cold, oil, abrasion, ozone,
UV and weather; with improved reaction in case of fire . low smoke, halogen free , flame free ,
flame retardant; flexible, easy to strip, very low space requirement, extremely, extremely
mechanically robust, very long lifetime.
Picture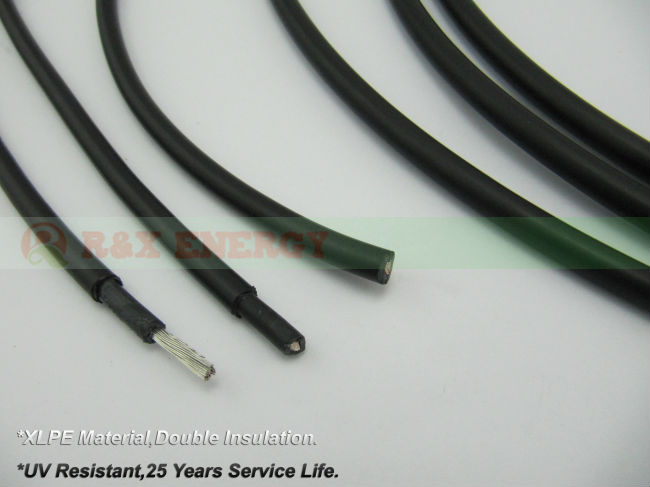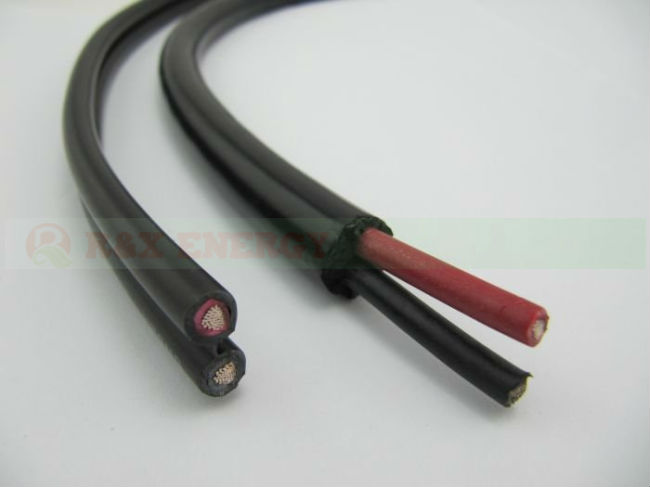 Company Information