New Sono Peel Home Care Program
What is New Sono Peel?
Sono Peel is a skincare device with five functions which is designed to enable users to do a professional skin treatment easily at home.
Functions of Sono Peel
1. SKin Scaling
2. Lifting
3. Iontophoresis
4. LED Therapy
5. Low Frequency Massage(Type of Gel Patch)
*Each treatment mode is possible to adjust 6 levels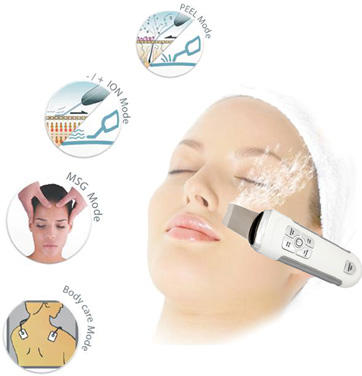 Why New Sono Peel?

1. Experience professional treatment at home!
- Because of portable, effective & perfect skin treatment is available to use it anywhere anytime.

2. Maximum 2hr use without recharging(Built-in battery)
- Can use up to 2 hrs by a simple recharge using an adapter(Continuous usage by professional beauticians is not recommended)

3. 2 in 1 System - Skincare & Muscle massage
- Effective skincare and muscle relaxation techniques are combined

4. Availability of self-repair when having output change issue
- Portable skincare device can usually have output change problems, except Sono Peel, It has self-repair function by resetting.
- High durability
Sono Peel Treatment Mode No.1 - PEEL[SCALING]
Use of low frequency vibrating 24,000 times per second.
Sebum and impurity inside pores are emulsified.
Impurities are released and come out from the pore while treatment area is sterilized.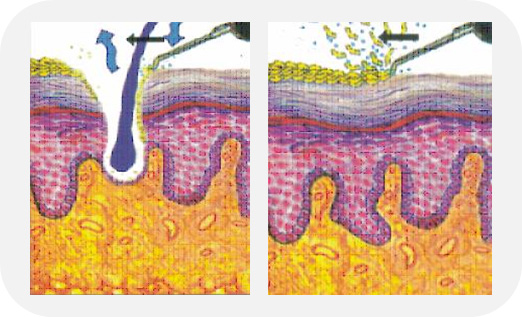 Sono Peel Treatment Mode No.2 - MSG[MASSAGE]
Elastic wave by ultrasound vibration induces micro heating and lifting effect.
Especialkly the penetration function of water soluble solution is very effective.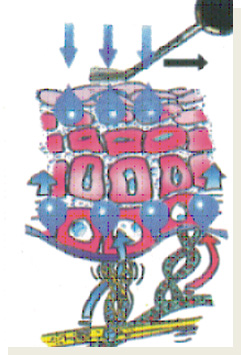 1. Apply an sctive concentrate on the skin.
2. Cover the skin using a wet gauze.
3. Apply the MSG mode of Sono Peel.
Sono Peel Treatment Mode No.3 - ION

(-RED Light)

,

(+BLUE Light)
Whitening effect and reducing the pigmentation
Removing sebum inside follicle and dead skin cells
Skin rejuvenation
Penetrating and concentrated activator deep into the skin
Eliminating impurities and sebum

Sono Peel Treatment Mode No.4 - Low Frequency
Low frequency current can be used for muscle stimulation, slimming treatment, physiotherapy and massage effect
Mode A : Massage
Mode B : Patting
Mode C : Pressing
Mode D : Total Program
*Recommended to stiff muscles - Trapezius muscle, around the neck and Brachialis muscle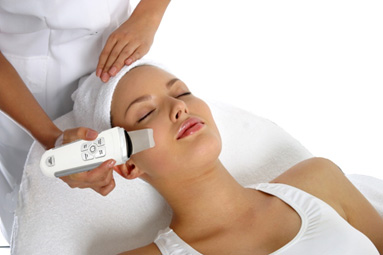 Anti-aging Treatment - Sono Peel(At Home)

* Mask can be applied after Step 3
* Sono Peel removes dead scaly layers with a strong scaling effect and with the iontophoresis treatment, the penetrating effect of active ingredients is innovative.
→ Satisfaction measurement of cosmetic product is improved.
Specification
Charging Voltage
5VDC 1A
Power Current
Max. 200mA
Output Power(Lord 500Ω)
-ION : MAX 2V 600uA
-MSG : MAX 75Vp-p 3mA
Output Frequency
-Scrubber : 24~27KHz
-ION : 555Hz
MSG : 30Hz, 10Hz, 2Hz
LED Wave Length
-Red : 630nm
-Blue : 470nm