Special Skin Care Lifting Program
All-in-one solution products that have various natural extracts and the effects of the peptide(a highly functional raw material) organize your skin, brighten skin tone and give temporary wrinkle improvement.
Function
Anti-aging, wrinkle improvement, whitening, pore contraction, firming, skin regeneration, skin structure improvement etc.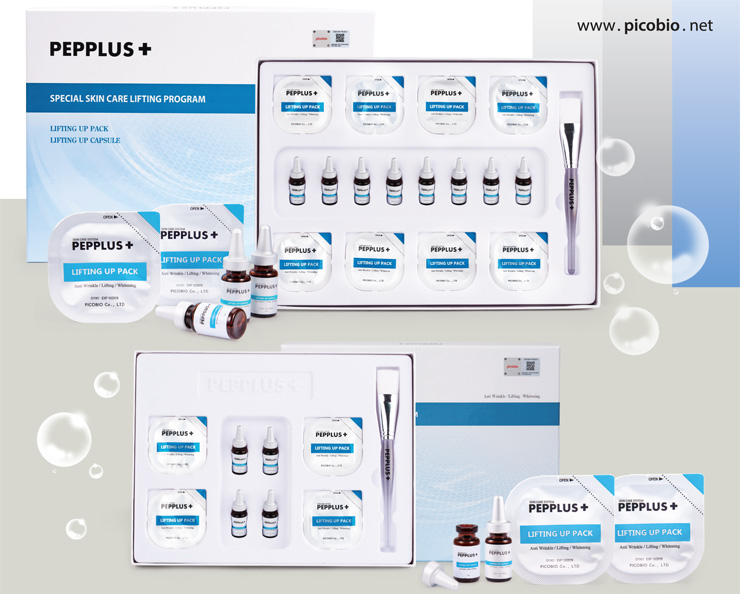 Ingredients (Lifting up pack)
Water•Carbomer•Nelumbo Nucifera Flower Extract•Jasminum Officinale (Jasmine) Flower Extract•Rose Extract•Lilium Candidum bulb Extract • Freesia Refracta Extract • Narcissus Pseudo-Narcissus (Daffodil) Flower Extract • Iris Versicolor Extract • Leontopodium Alpinum Flower• Leaf Extract • Lactobacillus ferment lysate • Camellia Sinensis Leaf Extract • Butylene Glycol • Glycein • Perilla Frutescens Leaf Extract • Chrysanthellum Indicum Extract • Chamomilla Recutita (Matricaris) Flower Extract • Acetyl Hexapeptide-8 • Copper Tripeptide-1 • Palmitoyl Pentapeptide-4• Hexapeptide-67 Palmitate•Tranexamoyl Dipeptide-22• Nicotinoyl Dipeptide-23•Nicotinoyl Dipeptide-22 • sh-polypeptide-1 • sh-polypeptide-10 • Tripeptide-1 • Tripeptide-29 • Hexapeptide-9 • Phenoxyethanol • Caprylyl Glycol
Ingredients (Lifting up capsule)
Water • Camellia Sinensis Leaf Extract • Lysin • Hisidine • Arginine • Aspartic Acid • Threonine • Serine • Glutamic acid • proline • Alanne • Valine • Methionine • Isoleucine • Leucine • Tryosine • Phenylalanine • Cyteine • Sodium Hydroxide • Polyepsilon-Lysine
Lifting up pack
This product contains peptides and naturally extracted ingredients which will improve the skin's overall complexion by lifting and brightening it.
This product also contains isoflvone and lily extract to protect the skin against bacteria.
Lifting up capsule
Capsule contains amino acids, which is the main component in m aintaining hydrated skin.
How to use
1. Please clean you face with a cleanser.
2. Open the lifting pack lid up to the opening line. Open the lifting capsule cap and pour it all into the lifting pack container.
3. Close the lid and hold open line tightly by hand and shake it strongly for 30 seconds.
(When it is completely mixed, it becomes a Gel.) Mixing 1 and 2 may not be effective if they are not mixed sufficiently.
4. Use a brush to apply evenly over the entire face and prevent eye contact.
5. Wait about 15~20 minutes and wash with warm water

CAUTIONS WHEN USING THE SPECIAL SKIN CARE LIFTING PROGRAM
Happens When Using Lifting Packs
Redness of face
The liftign effect is strong and the papilary blood vessels gets activated. When the blood circulation gets faster
(ex : when drink alcohol), your face becomes red. Redness will disappear after about 30 minutes to 1 hour.
However, if this phenomenon lasts more than 24-48 hours, it will be treated as a touble.
A Stinging of the skin
Instantly strong lifting action that makes customers with sensitive skin temporarily feel tired, but it is not a side effect, so you can use with confidence.
Itching
customers with dry skin may experience more itchy symptoms, but it is not a side effect, so you can use it with confidence.