Apply the most advanced technology in the world to production of influenza vaccine and arrange vaccine production and quality control according to current influenza virus recommended by WHO. Each quality index of the influenza vaccine is excellent.
Adopted name: Influenza Vaccine (Split Virion), Inactivated
[Description]
The influenza vaccine (split virion) is a preparation made from the WHO recommended prevalent strains of influenza virus type A and type B which are grown separately in embryonated chicken eggs. After incubation, the virus suspensions in allantoic cavities are harvested. The vaccine is prepared by inactivation, concentration, purification and disruption of the virus. It is a slightly milky-white liquid, containing thimerosal as a preservative.
Active constituent: Influenza haemagglutinin derived from each of prevalent influenza virus strains in that very year. (The name of each of virus strains and the content of haemagglutinin shall be included. )
Subsidiary materials: All the components of subsidiary materials approved shall be listed.
[Eligibles]
Suscepitable individuals and persons liable to be afflicted with the associated complications, such as children, elderly persons and individuals in the epidemic area.
[Action and use]
The product can induce immunity against influenza virus in recipients following immunization. It is used to prevent the infections of the prevalent strains of influenza viruses.
[Specifications]
0. 25 ml or 0.5 ml per container. 0.25 ml per single human dose (used for children aged between 6 months and 3 years) .shall contain 7.5 μg of influenza haemagglutinin of each influenza virus strain. 0.5 ml per single human dose (used for adult and children aged above 3 years) shall contain 15 μg of influenza haemagglutinin of each influenza virus strain.

Advantages:
1) Obtain National Ten Famous-brand Products Honor Certificate in pharmaceutical industry;
2) Apply centrifugal purification and column chromatography purification technology to purifying virus and the patent certificate of making use of Sepharose4FF column chromatography technology for vaccine manufacture, gaining excellent quality index and high purity;
3) High-level GMT of conversion rate of serum antibody with safety and reliable effect for prevention;
4) Various Specifications:
a.Vial type for adult: 0.5ml/vial for people above 3 years old;
Vial type for children:0.25ml/vial for children from 6 to 35 months old;
b.Syringe type for adult: 0.5ml/syringe for people above 3 years old;
Syringe type for children:0.25ml/syringe for children from 6 to 35 months old;
5) Exclusively apply two dosage forms of pre-filled syringe from American BD Company and vial pack for security and convenience;
6) Award Influenza Split Vaccine as the Hi-tech Industrial Model Project in the First Batch Hi-tech Industrial Program in the Special Hi-tech Industrial Development of Rebuilding the Old Industrial Base in Northeast by State Development and Reform Committee;
7) Rated as National New and Key Product by the Ministry of Science and Technology, Ministry of Foreign Trade and Economic Cooperation, State General Administration of Supervision, Inspection and Quarantine, State Environmental Protection Administration of China; rated as Excellent Technology Product by China Association for Science and Technology; award the Honor of Science and Technology Progress by Changchun City Administration of Science and Technology;
8)
Successfully registered in over 20 countries and export to dozens of countries for consecutive years.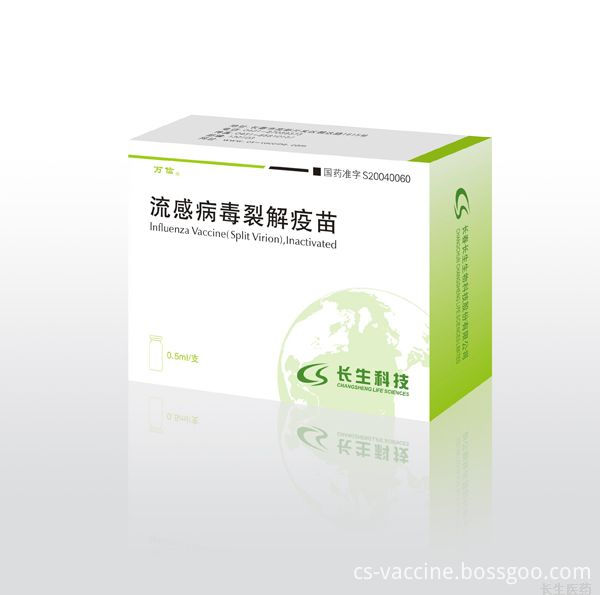 http://www.ccls-vaccine.com