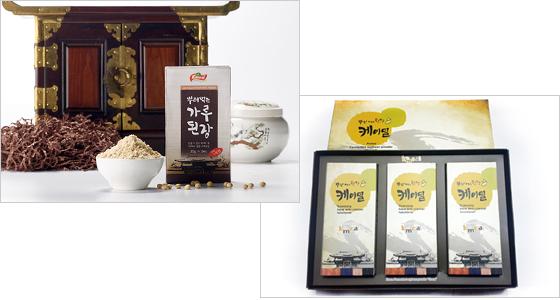 Powered traditional Korean soy bean paste without the stink and reduced portion of Sodium
(Patent application : 10-2014-0050991)
Features
The powdered miso sprinkles the convenience and functionality of Korean traditional miso
It is developed into a form that maximizes food and sprinkles on dishes and beverages.
It is easy to supplement nutrition rather than boiling or cooking.
It is food of seasoning concept.
By removing the odor of doenjang and reducing the sodium content to 3% It helps you to improve your health by staying alive.
KM Wheat Flour Soybean paste contains the anti-cancer effect, liver function enhancement, antioxidant effect,
It maintains efficacy such as prevention of hypertension, detoxification effect, lipolysis
The smell of smell is eliminated and the sodium content is 30 ~ 40% and 3 to 8%, respectively.
Traditional traditional miso is not easy to eat due to its unique smell.
There was a disadvantage that it could not be used only by the method, Including pizza, hamburger, kimbap, meat, grilled fish, herbs, etc.
It can be ingested in a variety of recipes, eliminating grease in the food
It can be enjoyed as a diet food with a light taste.

KMeal, the powdered soy bean paste that you can sprinkle

Properties of Soy Paste
Anti-cancer
Strengthen the liver function
Sulfation
Prevention of hypertension
Detoxification
Prevention of senile dementia
The role of digestive medicine
Prevention of osteoporosis
Improvement of diabetes
Prevention of Obesity, constipation
Preventive effect on Heart disease and stroke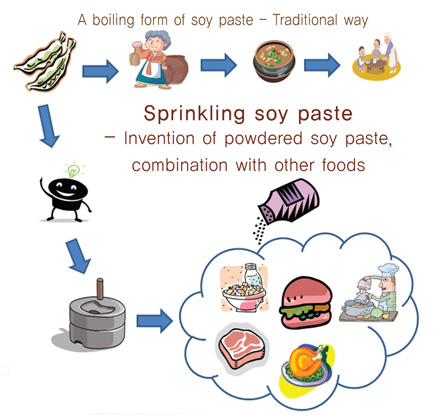 Do not use method a type of freeze-dried crushed.
Reduce or remove stink.
Reduce 1-3% of salty taste (salt).
Storage period can 1 year.
Introduce korea traditional food "Doen jang"
Anti-cancer function of Doenjang
soybeans are often called the "meat from the field"
Meat proteins can leave toxins such as ammonia, uric acid and fat in our blood. However, the protein and fat in soybeans are known to prevent such diseases such as stroke and lung cancer.
Soybeans are abundant in nucleic acid lecithin lecithin lecithin which slows down the aging process.
Also, soybeans have plant sterol that blocks the small intestine from absorbing cholesterol.
Soybeans, themselves, have no Vitamin C, but soybeans sprouts are abundant in Vitamin C and aspartic acid.
Recently researchers have learned that beans such as soybeans have abundant anti-cancer nutrients that can reduce the chances of getting cancer such as breast cancer, colon cancer and uterine cancer.
Cancer is very much related to one's diet and eating habits. Recently, Dr.Paul Terry at Albert Einstein Cancer Center wrote in International Jornal of Cancer that folic acid from beans could reduce the chance of contracting colon cancer. In a separate study, Dr.Stefan Burners at University of Alabama stated that a mouse fed with beans had a 70% lower incidence of lung cancer than a mouse fed with just grains
Doenjang is made by fermenting soybeans. Its nutritional value is, therefore, much higher than plain soybeans.
In November 1994. Professor Gun Young Park of Busan University, Korea, wrote based on his experiments that the potent anti-cancer properties of Doenjang could prevent and, to some extent, fight cancer.
He also demonstrated that Doenjang could revive the liver functions ever when the patient has cancer.
In addition, Professor Park reported that extracts from Doenjang could Eradicate carcinogenic substances from one's body.
People who eat Doenjang soup everyday could reduce their chances of getting cancer by 30%.
Even for those who have Doenjang soup occasionally, their chances of getting cancer can be lowered by 17% to 19%.
Doenjang's Advantage
Good ingredient of "Doen jang"
Antitumor effect
Doenjang is a fermented food, is excellent in the midst of anti-cancer effect. If you boil doenjang is alive even though the anticancer effects of traditional Doen jang soup recipes in the mice treated with a carcinogen take cancer results also fed Doen jang paste, then do not feed the cancer tissue than rats decreased by about 80% by weight of the should. Society's Cancer Prevention Cancer Practices among 15 eat Doen jang soup daily, enough for the entry of domestic and international rock although related, the effect being formulated. Antitumor activity, as well as Doen jang is effective in inhibiting cancer cell growth turns out to be that.
Enhance liver function
The liver is one of the most important organs in our body and the intake of nutrients through the distribution of all but gone, doenjang promoting effect of the liver function was recently revealed liver toxicity indicator drop aminotransferase activity of the experimental results are being released turned out to be obvious doemeuroseo.
Antioxidant effect
Doenjang anti-aging effect and the effect of liver cancer promoting effects more clearly than has been described. This effect turns out, as well as specific, because this ingredient. In the anti-aging action miso bean material contained in a yellow pigment isojlavin kind, including dfaidzein and daidzin, and they belong to the polyphenol substances are current.
Prevention of hypertension
Doenjang contained in the current isoflavon including daidzin alleviate headaches effective in preventing high blood pressure, with the effect that there is a demonstrated experimentally, doenjang contained in the histamine-leucine amino acids of the protein is superior in biological activity to relieve headaches, while lowering blood pressure in hypertensive efficacy and eliminate cholesterol by giving elasticity allows the blood vessels.
Detoxification
Doenjang fish, meat, vegetables, mushrooms, and the effect of poison solve snakes, insects, venom, and this rule is neunde utility.
Prevent of Alzheimer's disease
Soybean lecithin in the enhancement effect of the brain, and the functional material saponin lowers blood cholesterol levels by inhibiting the formation of lipid peroxidation, aging and Alzheimer's disease is prevention.
Extinguishing Media Role
Doenjang appetizing food, the excellent food at the same time as digestion of food when you eat does no have to worry about eating with doenjang.
Prevention of osteoporosis
Derivative of the so-called iso-plastic beam of plant estrogen to prevent bone resorption and formation of bone and osteoporosis in women it can be prevented.
Improve diabetes
Melanoidin components to facilitate the secretion of insulin to improve diabetes.
Obesity and constipation
Rich in dietary fiber, as well as obesity prevention and effective for the prevention and treatment of constipation and promotes peristalsis firearms makes you strong.
Heart disease and stroke
The protein component of blood cleared and has the effect of inhibiting the coagulation of the blood, as well as the viscosity of hyeokaek down to prevent heart disease and stroke.
Reviews for the K-Meal