FHT PLF series is a economy type of planetary gearboxes.This type of speed reducers are belong to a kind of cost-optimized inline precision gearbox with shaft and square flange output. PLF series gear reducer offers an economic solution for most motion control or transmission system needs.PLF planetary reducer is also with high efficiency,low backlash,as an economy type inline gear reduction box,it is the most option for the limited budget requirement.
FHT PLF planetary gear box has a wide range of ratio for different request,it divides into three reduction ratio stages:
Single stage:3,4,5,6,7,8,9,10
Double stage:12,15,16,20,25,28,30,35,40,50,70,80,100
Three stage:60,64,72,80,90,100,120,144,150,160,180,200,240,258,288,320,384,
512,600,800,1000
PLF planetary gearboxes have a full input dimensions,match for any kind of servo motors and stepper motors.We accept dimension customized service according to motor dimensions.And if customer have a large quantity request,we supply OEM service with customer their own information.
PLF series planetary speed reducer is with square output flange design for economic transmission application.AS one of the most popular planetary speed reducers,PLF have the below features:
(1)Quiet operation
Helical gears contribute to reduce vibration and noise
(2)High precision
Standard backlash is 3 arc-min,ideal for precision control
(3)High rigidity &torque
High rigidity&high torque were achieved by uncaged needle roller bearings
(4)Adapter-bushing connection
Can be attached to any motor all over the world
(5)No grease leakage
Perfect solution using high viscosity anti-separation grease.
(6)Maintenance-free
No need to replace the grease for the life of unit.Can be attached in any position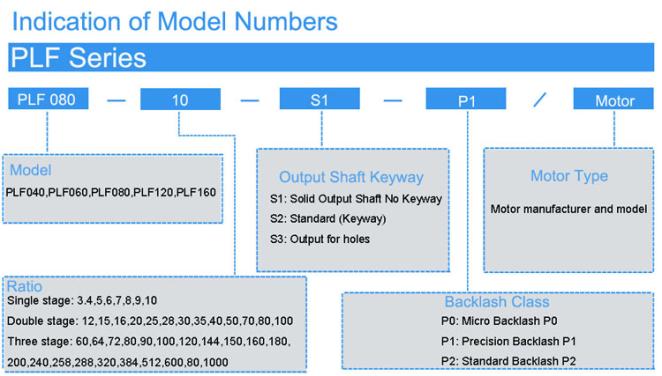 Model No.
Unit
Stage
Ratio
PLF040
PLF060
PLF080
PLF120
PLF160
Rated Output Torque
Nm
1
3
17
28
112
165
423
4
15
38
110
146
364
5
14
40
108
160
423
7
13
35
105
149
358
10
12
25
100
141
293
2
15
17
28
112
165
423
20
15
38
110
146
364
25
14
40
108
160
423
30
13
28
112
165
423
35
13
35
105
149
358
40
12
38
110
146
364
50
14
40
108
160
423
70
13
35
105
149
358
100
12
25
100
141
293
Max. Output Torque
Nm
1,2
3-100
3 Times of Normal Output Torque
Rated Input Speed
Rpm
1,2
3-100
3000
3000
3000
3000
2500
Max. Input Speed
Rpm
1,2
3-100
5000
5000
5000
5000
3600
Precision Backlash P1
Arcmin
1
3-10
≤3
≤3
≤3
≤3
≤3
2
12-100
≤5
≤5
≤5
≤5
≤5
Standard Backlash P2
Arcmin
1
3-10
≤5
≤5
≤5
≤5
≤5
2
12-100
≤8
≤8
≤8
≤8
≤8
Torsional Rigidity
Nm/arcmin
1,2
3-100
3
6
12
22
50
Max. Radial Force
N
1,2
3-100
320
460
1300
3200
6520
Max. Axial Force
N
1,2
3-100
160
230
660
1600
3260
Service Life
Hr
1,2
3-100
20000hrs
Efficiency
%
1
3-10
≥97%
2
15-100
≥94%
Weight
Kg
1
3-10
0.73
0.99
2.1
4.98
18.2
2
15-100
1.05
1.46
3.2
6.92
24.9
Operating Temperature
℃
1,2
3-100
(-25℃~+90℃)
Lubrication


1,2
3-100
Synthetic Grease
Protection Class


1,2
3-100
IP65
Mounting Position


1,2
3-100
Any Direction
Noise Level
dB(A)
1,2
3-100
≤62
≤63
≤65
≤67
≤68
Moment of Inertia
Model No.
Unit
Stage
Ratio
PLF040
PLF060
PLF080
PLF120
PLF160
Moment of Inertia
kg.cm2
1
3
0.16
0.63
3.48
12.84
36.72
4
0.16
0.6
3.31
12.22
34.63
5
0.16
0.59
3.28
12.1
34.24
7
0.16
0.59
3.27
12.05
34.07
10
0.16
0.59
3.26
12.03
34.02
2
12-40
0.16
0.59
3.26
12.03
34.02
50-100
0.16
0.59
3.26
12.03
34.02