Stainless Steel Wire Mesh

Stainless steel wire mesh refers to the woven wire fabric made by weaving looms from first class stainless steel material in SUS/AISI 201, 202, 302, 304, 310, 310S, 316, 316L, etc. This page provides information on wire materials applied for weaving, properties, and specification of most popular specifications.

Major Wire Materials and Introduction: Stainless steel AISI 304, 304 L, 316 and 316 L

AISI 304: This type is the basic stainless alloy mostly commonly used for wire cloth/mesh weaving. It offers excellent property against rusting and oxidation.

AISI 304 L: Materials similar to 304, with reduced carbon content for better weaving.




AISI 316: Stainless stabilized by the addition of 2% molybdenum. It has better resistance to pitting corrosion than the other chromium-nickel stainless steels and high strength at elevated temperatures. Other mechanical properties and fabricating characteristics are similar to AISI304.

Wire cloth woven of T-316 has extensive use in chemical processing when better corrosion resistance is required than the regular chromium-nickel types.

AISI 316 L: Very similar to AISI316, yet with the reduced carbon content for better wire cloth weaving.





Stainless steel wire mesh with its excellent resistance against acid, alkali, heat and corrosion, extensively used in processing of oil, chemical, food, making wire mesh filter, also sorting and screening of solid, liquid and gas in mine, metallurgy, airspace and machine making etc.

Technical Information of Stainless Steel Wire Mesh:

1) Roll size: usually, manufactured in 30m ( up to 200m) long and in width of 36' 48' 1m 1.2m 1.5m 2.0m etc. or cut to length panels as per client's requirement.
2) Packing: water-proof paper, woven bag and also can be made as per client's requirement.
3) Weave: Plain Weave, Twill Weave ; Plain Dutch Weave, Dutch Twill Weave.
4) Mesh counts: 1 mesh to 635 mesh.
5) Sample: available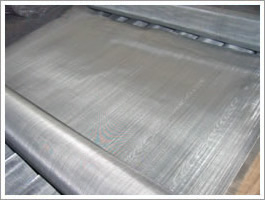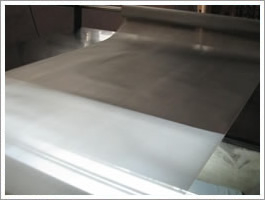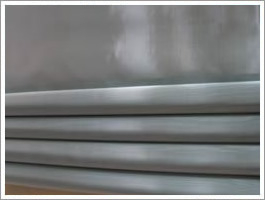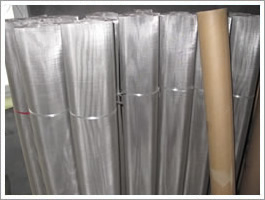 Mesh/Inch
Wire Diameter
Aperture
Open Area
Weight(LB) /100 Square Foot
Inch
MM
Inch
MM

1x1

.080

2.03

.920

23.37

84.6

41.1

2X2

.063

1.60

.437

11.10

76.4

51.2

3X3

.054

1.37

.279

7.09

70.1

56.7

4X4

.063

1.60

.187

4.75

56.0

104.8

4X4

.047

1.19

.203

5.16

65.9

57.6

5X5

.041

1.04

.159

4.04

63.2

54.9

6X6

.035

.89

.132

3.35

62.7

48.1

8X8

.028

.71

.097

2.46

60.2

41.1

10X10

.025

.64

.075

1.91

56.3

41.2

10X10

.020

.51

.080

2.03

64.0

26.1

12X12

.023

.584

.060

1.52

51.8

42.2

12X12

.020

.508

.063

1.60

57.2

31.6

14X14

.023

.584

.048

1.22

45.2

49.8

14X14

.020

.508

.051

1.30

51.0

37.2

16X16

.018

.457

.0445

1.13

50.7

34.5

18X18

.017

.432

.0386

.98

48.3

34.8

20X20

.020

.508

.0300

.76

36.0

55.2

20X20

.016

.406

.0340

.86

46.2

34.4

24X24

.014

.356

.0277

.70

44.2

31.8

30X30

.013

.330

.0203

.52

37.1

34.8

30X30

.012

.305

.0213

.54

40.8

29.4

30X30

.009

.229

.0243

.62

53.1

16.1

35X35

.011

.279

.0176

.45

37.9

29.0

40X40

.010

.254

.0150

.38

36.0

27.6

50X50

.009

.229

.0110

.28

30.3

28.4

50X50

.008

.203

.0120

.31

36.0

22.1

60X60

.0075

.191

.0092

.23

30.5

23.7

60X60

.007

.178

.0097

.25

33.9

20.4

70X70

.0065

.165

.0078

.20

29.8

20.8

80X80

.0065

.165

.0060

.15

23.0

23.2

80X80

.0055

.140

.0070

.18

31.4

16.9

90X90

.005

.127

.0061

.16

30.1

15.8

100X100

.0045

.114

.0055

.14

30.3

14.2

100X100

.004

.102

.0060

.15

36.0

11.0

100X100

.0035

.089

.0065

.17

42.3

8.3

110X110

.0040

.1016

.0051

.1295

30.7

12.4

120X120

.0037

.0940

.0064

.1168

30.7

11.6

150X150

.0026

.0660

.0041

.1041

37.4

7.1

160X160

.0025

.0635

.0038

.0965

36.4

5.94

180X180

.0023

.0584

.0033

.0838

34.7

6.7

200X200

.0021

.0533

.0029

.0737

33.6

6.2

250X250

.0016

.0406

.0024

.0610

36.0

4.4

270X270

.0016

.0406

.0021

.0533

32.2

4.7

300X300

.0051

.0381

.0018

.0457

29.7

3.04

325X325

.0014

.0356

.0017

.0432

30.0

4.40

400X400

.0010

.0254

.0015

.370

36.0

3.3

500X500

.0010

.0254

.0010

.0254

25.0

3.8

635X635

.0008

.0203

.0008

.0203

25.0

2.63