WalMax Steel Modular Prefab House Villa
WalMax prefab house is arched shape which is obviously different from the container houses on the market. It uses hot-dipped galvanized steel profile, cold rolled formed steel sheet with powder coating treatment and glass wool for insulation. All of these promise the prefab house great performance in the aspects of stability, durability, comfort and green.
WalMax prefab house is our professional outdoor camping house which take economy, energy saving and environmentally friendly as core ideas. The prefab modular design greatly reduces the construction consumption and shortens the construction period. It is already prefabricated with all parts including frame, floor, wall, door, windows, even the matched bathroom, furniture, terrace. No waste building rubbish producing and surrounding pollution on site.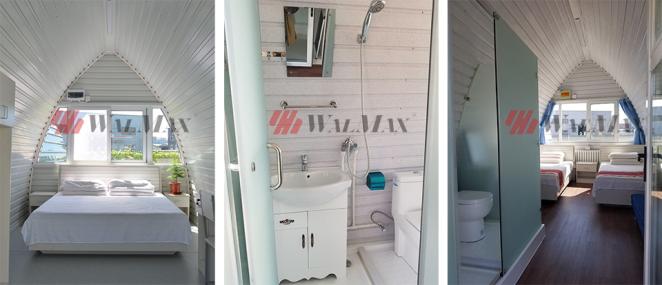 Products Features
Core features
| | |
| --- | --- |
| Particular Design | The prefab house adopts arched structure design which insures the better structural strength. It's also good for wind load & snow pressure. The streamlined design makes better drain. |
| Strict Material Selection | The prefab house uses hot-dip galvanized steel frame, powder spraying coating and thick grass wool insulation. With great anti-seismic, anti-corrosion and wind-proofing, the tiny cabin overall service life can reach 20 years. |
| Homey Living Experience | The prefab house always keep warm and dry as careful sealing design. You won't feel depressed when you walk into the room because of 18m2 floor and 3400mm height. You can get homey feeling to equip various furniture, integrated bathroom with toilet and shower. |
Additional features
| | |
| --- | --- |
| Ready Made | All components of the prefab house is prefabricated. No need any extra processing on site. |
| Energy Saving | The prefab house reduces the consumption of construction material. Insulation reduces the energy loss in winter and remain heat stable in summer from the interior. |
Personalized Cases
Courtyard convenient accommodation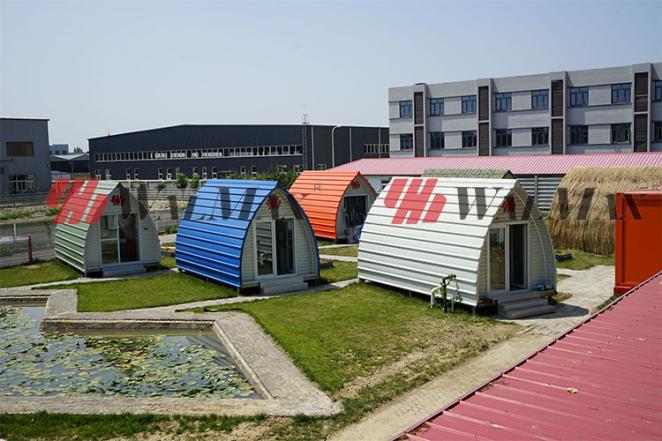 You can have a yourself convenient guest room as the supplement of your house on your courtyard or a personal cabin in the wild . We will make it into a warm little home for you with 18 M2 room.
Grassland camping system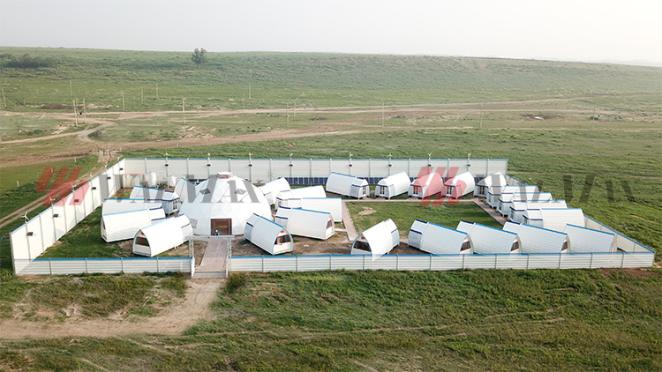 The prefab house camping resort project located in the deep of grassland of inner Mongolia. It is an independent camping system specially designed and constructed in accordance with local environment and climate conditions.
Equipped personalized various facilities as follow:
*Guest room: two dozen bedrooms with toilet and shower, specially equipped anti-mosquito platform in wilderness.
*Functional cabin: independent dome house as reception center, store and dining hall.
*Support facility: wind proofing & anti-climbing fence, solar / wind energy system, drinking water purification system and sewage treatment system.
Certifications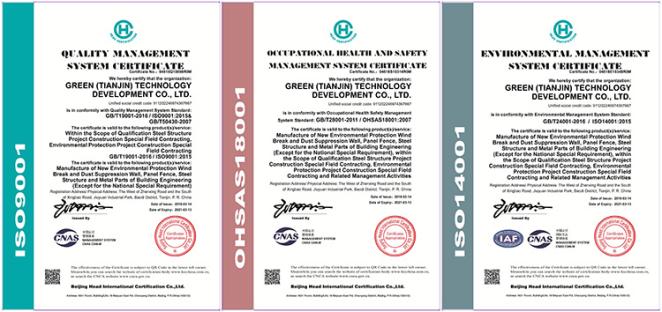 Our Company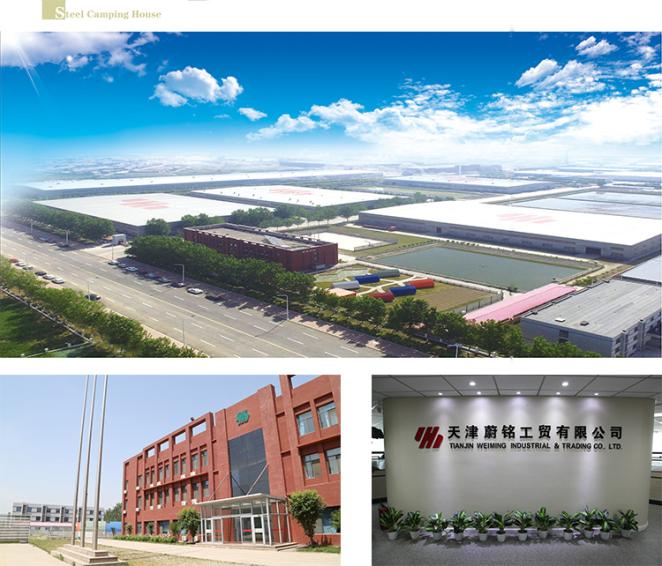 Tianjin Weiming Industrial & Trading Co. Ltd. (WMITC) locates in Tianjin, the largest seaport and the center of steel in North China. Established in 2001, WMITC has been in the line of steel products for more than 18 years. WMITC is aware of requirements of different markets and has accumulated rich experience in quality control.
In year 2010, WMITC invested USD10,000,000 in Green (Tianjin) Technology Development Co. Ltd.(GreenTech) who specializes in design, manufacture and construction services of WalMax arched house and outdoor camping system. We also have accumulated lots of successful experiences in the security fence, energy system, water supply, sewage treatment for the outdoor camping system.
Contact
It's our great honor that you are interested in the WalMax camping pod. Pls feel free to write to me at any time.