About the product (Sweet Barbecue Pork Ribs)
Meat Masters' Barbecue Pork Ribs are separated one by one You can enjoy it more easily by cooking with high-temperature steam at 100℃ carefully and cutting it one by one to make it eat well.
Enjoy with the special sauce made by tomatoes, apples, and pineapples.
Unlike ordinary products on the market, we cut it one by one,
making it easier to cook and simpler to eat.
- How to have it?
After thawing, cook in a 700W-based microwave for 4 minutesor cook
in double boiling water.
- How to cook it?
Double boiler cooking
: Dip in running water (cold water) to defrost and cook in boiling water for 10 minutes.
Microwave cooking
: Microwave (based on 700W) 6 and half minutes cooking in a frozen state.
Microwave (based on 700W) 4 minutes cooking in a thawed state.
Oven cooking
: After thawing in running water (cold water),
cover the meat with foil and cook for 10 minutes in preheated oven at about 200°C.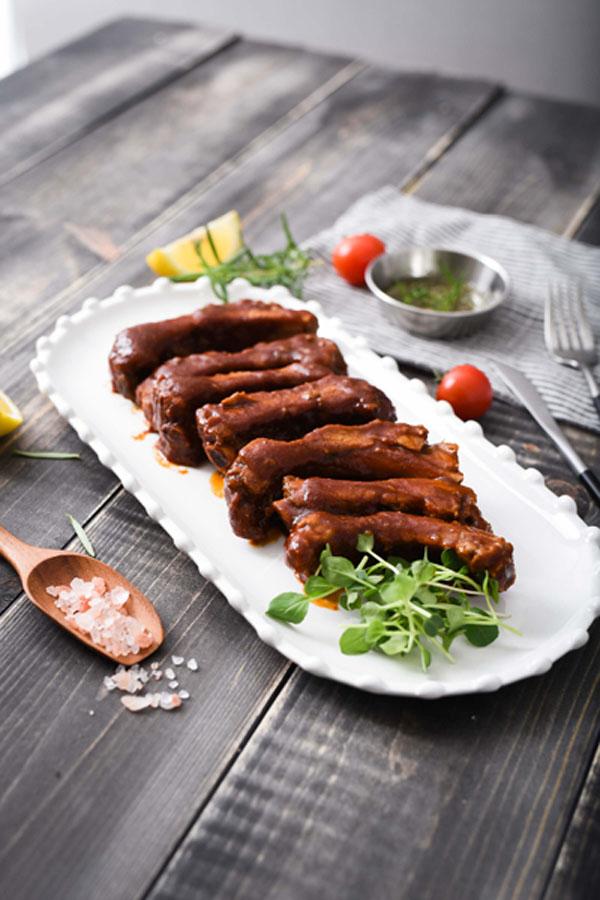 - How is it made?
20-year know-how and technical skills of CS-FOOD Co., Ltd!
We, CS-FOOD Co., Ltd, a meat processing company, produce safely in full-process HACCP management through a differentiated production system.
- Storage method
Frozen storage -18 ℃ or below/ Eat it as soon as possible because there is a risk of deterior
Please keep it frozen and eat it as soon as possible because there is a risk of deterioration after opening.
Please do not re-freeze after thawing because it has already been frozen.
Please defrost In the fridge or soak in running water (cold water).
*Note
If the vacuum packaging is unpacked before opening, do not eat it and exchange it with the retailer.
Heat the frying pan when cooking and turn the meats upside down until the surface is golden.
Please eat after cooked enough because it is a hot-eat product.
- Ingredients and content
Pork ribs(Pork/foreign:Spain, France, Germany etc) 70.76%,
Sauce(Sterilization product) 26%[high fructose corn syrup, purified water, tomato paste(China),
apple puree{apple(korea)}, fermented vinegar, dried syrup],
barbicue pork rib seasoning[refined salt(Korea),
grill seasoning-R{R6 base(garlic powder/dried garlic:China)}],
mixtures(distarch phosphate, powdered Sugar), cooking wine, composite seasoning, garlic, onion, ginger, grill mate.
- Possible side effect
This product contains allergy-causing ingredients (pork, beef, tomato, soybean, wheat, milk).
- (Frozen storage -18 ℃ or below)12months from manufacturing date
Company Information
- Meat Masters Always Efforts for Best Products.
Greetings, from Meat Maters, CS-FOOD Co., Ltd.
Under the mission of "Let's make everybody's mouth pleased with the best quality product",
CS-FOOD is making every effort to develop and research new ideas
to become a food company responsible for the public health.
We will reward customers with unchanging taste and quality.