T06067192 kaade00130 Circuit Board For Komori
Made in China New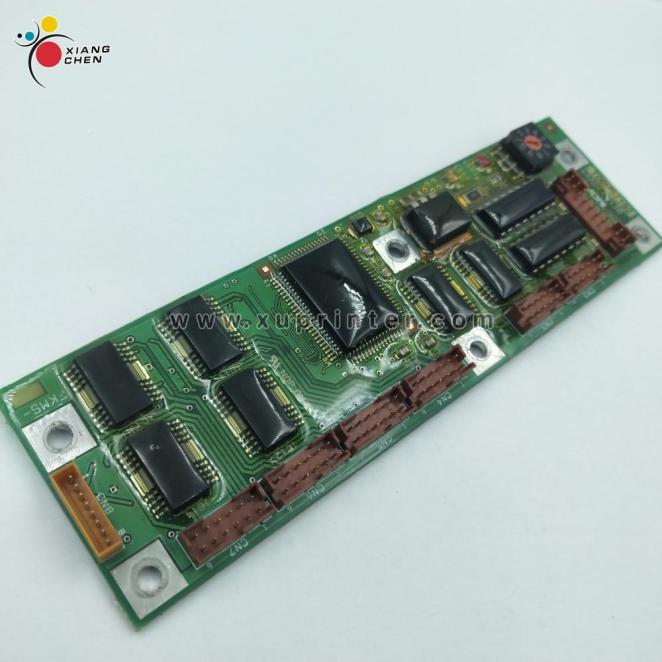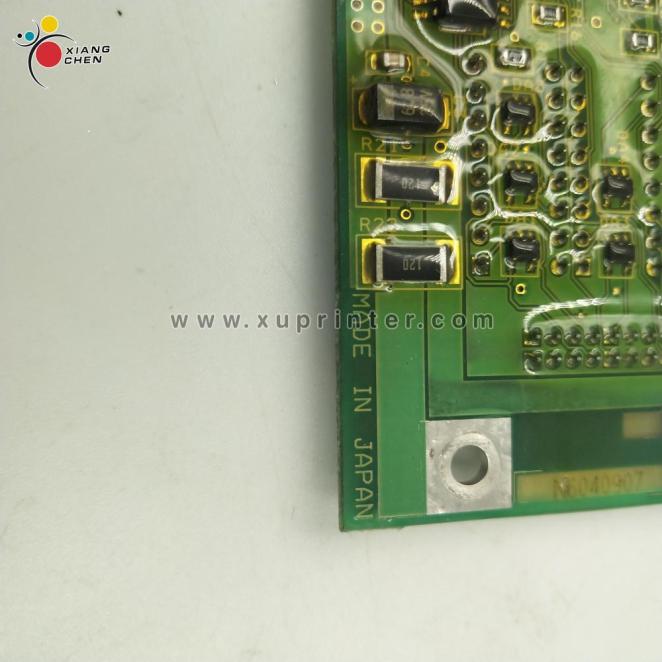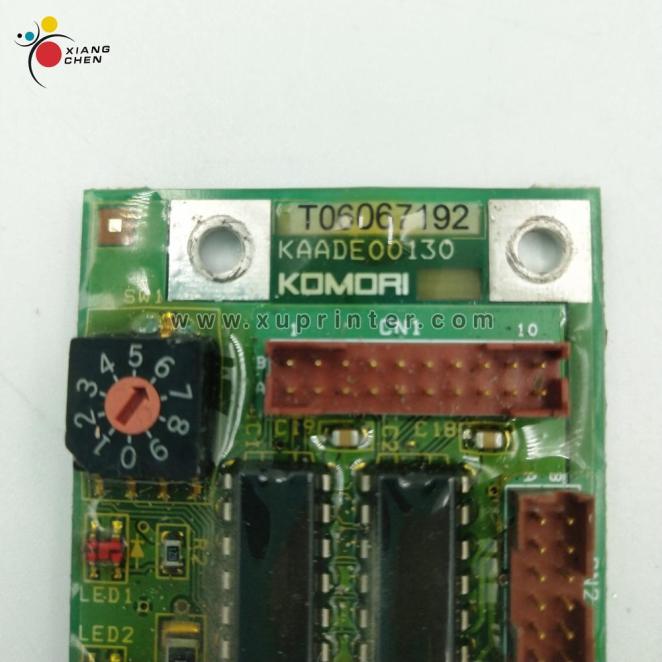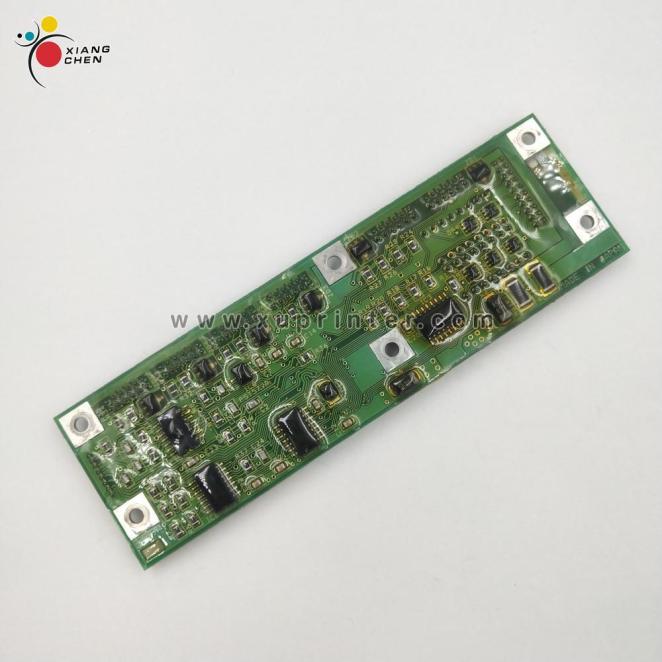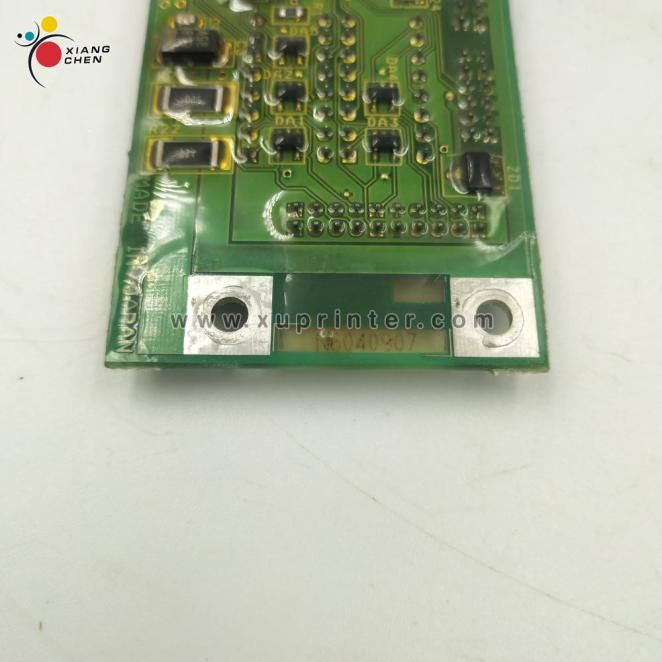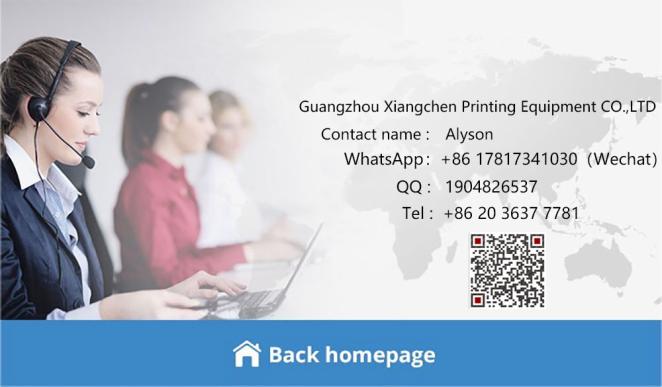 Guangzhou XiangChen Printing Equipment Co., Ltd is a
professional printing machinery spare parts supplier, established in
2015, with 3 branch companies now.

We specialize in Heidelberg, Man Roland and Komori Printing
Machine Spare Parts including original circuit boards, computer
boards, PC boards, pneumatic cylinders, motors, sensors, valves,
cam followers, bearings, gripper fingers, rollers, gripper bars,
bellows and so on. Most replacement spare parts are available as
well.

As the experience began to accumulate in the printing industry, we
ould provide good-quality products, competitive price and
considerate customer services. We have made long-term business
relationships with many oversea customers due to our good supply
ability and good reputation in the international market.

We hold the business philosophy of " Service-oriented, win-win
cooperation" And the " Customers first" principle to provide you
with sophisticated products and considerate services.
Here are some products of our company. Don't hesitate to let me know if
you need it at any time.
SM 74
M6.170.0075/
Spiral hose DN 100x3000
SM 74
M6.170.0085/
Spiral hose 125x5000
SM 74
M6.170.0090/
Spiral hose 125 x 1900
SM 74
M6.170.0098/
Spiral hose 125x6500
SM 74
M6.170.0301/
Radiator SM/CD 74 4,1/2,8 KW
SM 74
M6.170.0301/01
Radiator SM/CD 74 4,1/2,8 KW
SM 74
M6.170.0303/
Thermostat 100 C +-5K
SM 74
M6.170.0306/
Relay 24V 2Wechsler
SM 74
M6.170.0317/
Pressure switch 0,5- 5mbar(Luft)
SM 74
M6.196.1746/
Level-monitoring device
SM 74
M6.196.1746/01
Level-monitoring device
SM 74
M6.196.1766/
Pressure switch
SM 74
MA.115.2501/
Fan D2E146-AP43-90
SM 74
MA.147.1441/
Power supply 24V/10A
SM 74
MV.015.800 /01
Bearing bush
SM 74
MV.015.842 /04
Control shaft
SM 74
MV.015.898 /01
Bearing DS
SM 74
MV.015.903 /01
Journal box OS
SM 74
MV.015.911 /02
Swiveling lever DS cpl
SM 74
MV.015.912 /02
Swiveling lever OS cpl
SM 74
MV.015.926 /03
Swiveling lever OS
SM 74
MV.015.947 /04
Bearing bushing OS cpl
SM 74
MV.016.041 /
Bearing bushing DS cpl
SM 74
MV.016.075 /01
Gripper
SM 74
MV.016.296 /01
Gear cpl
SM 74
MV.016.456 /05
Shaft cpl
SM 74
MV.016.460 /
Socket cpl
SM 74
MV.016.739 /03
Forwarding roller OS
SM 74
MV.016.778 /01
Side plate DS
SM 74
MV.016.780 /01
Side plate OS
SM 74
MV.016.971 /04
Swiveling lever DS cpl
SM 74
MV.016.976 /04
Swiveling lever OS cpl
SM 74
MV.016.980 /01
Adjusting spindle cpl
SM 74
MV.016.980 /02
Adjusting spindle cpl
SM 74
MV.016.987 /03
Swiveling lever DS cpl
SM 74
MV.016.998 /03
Swiveling lever OS cpl
SM 74
MV.017.005 /08
Lifting sucker DS cpl
SM 74
MV.017.041 /01
Bearing unit DS
SM 74
MV.017.051 /02
Handwheel
SM 74
MV.023.757 /01
Bearing unit OS
SM 74
MV.023.774 /05
Gear cpl
SM 74
MV.023.775 /01
Gripper cpl
SM 74
MV.023.913 /01
Spring rod cpl
SM 74
MV.024.854 /12
Suction housing DS
SM 74
MV.024.861 /12
Suction housing cpl
SM 74
MV.025.181 /09
Geared motor
SM 74
MV.025.191 /02
Rotary valve
SM 74
MV.025.259 /04
Shaft
SM 74
MV.025.677 /
Clamping piece cpl
SM 74
MV.025.944 /02
Forwarding roller cpl
SM 74
MV.026.096 /03
Rotary union
SM 74
MV.026.096 /05
Rotary union
SM 74
MV.026.591 /01
Rotary union
SM 74
MV.027.072 /03
Forwarding roller DS
SM 74
MV.027.258 /05
Support OS
SM 74
MV.027.309 /
Adjusting spindle cpl
SM 74
MV.027.314 /
Adjusting rod cpl
SM 74
MV.027.665 /01
Support cpl
SM 74
MV.027.724 /01
Bearing sleeve DS
SM 74
MV.027.841 /
Eccentric shaft cpl
SM 74
MV.029.115 /
Threaded sleeve
SM 74
MV.029.246 /
Roller cpl
SM 74
MV.029.856 /
Support DS
SM 74
MV.030.123 /03
Reflex sensor
SM 74
MV.031.049 /06
Sensor
SM 74
MV.032.122 /01
Leaf spring cpl
SM 74
MV.032.611 /
Handwheel
SM 74
MV.032.640 /
Swiveling lever DS cpl
SM 74
MV.032.642 /
Swiveling lever OS cpl
SM 74
MV.032.645 /
Bearing plate DS
SM 74
MV.032.649 /
Handwheel
SM 74
MV.032.927 /
Hickey remover
SM 74
MV.035.984 /01
Bearing plate OS cpl
SM 74
MV.036.122 /01
Adjusting worm gear
SM 74
MV.036.353 /
Bearing plate DS
SM 74
MV.036.471 /
Bearing plate OS
SM 74
MV.037.327 /01
Disengaging device DS
SM 74
MV.037.874 /
Adjustment
SM 74
MV.038.322 /
Torsion bar spring
SM 74
MV.038.322 /02
Torsion bar spring
SM 74
MV.039.503 /01
Swiveling lever DS
SM 74
MV.039.504 /01
Swiveling lever OS
SM 74
MV.040.099 /
Retrofit
SM 74
MV.040.211 /01
Motor
SM 74
MV.040.898 /04
Worm support
SM 74
MV.040.899 /04
Worm support
SM 74
MV.041.040 /02
Rotary union
SM 74
MV.041.040 /04
Rotary union
SM 74
MV.050.281 /
Journal DS
SM 74
MV.050.281 /01
Journal DS
SM 74
MV.050.772 /
Clutch shaft
SM 74
MV.051.331 /01
Clamp shaft
SM 74
MV.051.391 /
Connecting line
SM 74
MV.051.527 /
Journal DS
SM 74
MV.053.960 /02
Forwarding sucker
SM 74
MV.053.960 /04
Forwarding sucker
SM 74
MV.056.026 /
Gripper bar
SM 74
MV.056.026 /04
Gripper bar
SM 74
MV.056.174 /
Universal joint shaft
SM 74
MV.056.724 /
Journal box DS
SM 74
MV.056.725 /
Journal box OS
SM 74
MV.056.997 /01
Lifting sucker
SM 74
MV.056.998 /01
Lifting sucker
SM 74
MV.056.999 /01
Lifting sucker
SM 74
MV.058.618 /01
Torsion spring
SM 74
MV.059.578 /
Journal DS
SM 74
MV.060.532 /
Gripper bar
SM 74
MV.060.532 /01
Gripper bar
SM 74
MV.102.563 /
Sensor
S-Offset
41.006.235 /
Spacer sleeve
S-Offset
41.008.001F/03
Ink fountain roller
S-Offset
41.008.017F/
Ink fountain blade
S-Offset
41.008.017F/03
Ink fountain blade
S-Offset
41.010.018 /
Screw cap
S-Offset
41.010.179 /01
Rail
S-Offset
41.010.417F/
Intermediate roller
S-Offset
41.010.417F/08
Intermediate roller
S-Offset
41.010.417F/12
Intermediate roller
S-Offset
41.010.417F/14
Intermediate roller
S-Offset
41.010.418F/
Bearing sleeve cpl
S-Offset
41.010.419 /01
Screw
S-Offset
41.010.419 /02
Screw
S-Offset
41.010.420 /
Nut
S-Offset
41.010.420 /01
Nut
S-Offset
41.010.421 /
Sleeve
S-Offset
41.010.425 /01
Pin
S-Offset
41.010.426 /
Roller
S-Offset
41.010.430 /01
Roller
S-Offset
41.013.017 /01
Gripper operating shaft
S-Offset
41.013.018 /
Gripper stop
S-Offset
41.013.019F/01
Gripper holder cpl
S-Offset
41.013.065 /
Spring rod
S-Offset
41.013.066 /
Pin
S-Offset
41.013.069 /01
Screw
S-Offset
41.013.072 /
Spring rod
S-Offset
41.014.039 /
Gripper cam
S-Offset
41.014.155 /
DISTANCE SLEEVE
S-Offset
41.016.272 /01
Tilting lever
S-Offset
41.017.124 /
Drive chain
S-Offset
41.017.320F/
Switching tongue cpl
S-Offset
41.020.008 /
Roller
S-Offset
41.020.080 /
Feed board tape
S-Offset
41.028.008 /02
Guide spring
S-Offset
41.028.150 /01
Support
S-Offset
41.028.151 /03
Control shaft
S-Offset
41.028.317 /
GASKET
S-Offset
41.028.409 /03
Twin sucker
S-Offset
41.028.710F/03
Rear edge blower
S-Offset
41.030.022 /01
Overrunning clutch
S-Offset
41.030.425 /02
Dampening distributor cylinder
S-Offset
41.072.075 /01
Feed table plate
S-Offset
41.072.162 /01
Guide plate
S-Offset
41.072.164 /
Allen screw
S-Offset
41.102.2011/
Connecting rod SKD 1,9 kpl.
S-Offset
41.102.3011/
Cylinder cpl D 50
S-Offset
41.169.1321/01
Printing speed dis V-PQS96/grau 12000d/h
S-Offset
41.458.701F/02
Clamping bar
S-Offset
41.458.704F/02
Clamping bar
S-Offset
41.458.706F/02
Clamping bar
S-Offset
41.458.712 /
Spacer
S-Offset
41.458.714F/
Knurled screw
S-Offset
41.458.716 /
Leaf spring
S-Offset
41.458.717 /
Leaf spring
S-Offset
41.458.718F/01
Adjusting screw
S-Offset
41.458.719 /
Hexagon-head screw
S-Offset
41.458.724 /
Hexagon-head screw
S-Offset
41.458.725 /
Allen screw
S-Offset
41.460.001 /
Positioning foil
S-Offset
41.520.142 /
Leaf spring
S-Offset
41.521.107 /
Sprocket wheel
S-Offset
41.521.108 /
Sprocket wheel
S-Offset
41.521.108 /01
Sprocket wheel
S-Offset
51.011.110 /
Cam
S-Offset
51.013.102 /
Eccentric bolt
S-Offset
51.013.102 /01
Eccentric bolt
S-Offset
51.013.103F/02
Bearing
S-Offset
51.013.105 /
Threaded bolt
S-Offset
51.013.107 /01
Adjusting cam
S-Offset
51.013.109 /01
Cam
S-Offset
51.013.110 /
Support
S-Offset
51.013.111 /
Supporting disk
S-Offset
51.020.110 /01
Spring
S-Offset
51.020.120 /01
Spring
S-Offset
51.030.225F/
Container
S-Offset
51.030.228 /
Bearing
S-Offset
51.101.3003/02
Main motor DIMG-100S64 15KW 440V
S-Offset
51.102.1451/
Lamella 95x59x6
S-Offset
58.011.020 /
Gripper pad
S-Offset
58.011.036 /01
Washer
S-Offset
58.012.152 /01
Pin
S-Offset
58.013.025 /02
Sheet guide segment
S-Offset
58.016.419 /
Covering sleeve
S-Offset
58.022.312 /01
Sheet stop DIN 1544
S-Offset
58.022.316 /
Pin
S-Offset
58.022.319 /
Retaining spring
S-Offset
58.022.342 /
Pin
S-Offset
58.022.343 /
Threaded ring
S-Offset
58.022.384F/01
Separator spring
S-Offset
58.022.396 /
Leaf spring
S-Offset
58.117.032 /
Flourescent lamp 14W
S-Offset


Flourescent lamp F14W/133 COOL WHITE
S-Offset
58.353.006 /
Clamping eccentric
S-Offset
58.353.007 /
Plate spring
S-Offset
58.711.101 /
Gripper pad
S-Offset
66.002.006 /
Oil level indicator 245/ V
S-Offset
66.006.012 /02
Gear Auswahleinheit
S-Offset
66.006.029 /07
Worm
S-Offset
66.006.029 /08
Worm
S-Offset
66.006.031 /01
Worm gear
S-Offset
66.007.011 /
Threaded bolt
S-Offset
66.008.010 /
Pin
S-Offset
66.008.035 /
Washer
S-Offset
66.009.020 /02
Washer
S-Offset
66.009.021 /
Collar
S-Offset
66.009.025 /02
Pin
S-Offset
66.009.025N/
Pin
S-Offset
66.009.091 /
Grooved ball bearing 393 921C
S-Offset
66.009.092 /
Grooved ball bearing 394 675
S-Offset
66.010.025 /01
Flange
S-Offset
66.010.051 /01
Screw
S-Offset
66.010.062 /
Compression spring
S-Offset
66.010.087 /
Bearing
S-Offset
66.010.093 /
Support
S-Offset
66.010.103 /
Washer
S-Offset
66.010.104 /
Washer
S-Offset
66.010.109 /
Washer
S-Offset
66.010.114 /
Gear
S-Offset
66.010.123F/
Star knob
S-Offset
66.010.133 /
Bearing bolt
S-Offset
66.010.162 /
Compression spring
S-Offset
66.010.165 /
Latch
S-Offset
66.010.166 /
Locking screw
S-Offset
66.010.187 /
Bearing
S-Offset
66.010.317 /
Spacer sleeve
S-Offset
66.010.344 /
Washer
S-Offset
66.010.345F/
Adjusting worm gear
S-Offset
66.010.346 /
Collar
S-Offset
66.010.358 /
Adjusting worm gear
S-Offset
66.011.034 /04
GASKET
S-Offset
66.011.065 /
Compression spring
S-Offset
66.012.020 /
Washer
S-Offset
66.012.054 /
Scaled sleeve
S-Offset
66.012.054 /02
Scaled sleeve
S-Offset
66.012.055 /
Scale reading sleeve
S-Offset
66.012.072 /01
Washer
S-Offset
66.012.075 /01
Fastening plate
S-Offset
66.012.076 /
Threaded spindle
S-Offset
66.012.083 /
Pin
S-Offset
66.012.088 /
Pin
S-Offset
66.012.110F/
Support
S-Offset
66.012.120 /
Sheet counter
S-Offset
66.012.129 /
Thrust piece
S-Offset
66.012.134 /
Pin
S-Offset
66.012.135 /
Shock absorber
S-Offset
66.012.150 /
Washer DIN1541 0,5
S-Offset
66.012.151 /
Washer DIN1541 0,75
S-Offset
66.012.152 /
Washer DIN1541 1,0
S-Offset
66.012.167 /01
Fastening angle
S-Offset
66.012.171 /01
Tension spring
S-Offset
66.013.051 /
Sheet stop spring
S-Offset
66.013.052 /
Washer
S-Offset
66.013.077 /
Shim plate 0,1 DIN1791
S-Offset
66.013.079 /
Shim plate 0,15
S-Offset
66.013.080 /
Shim plate 0,40
S-Offset
66.014.020 /02
Chain guide
S-Offset
66.014.021 /02

Chain guide
S-Offset
66.014.022 /01
Flange
S-Offset
66.014.025 /01
Chain pulley
S-Offset
66.014.025 /04
Chain pulley
S-Offset
66.014.028 /02
Sprocket wheel
S-Offset
66.014.028 /05
Sprocket wheel
S-Offset
66.014.039 /02
Gripper cam
S-Offset
66.014.040 /02
Gripper cam
S-Offset
66.014.041 /
Collar
S-Offset
66.014.063F/
Angle
S-Offset
66.014.067F/
Stop plate
S-Offset
66.014.068F/
Sheet catcher
S-Offset
66.014.070 /
Guide strap
S-Offset
66.015.015F/
Set of roller chains
S-Offset
66.015.023 /01
Sprocket wheel
S-Offset
66.015.028 /
Sheet jogger
S-Offset
66.015.049 /
Hook
S-Offset
66.015.105 /
Flange
S-Offset
66.016.113 /
Sprocket wheel
S-Offset
66.016.128 /
Washer
S-Offset
66.016.218 /
Sprocket wheel
S-Offset
66.016.220 /
Bearing bolt
S-Offset
66.016.230 /01
Pin
S-Offset
66.016.239 /
Strap
S-Offset
66.016.245 /
Spring bolt
S-Offset
66.016.407 /
Handle rod supporting bolt
S-Offset
66.016.409 /
Star knob E63-M12
S-Offset
66.016.422 /02
Flange
S-Offset
66.017.108 /
Sprocket wheel
S-Offset
66.017.153 /01
Chain deviator
S-Offset
66.017.315 /
Guide plate
S-Offset
66.017.320 /
Switching tongue
S-Offset
66.017.321 /
Pin
S-Offset
66.020.019 /
Guide pin
S-Offset
66.020.020F/
Tommy bar screw
S-Offset
66.020.080 /
Feed board tape
S-Offset
66.020.106 /01
Support
S-Offset
66.020.110 /
Spring
S-Offset
66.020.120 /01
Spring
S-Offset
66.020.121 /
Pin
S-Offset
66.020.122 /
Circular brush
S-Offset
66.020.141 /
Torsion spring 4,7 X32,3x 55
S-Offset
66.024.001 /
Screwdriver 1,9x7,5x440/330
S-Offset
66.024.010 /
Extractor 141-1
S-Offset
66.024.012 /
Wedge 200x34x60-rot
S-Offset
66.024.013 /01
Mounting device
S-Offset
66.024.018 /01
Socket wrench
S-Offset
66.024.019 /
Socket wrench SW 10
S-Offset
66.024.023 /
Pliers XE 990-51667
S-Offset
66.028.005 /
Clamping piece
S-Offset
66.028.005F/02
Lifting sucker cpl
S-Offset
66.028.006 /
Lifting sucker guide
S-Offset
66.028.007 /
Support
S-Offset
66.028.008 /
Guide spring
S-Offset
66.028.009 /01
Lifting sucker nozzle
S-Offset
66.028.010 /
Compression spring
S-Offset
66.028.014 /
Plug
S-Offset
66.028.016 /06
Eccentric bolt
S-Offset
66.028.017 /01
Pin
S-Offset
66.028.019 /
Guide
S-Offset
66.028.019 /03
Guide
S-Offset
66.028.021 /
Tension spring
S-Offset
66.028.021 /01
Tension spring
S-Offset
66.028.023 /01
Shaft
S-Offset
66.028.027 /04
Roller lever
S-Offset
66.028.028 /
Retaining spring
S-Offset
66.028.029 /02
Lever
S-Offset
66.028.030 /01
Lever
S-Offset
66.028.035 /
Pin
S-Offset
66.028.037 /02
Guide piece DS
S-Offset
66.028.038 /
Guide pin
S-Offset
66.028.041 /
Spacer ring
S-Offset
66.028.042 /
Bearing bolt
S-Offset
66.028.043 /
Pin
S-Offset
66.028.044 /
Compression spring
S-Offset
66.028.050S/
Guide pin cpl
S-Offset
66.028.053 /
Compression spring
S-Offset
66.028.055 /
Retaining spring
S-Offset
66.028.066 /02
Pin
S-Offset
66.028.067 /
Spacer ring
S-Offset
66.028.069 /01
Governor foot lever
S-Offset
66.028.069 /02
Governor foot lever
S-Offset
66.028.070 /
Pin
S-Offset
66.028.070 /02
Pin
S-Offset
66.028.073 /
Bush
S-Offset
66.028.073 /01
Bush
S-Offset
66.028.074 /
Allen screw
S-Offset
66.028.081 /
Roller shaft
S-Offset
66.028.082 /01
Connecting rod
S-Offset
66.028.082 /02
Connecting rod
S-Offset
66.028.083 /02
Bearing bolt
S-Offset
66.028.085 /02
Tension spring
S-Offset
66.028.090F/
Shaft
S-Offset
66.028.091 /01
Flange
S-Offset
66.028.103 /
Compression spring
S-Offset
66.028.105F/
BRUSH HOLDER
S-Offset
66.028.109F/
Brush cpl
S-Offset
66.028.110F/01
Sheet separator finger for cardboard
S-Offset
66.028.115 /01
Sheet steadier
S-Offset
66.028.124F/01
Tension piece
S-Offset
66.028.126 /01
Pin
S-Offset
66.028.127 /
Spacer ring
S-Offset
66.028.128 /
Bush
S-Offset
66.028.133 /
Washer

8,4x 17

x0,1
S-Offset
66.028.134 /
Washer
S-Offset
66.028.135 /
Bush
S-Offset
66.028.139 /
Connection fitting
S-Offset
66.028.142 /
Pin
S-Offset
66.028.145 /
Bush
S-Offset
66.028.304 /
Support
S-Offset
66.028.305 /
Pin
S-Offset
66.028.309 /
Snap spring
S-Offset
66.028.309 /02
Snap spring
S-Offset
66.028.311 /01
Spacer ring
S-Offset
66.028.318 /
Grub screw
S-Offset
66.028.319 /
Cover disc
S-Offset
66.028.401 /
Suction disc 30 X 13 X 0,8
S-Offset


Suction disc 30 X 13 X 0.8
S-Offset


Suction disc30 X 13 X 0,8
S-Offset
66.028.402 /
Suction disc 38 X 13 X 0,8
S-Offset
66.028.403 /
Suction disc 30 X 13 X 1
S-Offset
66.028.404 /
Suction disc 38 X 13 X 1
S-Offset
66.028.405 /
Tissue paper sucker
S-Offset
66.028.406 /
ker disc 32 X 13 X 0,8
S-Offset


Rubber sucker disc 32 X 13 X 0,8
S-Offset


Suction disc 32 X 13 X 0.8
S-Offset
66.028.409 /
Lifting sucker nozzle
S-Offset
66.028.411F/
Sheet separation blower
S-Offset
66.028.809 /01
Lifting sucker nozzle
S-Offset
66.028.810F/01
Separator finger
S-Offset
66.028.815F/01
Separator finger cpl
S-Offset
66.030.001 /
Bearing flange
S-Offset
66.030.006 /
Dampening roller bearing
S-Offset
66.030.009 /
Distance washer
S-Offset
66.030.012F/
Stop
S-Offset
66.030.016 /
Spring support piece
S-Offset
66.030.019 /01
Adjusting screw
S-Offset
66.030.020 /
Spring support piece
S-Offset
66.030.022 /
Distance washer
S-Offset
66.030.023 /
Bush
S-Offset
66.030.028 /03
Journal OS
S-Offset
66.030.028 /04
Journal OS
S-Offset
66.030.030 /
Compression spring
S-Offset
66.030.031 /
Distance washer
S-Offset
66.030.033 /
Adjusting screw
S-Offset
66.030.040 /
Distance washer

55,2x80,7x0,05
S-Offset
66.030.058 /
Compression spring
S-Offset
66.030.066 /
Ball valve G 1/2-14
S-Offset
66.030.081 /
Brake
S-Offset
66.030.089 /01
Flat gasket
S-Offset
66.030.092F/01
Dampening water container
S-Offset
66.030.093F/
Cover
S-Offset
66.031.001 /
Tachometer
S-Offset
66.033.020 /
Guide piece
S-Offset
66.071.006 /02
Gasket 1.2 mm
S-Offset
66.072.004 /
Guide
S-Offset
66.072.004 /01
Guide
S-Offset
66.072.006 /02
Guide plate
S-Offset
66.072.014 /05
Flange
S-Offset
66.072.021 /
Cam
S-Offset
66.072.023 /05
Cam
S-Offset
66.072.024 /05
Cam
S-Offset
66.072.028 /06
Intermediate support
S-Offset
66.072.046 /
Retaining spring
S-Offset
66.072.071 /06
Spacer ring
S-Offset
66.072.080F/07
Sheet smoother DS
S-Offset
66.072.082F/07
Sheet smoother OS
S-Offset
66.072.084F/05
Separator spring cpl
S-Offset
66.072.089F/06
Sheet smoother cpl
S-Offset
66.072.095 /
Leaf spring
S-Offset
66.072.096 /
Leaf spring
S-Offset
66.072.101 /01
Cover guide
S-Offset
66.072.102 /
Lay guide
S-Offset
66.072.103 /
Hexagon-head screw
S-Offset
66.072.108 /01
Tension spring
S-Offset
66.072.109 /
Spring holder
S-Offset
66.072.111 /
Spring block
S-Offset
66.072.114 /02
Tension spring
S-Offset
66.072.122 /
Rod head
S-Offset
66.072.124 /
Pull rail
S-Offset
66.072.125 /01
Pull rail
S-Offset
66.072.127 /
Compression spring
S-Offset
66.072.145F/
Plate
S-Offset
66.072.180 /
Shim
S-Offset
66.072.183 /
Shim
S-Offset
66.072.184 /
Shim
S-Offset
66.072.185 /
Shim
S-Offset
66.072.186 /
Shim
S-Offset
66.072.201 /02
Housing
S-Offset
66.072.202 /02
Housing
S-Offset
66.072.205 /
Spring bushing
S-Offset
66.072.206 /
Spring bushing
S-Offset
66.072.207 /02
Side stop
S-Offset
66.072.208 /
Adjusting bolt
S-Offset
66.072.209 /
Sheet stop
S-Offset
66.072.213 /
Key
S-Offset


하리 키
S-Offset
66.072.214 /01
Spring lever
S-Offset
66.072.215 /
Sheet guide plate
S-Offset
66.072.216 /
Sheet guide plate
S-Offset
66.072.217 /01
Stop pin
S-Offset
66.072.220 /01
Lock nut
S-Offset
66.072.221 /
Compression spring
S-Offset
66.072.222 /
Compression spring
S-Offset
66.072.223 /
Retaining spring
S-Offset
66.072.602 /
Tube
S-Offset
66.090.049 /
Brake shoe
S-Offset
66.109.131 /02
Coupling 541.15.3.8 24V;M=50Nm
S-Offset
66.111.031 /
Magnet -21
S-Offset
66.111.032 /
Magnet /43-50Hz220V
S-Offset
66.353.011 /
Spanner
S-Offset
66.521.108 /
Sprocket wheel
S-Offset
66.521.109 /01
Chain guide
S-Offset
66.521.110 /01
Chain guide
S-Offset
66.521.205 /
Sprocket wheel
S-Offset
66.849.008F/
Plate
S-Offset
66.849.034 /01
Spring bushing
S-Offset
66.849.035 /01
Spring bushing
S-Offset
66.849.036 /
Spacer piece
S-Offset
66.890.010 /
Spacer piece
S-Offset
66.890.010 /01
Spacer piece
S-Offset
66.891.001F/06
Sheet smoother cpl
S-Offset
66.891.002 /
Leaf spring
S-Offset
66.891.002 /02
Leaf spring
S-Offset
66.891.003F/07
Sheet smoother DS
S-Offset
66.891.004F/07
Sheet smoother OS
S-Offset
66.891.006 /
Circular brush
S-Offset


Circular brush Black
S-Offset
68.007.010 /
Stud
S-Offset
68.009.015F/
Distributor cylinder
S-Offset
68.010.417F/
Intermediate roller
S-Offset
68.010.417F/05
Intermediate roller
S-Offset
68.021.055 /
Hexagon-head screw