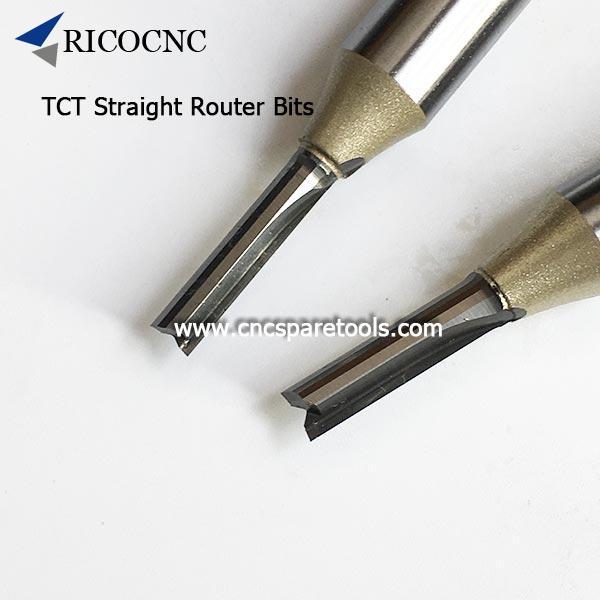 TCT Straight Router Bits Tungsten Carbide Two Straight Flutes Cutters for Woodworking
This router bit is double fluted and its cutting edges are TCT (Tungsten Carbide Tipped), also called HM (Hard Metal) which extends the life of the bit and makes clean, smooth cuts on all types of timber.
TCT straight bit is designed to provide higher finishing performance. Also, it has longer useful life and durability. It is used as wood cutting bits for
woodworking cnc router machine
.
T.C.T router bits for wood cutting, milling. It is made of 45 carbon steel, the cutting parts are micro-grain tungsten carbide. The welding type is silver welding or copper welding. With two times grinding rough grinding and finish grinding make sure tips sharp and high precision.
TCT straight router bit competitive advantages:
1): Carbide rods and tungsten steel rods, with high hardness, high wear resistance, high strength, resistance to bending, anti-impairment and long tool life.
2): Improve the speed and feed rate of the tool, Improve the surface wear resistance
3): Cutting surface is finished, without burrs and skins char.
4): Package is modern, save and beautiful.
5): Competitive price and short delivery time.
TCT CNC router bit, double straight flute suitable for all composition materials, natural wood, solid wood, birch wood, oak wood, particleboard, anti-fold special board, plywood, hardwood, MDF, HDF, laminate board, artificial stone, Nylon, Resin, majority of plastics, soft wood, PVC, plastic board, acrylic, ABS, brass, aluminum etc.
TCT router bits are widely used in the field of crafts, electronics, advertisement, decoration and furniture making.
TCT straight cutter bits size:
Shank diameter: 12.7mm (1/2 Inch)
Cutting edge diameter: 3.175mm, 4mm, 5mm, 6mm, 8mm, 10mm or 12mm
Cutting edge Length: 10mm, 12mm, 15mm, 17mm, 20mm, 22mm, 23mm, 25mm, 28mm, 32mm
Material: Solid Micro-Grain Carbide (tungsten steel)
Package: Plastic Box
Application: Wood Routing
Please choose the model you need.
| | | | |
| --- | --- | --- | --- |
| Model | Shank (inch) | CED (mm) | CEL (mm) |
| 1/2*4*10 | 1/2 | 4 | 10 |
| 1/2*4*12 | 1/2 | 4 | 12 |
| 1/2*4*15 | 1/2 | 4 | 15 |
| 1/2*4*20 | 1/2 | 4 | 20 |
| 1/2*4*22 | 1/2 | 4 | 22 |
| 1/2*4*24 | 1/2 | 4 | 24 |
| 1/2*4*26 | 1/2 | 4 | 26 |
| 1/2*4*28 | 1/2 | 4 | 28 |
| 1/2*5*10 | 1/2 | 5 | 10 |
| 1/2*5*12 | 1/2 | 5 | 12 |
| 1/2*5*15 | 1/2 | 5 | 15 |
| 1/2*5*18 | 1/2 | 5 | 18 |
| 1/2*5*20 | 1/2 | 5 | 20 |
| 1/2*5*22 | 1/2 | 5 | 22 |
| 1/2*5*24 | 1/2 | 5 | 24 |
| 1/2*5*26 | 1/2 | 5 | 26 |
| 1/2*5*28 | 1/2 | 5 | 28 |
| 1/2*5*30 | 1/2 | 5 | 30 |
| 1/2*6*10 | 1/2 | 6 | 10 |
| 1/2*6*15 | 1/2 | 6 | 15 |
| 1/2*6*18 | 1/2 | 6 | 18 |
| 1/2*6*20 | 1/2 | 6 | 20 |
| 1/2*6*22 | 1/2 | 6 | 22 |
| 1/2*6*24 | 1/2 | 6 | 24 |
| 1/2*6*26 | 1/2 | 6 | 26 |
| 1/2*6*28 | 1/2 | 6 | 28 |
| 1/2*6*30 | 1/2 | 6 | 30 |
| 1/2*6*32 | 1/2 | 6 | 32 |
| 1/2*8*20 | 1/2 | 8 | 20 |
| 1/2*8*24 | 1/2 | 8 | 24 |
| 1/2*8*26 | 1/2 | 8 | 26 |
| 1/2*8*28 | 1/2 | 8 | 28 |
| 1/2*8*30 | 1/2 | 8 | 30 |
| 1/2*8*32 | 1/2 | 8 | 32 |
| 1/2*8*35 | 1/2 | 8 | 35 |
| 1/2*8*40 | 1/2 | 8 | 40 |