TIME PATCH [SC150330]
Volume : 10EA (5PACK)
New Alternative of Drug Delivery Method Patch-Type Filler Without Pain NEEDLE PATCH
Hyaluronic acid is absorbed into horny layer, epidermis and the corium!
- Advanced transdermal drug delivery system
- Non-invasive, pain free as general patch
Hyaluronic acid located in the corium soaks moisture
Similar effect to filler injection as it removes wrinkles and makes firm skin.
PRINCIPLE OF FILLER NEEDLE PATCH PERMEATION
Micro structure hardly feels pain when it penetrates skin. It enhances its effect maximizing deliver efficiency by penetrating horny layer and directly delivering drugs into the deep skin.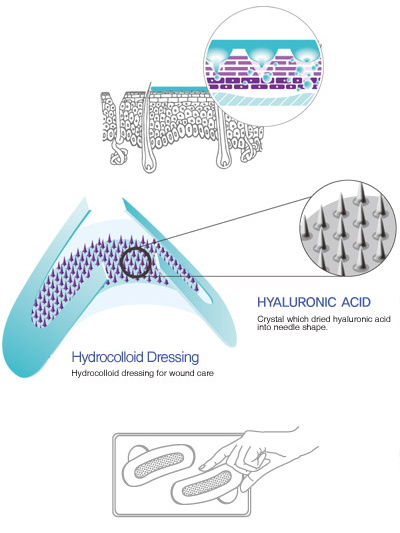 1. Before use Filler Needle
Micro needle, 1/1000 size of millimeter, is attached more than 100 in a patch
2. Filler needle penetration
Micro structure which hardly feels pain when it penetrates skin penetrates horny layer.
3. Filler needle decomposition
99% hyaluronic acid, an ingredient of filler, is delivered instantly and absorbed into the skin.
4. Skin tissue which absorbs hyaluronic acid
Small and fine micro needle promotes collagen production and skin regeneration as defense reaction against stimulation
HOW TO USE
1. Before you sleep, wash your face and remove water on the face and hands. Open the product and remove white adhesive of patch
- Take notice not to touch needles. If you touch needles on patch, it could be contaminated.
2. Attach below the eyes, nasolabial fold and other parts which need wrinkle care. Push down 3~4 times to make needles permeate into the skin well.
3.Remove transparent film and push it to fix one more.
4. Remove patch next morning.
* There can be a mark. But don't worry it will disappear soon.