TRIGEN
Tripolar RF Technology
Premium Total Beauty Solution
Skin treatment with three functions
Combination of Tripolar RF + Iontophoresis + Light(Red, Blue) Therapy
Convenient Premium Tripolar RF homecare device
Tripolar RF by high technology without spark
Solution for anti-aging and troubled skin

1. Tripolar RF
2. IontoPhoresis
3. LED Therapy
4. Ampoule treatment
5. Program
01. Radio Frequency System - Tripolar RF
Tripolar RF Effect
Tripolar RF energy generates deep heat from concentrated energy with high density.
It effects bothe thin and deep layers of skin.
Effect 1

Skin Tightening
Delivery of strong RF energy onto dermis.
Stimulate collagen regeneration

Effect 2

Circulation & Rejuvenation
Delivery of heat to both epidermis and dermis without wound
Anti-aging and increasing metabolism

Large applicator across Tripolar RF energy by pole
High Cohesive Energy Triplar RF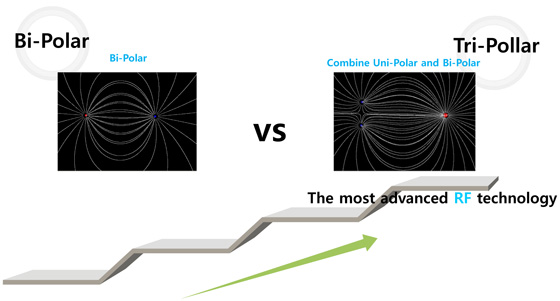 RF(Radio Frequency) Method
Division/Method

Mono polar

Uni-polar

Bi-polar

Tri-polar

Polarity

mono polarity

uni polarity

bi polarity

Both Mono polarity and Bi polarity

Penetration method

straight conductivity effect
(need plate ground)

radiator effect

both poles effect

radiator(deep) + both poles effect(shallow layer)

Penetration depth

dermis subcutaneous

dermis subcutaneous

epidermis dermis

epidermis dermis subcutaneous

Cooling
(skin application)

necessary

necessary

necessary

unnecessary

Output energy

high energy
200~300w

high energy
200~300w

high energy
200~300w

low energy

Burn

Possible

Happened

Happened

No
(tingle)
Tripolar RF Effect
Tripolar RF Energy is combined between One(+) pole and two(-) pole generating deep heat by densely concentrated energy.
It effect both thin and deep layer of skin.

High cohesive Energy Tripolar RF
High power density : prompt and long-lasting effect
Low power consume : No pain
02. IONTOPHORESIS
Solution with strong effects by penetrating active ingredients into deep skin
1. Flow in the body consistently and regularly
Spread in the whole body
Activate skin tissue and chemistry, physical behaviour
2. Push the same polarity and Pull the opposite polarity
Penetrate active ingredients into the skin
Elimination of waste matter
IONTOPHORESIS Effects

Negative pole(-) Alkali reaction
Penetration of Alkali material
Imaprove blood circulation
Stimulation
Enlarge Pore and sweat gland
Activate operation
Relax skin tissue
Effects by pole discrepancy
Improve blood circulation
Increase the body temperature
Stimulate circulation o lymph
Increase metabolism
Positive pole(+) acid reaction
Penetration of acid material
Decline blood circulation
Nerve stability
Minimize Pore and sweat gland
Soothing
Strengthen skin tissue
03. Light Therapy
LED Blue/Red Light Therapy - 2types light therapy
LED Red Therapy -ANTI-AGING
Reduce fine wrinkle and improve skin tone
Stimulate blood circulation and metabolism
Wave length 660nm
LED Blue Theraphy -ACNE, Disinfection
Help to destroy bacteria which cause pimples and reduce infection
Minimize pores and control the amount of sebum excreted
Wave length 420nm
04. Program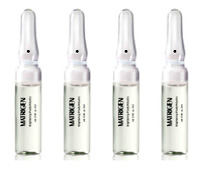 Trigen Ampoule
Features
Keeps skin moisturizing by preventing dehydration
Smoothes skin by removing dead skin cell
Main ingredients
Allantonic acid : Soothing, relieving
Chamaecyparis Obtusa Water extraction : antibacteria effect, strengthening immunity
Avocado extraction : Moisturizing, skin protection
Human oligopetide-1 : Promotes production of new cells by combining acceptor on the skin, Cure burns and minimize scars by stimulating various types of cells
Boswellia Serrata Resin Extract : Strengthening immunity, Supply conditioning
Usage : Apply on the face evenly before using Trigen.
Tripolar RF Application by skin improvement
| | | | |
| --- | --- | --- | --- |
| Indications | RF | LED | Level |
| Wrinkle, Elasticity, Regeneration | Tripolar | RED | |
| Minimizing Pores | Tripolar | RED | |
| Acne Treatment | Tripolar | BLUE | |
Tripolar RF Partial Application
| | |
| --- | --- |
| Face, Neck | Time 10~15 minutes |
| Around Eyes | Time 10~15 minutes |
| Whole Face | Time 10~15 minutes |
IONTO Phoresis Application
program 1 : ionto phoresis(+,-)
program 2 : lifting (Pulse wave(+,-) simultaneous process)
program 3 : regenerating treatment
Time : 10~15 minutes
Application :
PROGRAM 1 : penetration of vitamin for whitening(-), increase nutriment s in the cell(+)
PROGRAM 2 : skin lifting and elasticity(Pulse wave(+,-) simultaneous process)
PROGRAM 3 : regeneration and activation of cell(+)
Usage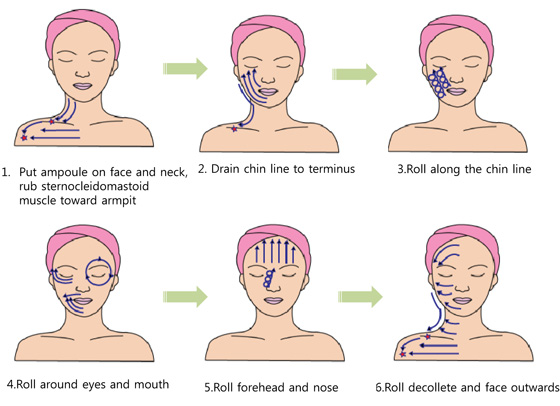 Clinical Data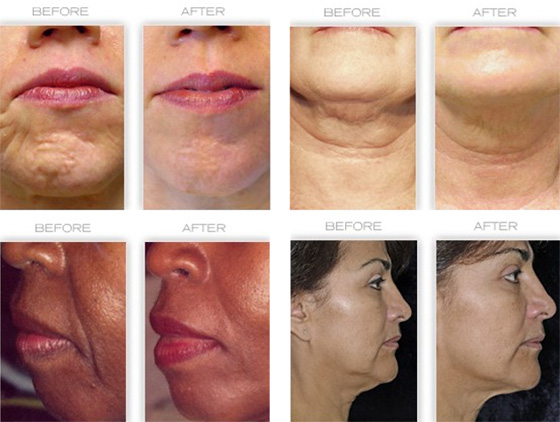 Features
Ingenious energy power by Tripolar RF
Convenient treatment by stable output control
Do not need consumables
Portable size by simple design
Easily seizable & convenient hand piece
Reasonable price
Rechargeable & Easy to carry