Hello Everyone,
Today, we introduce a type of high frequency PCB built on RF-35TC.
RF-35TC is a PTFE based, ceramic filled fiberglass high frequency material from Taconic company.
The specifications of PCB are as follows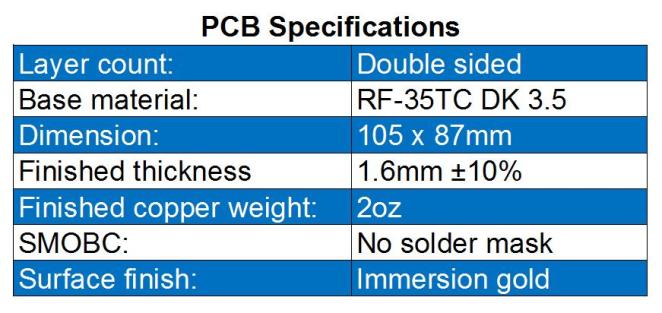 Double sided, substrate is RF-35TC, DK at 3.5; 105mm long by 87mm wide; finished PCB thickness at 1.6mm, finished copper weight at 2oz; No solder mask and silkscreen; surface finish is Immersion gold
This is the stack up drawing.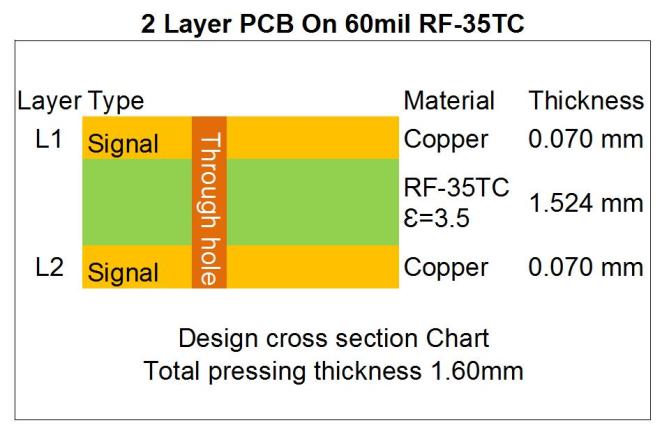 Top layer and bottom layer are 2oz finished copper, dielectric material RF-35TC is in the middle at 1.524mm thick, DK at 3.5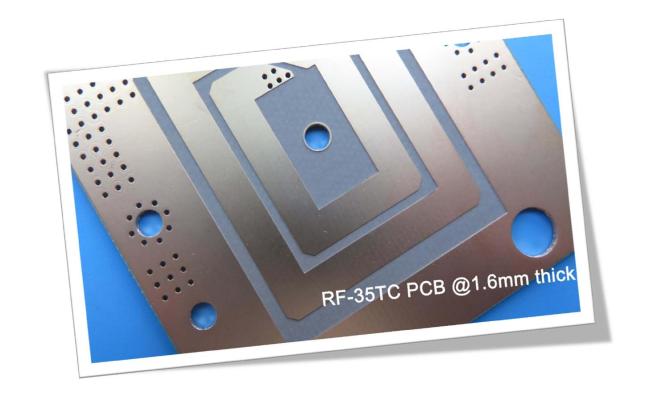 The basic colour of RF-35TC PCB is brown and grey. Its main applications are power amplifiers, couplers and filters. In addition, It's also widely used in antennas, satellite equipment and so on.
PCB Capability




PCB Material:

PTFE based ceramic filled fiberglass substrate




Designator:

RF-35TC




Dielectric constant @ 10GHz:

3.50






Layer count:

2 Layer, Multilayer, Hybrid type




Copper weight:

0.5oz, 1oz, 2oz




PCB thickness:

0.3mm, 0.6mm, 0.8mm, 1.6mm




(10mil, 20mil, 30mil, 60mil substrate)




Solder mask:

Green, Red, Black, White, Blue etc.




PCB size:

≤400mm X 500mm




Surface finish:

Bare copper, HASL, ENIG, Immersion tin etc.






We can provide you with double sided board, multilayer board and hybrid board. Thickness ranges from 0.3mm to 1.6mm, maximum size at 400 mm by 500mm; there're surface finishes of bare copper, hot air level, immersion gold etc.
RF-35TC offers superior heat dissipation performance, so it's a type of thermally conductive low loss laminate. It's best suited for high power applications. Heat dissipates away from both transmission line on PCB and surface mount components such as capacitor etc.
Should you have any questions, please feel free to contact us.
Thank you for reading.
Appendix
Data sheet of RF-35TC high frequency circuit material