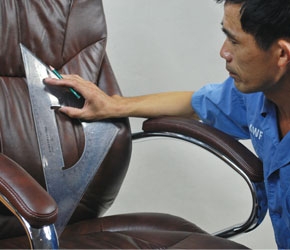 Membership

Free member

Registration Date

2018.12.11

Country/Region

China

City

Huzhou

Contact

westline(Mr.)
Westline Furniture (Anji) Co.,Ltd was established in 2008, we design and make high quality office chairs, only HIGH quality office chairs.
Our key advantages are design ability, ergonomical engineering, production quality control and extremely good understanding and communication
with our clients as our key management members are university educated at specific majors such as industrial design, production management, or international trade etc.
We travel to visit our clients frequently to see how our chairs were sold and how our chairs were used, to listen how the local sales people comment
and how the local after sales people complain, so we know better what are the points of a good chair or even a good chair business.
We hope - with our professional operation, your business will be safe and the reputation of your company will be aDesign Your Chair design centre lets you create your ideal chair.
Choose the chair model: upholstery type, chair finish, upholstery color, seat, casters, and more… superior product.
We've gained a solid understanding of what it takes to build a superior product.
By working closely with our Product Experts your hand crafted chair will be exactly what you are looking for.