The Good Healthy Drink of Respiratory Organs - HONGYOULI
HONGYOULI's main materials are composed of citron, red ginseng, platycodon (Korean bellflower) root and pear, which contain ingredients that are beneficial to human respiratory system. HONGYOULI is made from the concentrate of these four materials that are produced in natural environment in Korea, HONGYOULI is a real health beverage uncomparable to others, as its materials are natural without any artificial preservatives, pigments or spices.
30can/box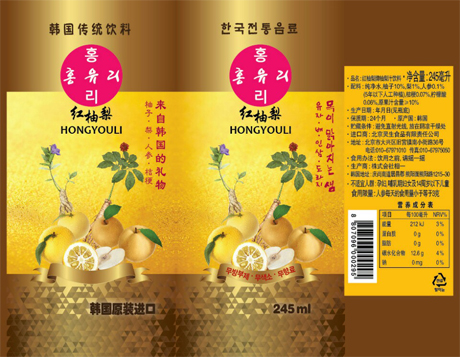 Effect of HONGYOULI Materials
---
Citron
The Compendium of Materia Medica says citron aids digestion, helps maintain comfortable stomach and testicle, scatters evil energy and removes phlegm. The Dongui Bogam says citron eliminates evil energy in the stomach, releases alcoholic intoxication and removes bad breath by drinking.
[anti-cancer, anti-oxidant, anti-inflammatory effect, prevent hypertension-stroke, anti-aging, fatigue recovery, ease hangover, prevent constipation, contain abundant vitamin C, prevent-cold]
* The Compendium of Materia Medica, also known as Bencao Gangmu or Pen-tsao Kang-mu, is a Chinese material medical work written by Li Shizhen during the Ming Dynasty. This book is regarded as the most complete and comprehensive medical book ever written in the history of traditional Chinese medicine. It lists all the plants, animals, minerals, and other items that were believed to have medicinal properties. (Wikipedia) *The Dongui Bogam is a Korean book compiled by the royal physician, Heo Jun (1539 - 1615) in 1613 during the Joseon Dynasty of Korea. The book is regarded important in traditional Korean medicine and one of the classics of Oriental medicine today. (Wikipedia)
---
Red ginseng
Dongui Bogam says ginseng tranquilizes mind, controls a nerve, halts throbbing heart, stimulates brain function and prevents amnesia, and is effective to constitutional weakness or lethargy and to those who are easily affected by cold weather, easily perspire and have weak digestion. It also says ginseng alleviates hypometabolism by weak stomach and is used for stomach congestion, indigestion, nausea, atonic diarrhea, anorexia, etc.
[Prevent acute respiratory disease, anti-cancer, anti-oxidant, anti-inflammatory effect, fatigue recovery, blood pressure and blood sugar control, anti-aging, short recovery from medical, operation, liver function protection, more energy and stamina]
---
Platycodon(Korean bellflower) root
Dongui Bogam says platycodon root cures a sore throat, postnasal drip, chronic cough and short breath due to lung heat. Korean Herb Medicine Dictionary says platycodon root helps smooth flow of pulmonary energy, loosens phlegm and removes pus. It also says platycodon root is effective to cough and sore/swollen throat caused by cold, heaviness on chest and sore side waist.
[Prevent cold-sore throat-tonsillitis, relieve cough and remove phlegm, protect bronchial tubes, anti-cancer, anti-oxidant effect, strengthen immunity, break up cholesterol]
---
Pear
Dongui Bogam says pear enriches lung, removes cough and phlegm, and appeases thirst and fever.
[relieve asthma and prevent cold, tranquilize cough and remove phlegm, anti-cancer, fatigue recovery, strengthen immunity]