The Mom Chinese medicine Nurungji(crust of overcooked rice) Tea
New taste which is savory and does not cause resistance
100% Natural ingredient
HACCP certified product
We put savory taste of Nurungji and health of ingredients from Chinese medicine.

Let's drink tea healthy
This is 'The Mom Chinese medicine Nurungji tea' which is made for the purpose of everyone to enjoy drinking this tea which subtracted preservative, additives and other harmful ingredients to human body made by a company that insist only good ingredient and good food.
What kind of ingredient is contained in the tea?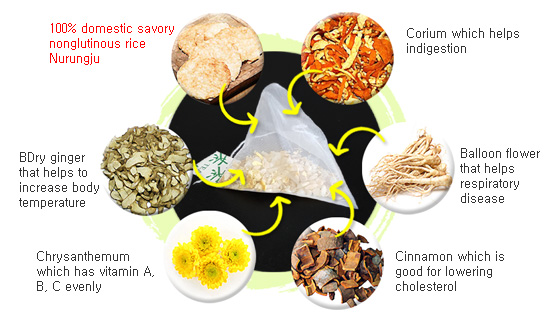 Enjoy tea more tastily!
The combination of Chinese medicine and Nurungji is new right?
It might seem to be bitter and has scent of oriental medicine but it doesn't.
It is good to drink instead of water since the savory taste of Nurungji is mixed.
We recommend to all people who enjoy tea!
Savory and deep taste of Korean traditional Nurungji
Enjoy as cold tea in hot weather
Enjoy as warm tea in chilly weather
How to enjoy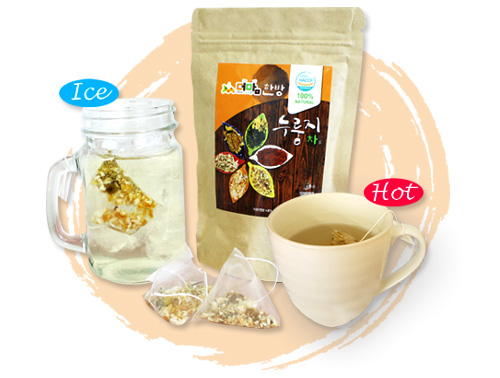 Brew the tea bag in 250~350ml of water at 80~90°C for 2~3 minutes and drink.
You could feel deeper taste and scent when brewed for about 5 minutes.
It could be brewed 2~3 times if you want to enjoy it lighter.
It tastes food when putting ice or keeping refrigerated when enjoying it as cold tea.
Main ingredients
Raw ingredient: 65.7% of domestic non glutinous Nurungji, 8.6% corium, 11.4% balloon flower, 5.7% dry ginger, 2.9% chrysanthemum, 5.7% Vietnamese cinnamon