Get a Good Night's Sleep with the Mouth Strap!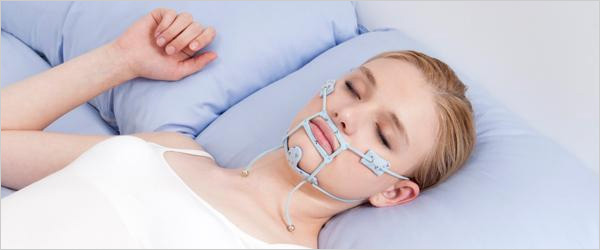 Stop mouth breathing!
This amazing device allows you and your sleeping partner to enjoy a quiet sleep at last.
Contact us to experience healthy breathing.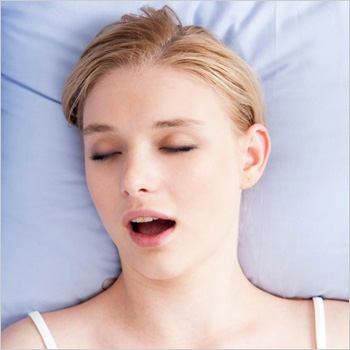 Sleep problems…no more Tired of suffering from sleep problems? Up to 75% of snoring is caused by unhealthy mouth breathing that can keep your loved ones wide awake late at night. The Mouth Strap adjusts to the contours of your face, allowing you to breathe and sleep easily all night long.

Healthy breathing is very important. Breathing problems during sleep can lead to other serious symptoms. Some of the many symptoms of breathing problems that the Mouth Strap can relieve are:

1. Snoring
2. Sleep Apnea
3. Sore Throat
4. Dry Lips
5. Dry Mouth
What is the Mouth Strap?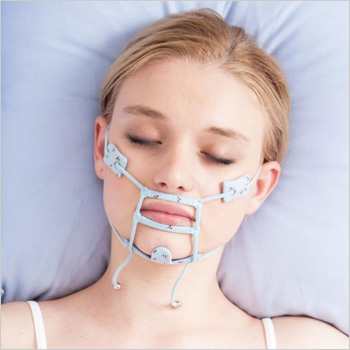 The Mouth Strap is no medicine, which prevents a person from breathing through mouth during sleep. Only an external, artificial device can prevent breathing through mouth during sleep. "The Mouth Strap is an aid to healthy living, a simple apparatus shaped like a mask fashioned with straps that a person fastens around his/her ears. It facilitates the closing of the mouth while you are sleeping, and enables breathing through the nose."

There are three main parts to the Mouth Strap. The "Chin Supporter" which supports the chin from the bottom and the "Upper and Lower Strap" which holds the upper and lower lips comfortably in place. By preventing you from opening your mouth and breathing through it, these three parts of the Mouth Strap aid you in breathing properly through your nose.

This simple apparatus is shaped like a mask with straps that you fasten around your ears. Sometimes the mouth unconsciously opens during sleep; the Mouth Strap facilitates the closing of the mouth while you are asleep, enabling you to breathe safely through your nose.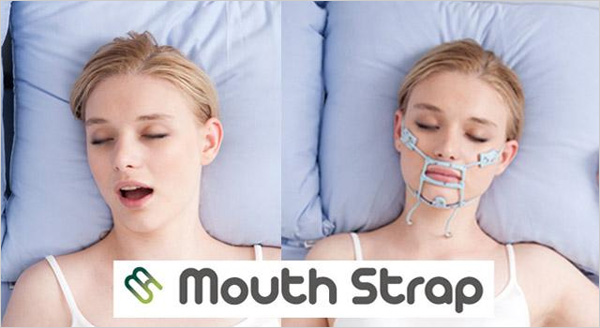 Mouth Strap is necessary for health. The mouth unconsciously opens in sleep and thus mouth breathing occurs inevitably, and so the mouth is artificially closed. In advanced countries, something is putted on the head to pull the chin or is inserted in the mouth or the nose, and in some cases, the mouth is covered with tape. On the other hand, JYFACTORY CO's Mouth Strap can be easily worn like a mask. You can prevent mouth breathing only by wearing it, and it will help you to lead healthy life. It is the world's only product.
Not only is the Mouth Strap comfortable to wear, but it is also sanitary as you do not need to put anything in your mouth or nose.
Whether doing daily activities or sleeping, the Mouth Strap provides sufficient tension to keep the mouth from opening. The tension however is not too great to prevent someone from opening their mouth and breathing through it if that becomes necessary. Therefore, it is safe to wear.
The Mouth Strap is individually hand-made in Korea with great care, so you can be assured of its quality, safety, and cost effectiveness.
It is good for those who:
Snore
Open their mouth at any time.
Are susceptible to colds.
Are allergic.
Have the sore throat whenever getting up in the morning.
Cannot get up in the morning easily.
Cannot sleep soundly.
Whose mouths and throats go dry frequently.
Open their mouths when concentrating their attention to something.
Whose faces became longer because of long-term mouth breathing.
Whose lips become dry.