Product Description

Special Abutment (Healing & Final Abutment)
Same as Natural Abutment and Scallop Abutment just except screw hole lean to one side not in the middle. (Except Incisor type) for the purpose of special tooth operation.

Anatomical Design
1. Identical to the gum shape of respective natural tooth.
2. No need to transplant the soft tissue when tooth is extracted and implanted.
3. Stable gingival volume formation as identical to the natural respective tooth.
Biological Design
Natural emergence profile - High aesthetics in final prosthesis
- Convenience in work process
Reduce the possibility of inflammation on the implanted area with the stable gingival volume formation
Astra, Neobiotech, Ostem, Dentium, DIO, Dentis, Megagen, Zimmer, 3I & Branemark
Material : Titanium grade4(Abutment), Titanium grade5(Screw)
Our Policy

1. No MINIMUM ORDER REQUIRED, Contact us for more information.
2. OFFER COMPETITIVE PRICE : 100+ pcs , Contact us for more information.
3. WARRANTY : 1 year , Supply new one with exchange of defected one.
Business Scope
1. We are manufacturers and exporters of our own brand . (Natural & Scallop Abutments).
2. ODM & OEM - We can design , produce a full –custom line of dental abutments based on a new design.
3. we can produce a copy of a desired abutment based on samples the client sends us.

1) Natural Abutment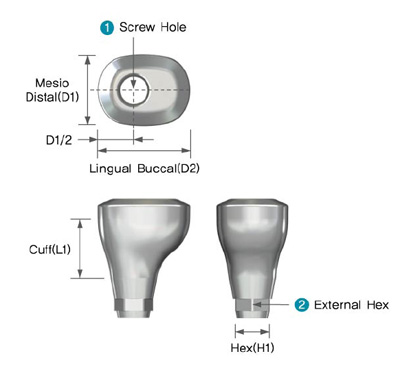 Name
Reference Code
D1
D2
L1
H1
Remark
Natural Abutment
NA-S5065HA
5.0
6.5
2.5
2.50
Hex
NA-S5065HB
5.0
6.5
4.5
NA-S4560HA
4.5
6.0
2.5
NA-S4560HB
4.5
6.0
4.5
NA-S5070HA
5.0
7.0
2.5
NA-S5070HB
5.0
7.0
4.5
NA-S6070HA
6.0
7.0
2.5
NA-S6070HB
6.0
7.0
4.5
NA-S6080HA
6.0
8.0
2.5
NA-S6080HB
6.0
8.0
4.5
NA-S6090HA
6.0
9.0
2.5
NA-S6090HB
6.0
9.0
4.5
NA-S7080HA
7.0
8.0
2.5
NA-S7080HB
7.0
8.0
4.5
NA-S7090HA
7.0
9.0
2.5
NA-S7090HB
7.0
9.0
4.5
NA-S7010HA
7.0
10.0
2.5
NA-S7010HB
7.0
10.0
4.5
NA-S8090HA
8.0
9.0
2.5
NA-S8090HB
8.0
9.0
4.5
NA-S8010HA
8.0
10.0
2.5
NA-S8010HB
8.0
10.0
4.5
NA-S5065NA
5.0
6.5
2.5
Non-Hex
NA-S5065NB
5.0
6.5
4.5
NA-S4560NA
4.5
6.0
2.5
NA-S4560NB
4.5
6.0
4.5
NA-S5070NA
5.0
7.0
2.5
NA-S5070NB
5.0
7.0
4.5
NA-S6070NA
6.0
7.0
2.5
NA-S6070NB
6.0
7.0
4.5
NA-S6080NA
6.0
8.0
2.5
NA-S6080NB
6.0
8.0
4.5
NA-S6090NA
6.0
9.0
2.5
NA-S6090NB
6.0
9.0
4.5
NA-S7080NA
7.0
8.0
2.5
NA-S7080NB
7.0
8.0
4.5
NA-S7090NA
7.0
9.0
2.5
NA-S7090NB
7.0
9.0
4.5
NA-S7010NA
7.0
10.0
2.5
NA-S7010NB
7.0
10.0
4.5
NA-S8090NA
8.0
9.0
2.5
NA-S8090NB
8.0
9.0
4.5
NA-S8010NA
8.0
10.0
2.5
NA-S8010NB
8.0
10.0
4.5
Number
Name
Characteristics

1

Screw Hole
This is the hole to join by using the screw when attaching the natural abutment and fixture.
External Hex
This product has the external hex structure as consistent to the internal fixture.

2
2) Scallop Abutment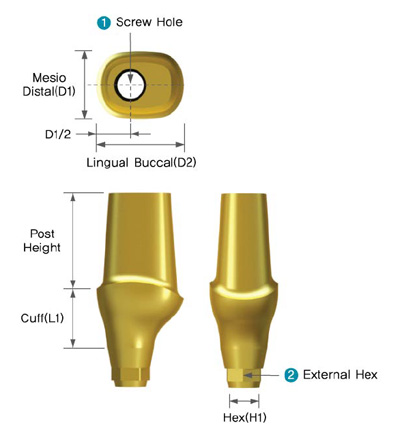 Name
Reference Code
D1
D2
L1
H1
Remark
Scallop Abutment
SA-S5065HA
5.0
6.5
2.5
2.50
Hex
SA-S5065HB
5.0
6.5
4.5
SA-S4560HA
4.5
6.0
2.5
SA-S4560HB
4.5
6.0
4.5
SA-S5070HA
5.0
7.0
2.5
SA-S5070HB
5.0
7.0
4.5
SA-S6070HA
6.0
7.0
2.5
SA-S6070HB
6.0
7.0
4.5
SA-S6080HA
6.0
8.0
2.5
SA-S6080HB
6.0
8.0
4.5
SA-S6090HA
6.0
9.0
2.5
SA-S6090HB
6.0
9.0
4.5
SA-S7080HA
7.0
8.0
2.5
SA-S7080HB
7.0
8.0
4.5
SA-S7090HA
7.0
9.0
2.5
SA-S7090HB
7.0
9.0
4.5
SA-S7010HA
7.0
10.0
2.5
SA-S7010HB
7.0
10.0
4.5
SA-S8090HA
8.0
9.0
2.5
SA-S8090HB
8.0
9.0
4.5
SA-S8010HA
8.0
10.0
2.5
SA-S8010HB
8.0
10.0
4.5
SA-S5065NA
5.0
6.5
2.5
Non-Hex
SA-S5065NB
5.0
6.5
4.5
SA-S4560NA
4.5
6.0
2.5
SA-S4560NB
4.5
6.0
4.5
SA-S5070NA
5.0
7.0
2.5
SA-S5070NB
5.0
7.0
4.5
SA-S6070NA
6.0
7.0
2.5
SA-S6070NB
6.0
7.0
4.5
SA-S6080NA
6.0
8.0
2.5
SA-S6080NB
6.0
8.0
4.5
SA-S6090NA
6.0
9.0
2.5
SA-S6090NB
6.0
9.0
4.5
SA-S7080NA
7.0
8.0
2.5
SA-S7080NB
7.0
8.0
4.5
SA-S7090NA
7.0
9.0
2.5
SA-S7090NB
7.0
9.0
4.5
SA-S7010NA
7.0
10.0
2.5
SA-S7010NB
7.0
10.0
4.5
SA-S8090NA
8.0
9.0
2.5
SA-S8090NB
8.0
9.0
4.5
SA-S8010NA
8.0
10.0
2.5
SA-S8010NB
8.0
10.0
4.5