TITAN flatbed trailer is a kind of trailer whose design is suitably made to carry bulk cargo and containers between shipping facilities and terminals.By simple definition, this is a long flat platform of either 20ft, 40ft, 48ft or 53ft length.Flatbed semi trailer is usually used to transport 20ft or 40ft containers, they are mainly used for container transportation supporting ships, ports, shipping lanes, highways, transit stations, bridges, tunnels, and multimodal transport.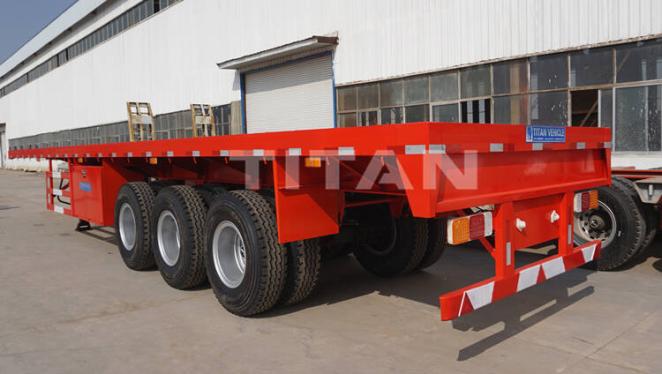 Tri Axle 40 Foot Flatbed Trailer for Sale


Specification:
Model: 3 Axle Flatbed Truck Trailer
Transport: 20ft, 40ft container
Overall dimension: 12500mm * 2500mm *1530mm
Axles: 3 axles, 13t
Suspension: Heavy duty mechanical suspension
Tire: 12 units
Kingpin: 90#
Landing gear: JOST
Brake system: WABCO
Electrical system: 24V, LED lights
Application of the TITAN flatbed semi trailer
The function of a flatbed trailer is made possible through its structure's design and manufacture.Basically, it is a transport equipment mainly of a steel construction defining its frame. It also comprises a lighting system, brakes and tires.
It is carefully designed to desired heights and weight capacity to safely load and transport cargoes from one location to another.Use platform trailers to transfer cargo at the shipper's warehouse. Unloaded to the consignee's warehouse, when changing trailer or boat on the way, there is no need to take the goods out of the box and change them.The size of the container trailer loading area is determined according to the standard container size.A twist lock device for fixing the container is provided at positions corresponding to the four corners of the bottom of the container. Flatbed trailers are a special trailers for transporting containers.