TriCell BMC : Bone Marrow Concentrate Kit
The TriCellBMC Bone Marrow Concentrate Kit is intended for use for the safe and rapid preparation of autologous Bone Marrow Concentrate (BMC) from a sample of bone marrow aspirate. TriCellBMC reliably delivers a patient specific customized BMC product at point-of-care.
Due to the unique hour-glass design, an integrated filter and its re-sealable fill cap TriCellBMC accurately produces high concentrations of mesenchymal stem cells (MSCs) and hematopoietic stem cells (HSCs) without a breach of the sterile barrier throughout the whole production process.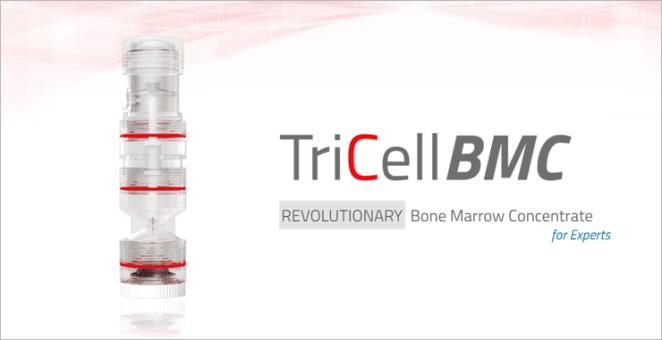 | | | | | |
| --- | --- | --- | --- | --- |
| ARTICLE REF. | ITEM NO. | MARROW VOL. | ANTICOAG. VOL. | FINAL VOL. |
| TriCell BMC | RM-122 | 32ml | 3ml | 1-4ml |
| TriCell BMC L | RM-123 | 45ml | 5ml | 1-4ml |
Preparation of the Aspiration Site
The following steps provide general guidelines for preparing the aspiration site for marrow collection (mentioned materials are not provided as part of the TriCell BMC Kit) :
Precaution : Bone Marrow should be collected only by qualified medical professionals using proper anticoagulation (i.e.Heparin, ACD-A, etc.) and sterile techniques. Dilution with peripheral blood can be minimized and bone marrow-derived cell concentration maximized by limiting the aspiration volume per puncture. For best results, bone marrow should be collected in heparin-coated syringes. Heparin/sodium chloride bath consists of a minimum of 25ml of heparin/sodium chloride in a concentration of 2000 Units/ml. Refer to the instructions for Use accompanying the aspiration needles for additional instructions and information.

1. Scrub area at least 4cm (1.5inches) in all directions from the intended site of aspiration for a minimum of 30 seconds with either an aqueous solution of iodophor compound or other sterilizing compounds. Excess foam may be removed, but the puncture site needs not be dry before the next step.
2. Starting at the intended site of aspiration and moving outward in concentrically spiral apply "prep-solution; let stand for 30 seconds or enough time for the skin to dry.
3. Cover the area with dry, sterile gauze until the time of aspiration.