Steam Turbine Oil Filtration Equipment | Turbine Oil Water Separator | Used Turbine Oil Cleaning Machine TY-50(3000LPH)
China Manufacture REXON audited by SGS
GB/TI9001: 2000-ISO9001: 2000
1. Vacuum oil separators
2. Dewater, remove impurities
3. Vacuum oil filling
4. Double infrared liquid level auto control
High Vacuum Transformer Oil Filtration Machine
High Voltage Transformer Oil Purification Machine
Mobile Type Transformer Oil Purifier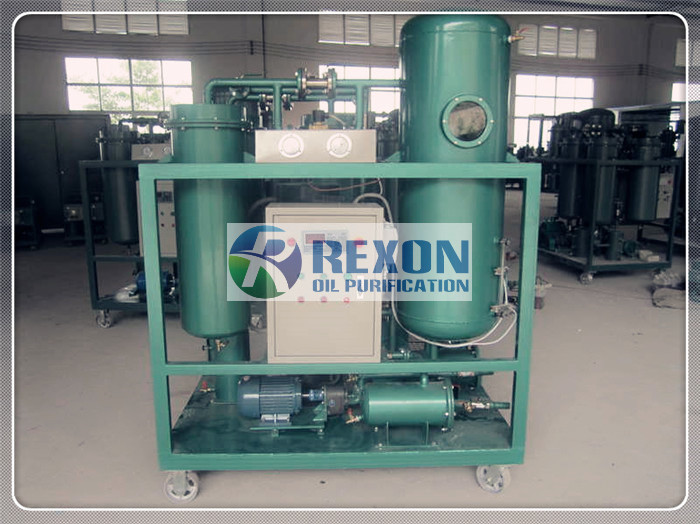 Application:
REXON Steam Turbine Oil Filtration Equipment | Turbine Oil Water Separator | Used Turbine Oil Cleaning Machine TY-50(3000LPH) is widely used for filtering turbine lubricating oil in electric power, metallurgical, chemical engineering industries. It is good at emulsion breaking, dehydration and removing soap, gelatin, acid, pigment and metal particulates in emulsified turbine oil and low-viscosity lubricating oil as well as turbine oil used in other machinery and electric power equipment.
Features:
1. Breaking emulsification thoroughly with high- molecule polymeric material, the value of breaking emulsification ≤15min (GB/F 7305).
2. Dewatering very effectively with once and for two steps dehydrating method. It can thoroughly clear away the liquid water, free water and 80% dissolved water.
3. With distinctive removing impurities technique filtering through double FH trapezoidal network and absorbing by high polymer material, this machine can make the ß3 equal or surpass 200 and make the cleanness lower grade 6(NAS1638).
4. With the trapezoidal, spiral, automatic back flushing system.
5. With the advanced dielectric condensation devices.
6. On-line oil purification can be carried out with turbine or water turbine automatically without any person.
Advantages:
This Steam Turbine Oil Filtration Equipment | Turbine Oil Water Separator | Used Turbine Oil Cleaning Machine TY-50(3000LPH) breaks emulsification thoroughly, and the oil is very difficult to emulsify again after treatment. Its dehydration volume is large and it can absorb water on line. TY series, which prevent lubrication system from damage, can effectively extend the lifetime of oil and protect turbine and other machines.
Our Turbine Oil Purifier can bring you below values:
→Purifying your unqualified turbine oil cleaning high efficiently
→Maintain your lube turbine oil always in good status
→Save your old oil replacement cost
→Solve your waste oil disposal problem
→Guarantee your turbines working normally with qualified oil property
→Protect your turbine machinery and plants damaged by oil pollution problems
→Reduce your oil maintenance time, energy and invest on your related machines
Technical Parameters:
Item
Unit
TY-10
TY-20
TY-30
TY-50
TY-100
TY-150
TY-200
TY-300
Flow rate
Liters/hour
600
1200
1800
3000
6000
9000
12000
24000
Working Vacuum Degree
MPa
-0.06 ~-0.095
Working Pressure
MPa
≤ 0.3
Temperature Range
℃
20 ~80
Water content
PPM
≤50
Impurity content
μm
≤5
Gas content
%
≤0.1 %
Cleanness
NAS
≤6 grade (NAS1638)
Demulsification value
min
≤15 (GB/F 7305)
Power Supply
3 Phase, 50 Hz, 380V (or as per requirement)
Heating power
kW
12
15
18
24
45
60
72
84
Total power
kW
14
17
20
27
48
66
81
97
Inlet/outlet caliber
mm
25
25
25
32
42
50
50
60
Weight
kg
400
450
500
600
700
900
1050
1550
Dimension
Length
mm
1280
1350
1350
1400
1500
1500
1600
1800
Width
mm
750
900
950
950
1000
1200
1350
1400
Height
mm
1450
1450
1500
1600
1650
1800
1800
1850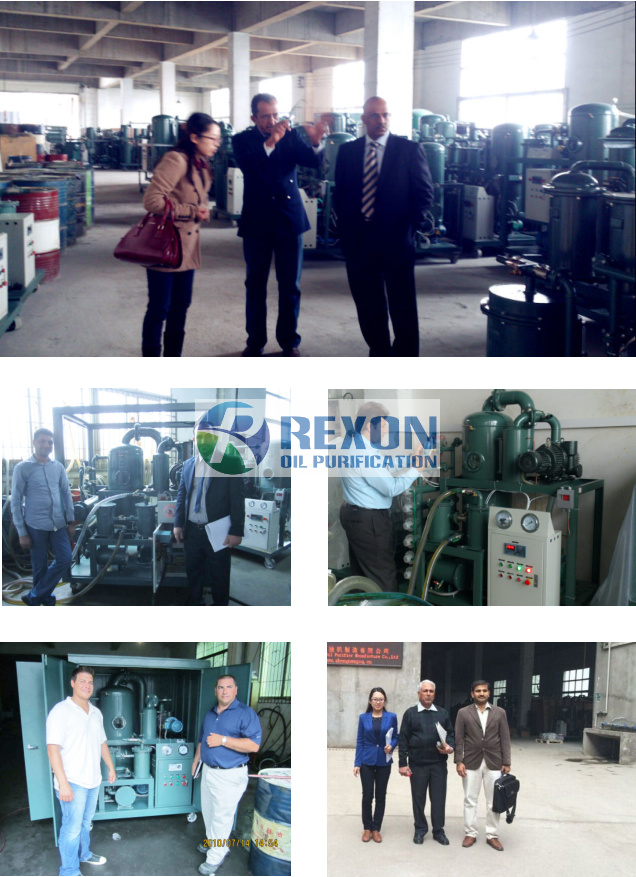 ►We are the leading manufacture near 20 years experience and supply best quality and highest cost performance oil purification machines. Our oil purifier equipment are built by high quality raw materials with newest advanced technology by many skilled technicians and professional workers. We are honest to every customer and responsible for every machine we sold, we offer great after sales service, anytime when customer need us, no matter before or after purchase, we are available online or calling, to make a fast and instant response to customer.
►we practiced in this industry during all these years, and have rich on-site experiences too. Any on-site cases, please contact us for a solution.
►For detailed product specifications, please leave us your email or mobile no. To send you the catalog. Thank you.