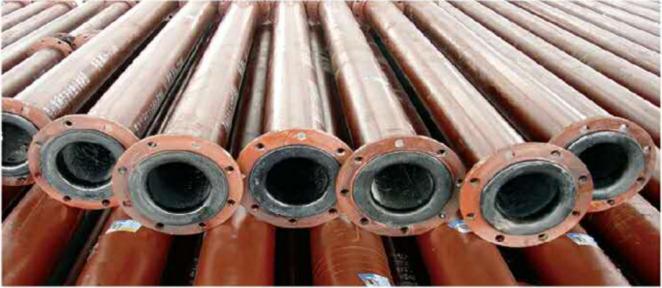 UHMWPE composite pipe is made of UHMWPE pipe and carbon steel pipe by scientific technology. The feature is that the steel tube with flange is used as the outer layer to strengthen the protective layer.
Product performance
● The service life can be greatly improved. Under the conditions of strong corrosion and high wear, the service life can be increased several times to dozens of times, which will bring revolutionary changes to the pipeline industry.
● The non-adherence and friction coefficient of the inner wall are small, and the conveying pressure is reduced by more than 30%, which is of great significance for long distance conveying.
● The thermal conductivity is one thousand times smaller than that of steel, which can greatly reduce the heat preservation and heating requirements of pipelines. It is of great significance for crude oil and other materials transportation in cold zones and winter.
● No corrosion occurs. Under light conditions, the aging life is longer than 50 years.
● The weight of the steel pipe is only one sixth of the same specification.